Tips for controlling summer weeds in the vine rows
Tips for controlling summer weeds in the vine rows
The emerging summer broadleaf weeds include the usual threats – such as field bindweed, hairy fleabane, horseweed (marestail), common purslane, spotted spurge and puncture vine; as well as nutsedge and grasses, like cupgrass, yellow foxtail, junglerice and sprangletop.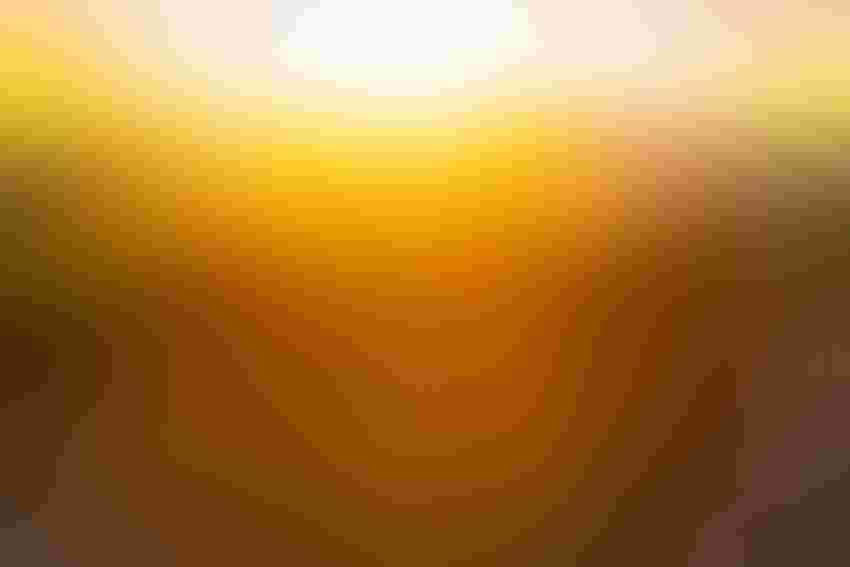 A landscape vineyard is in beams of the morning sun.
Apriori1/Getty Images Plus
Following heavy rains this past winter, which produced a big flush of weeds this spring, now early summer weeds have been flourishing within the vines row in southern San Joaquin Valley vineyards, according to Kurt Hembree. The University of California Cooperative Extension weed management farm advisor for Fresno County, he addresses the needs of growers in the valley from Bakersfield north to Merced.
The emerging summer broadleaf weeds include the usual threats – such as field bindweed, hairy fleabane, horseweed (marestail), common purslane, spotted spurge and puncture vine; as well as nutsedge and grasses, like cupgrass, yellow foxtail, junglerice and sprangletop.
In some cases, an abundance of summer weeds reflects pre-emergence herbicides that lost their effectiveness before unusually wet soils began drying out. In others, postemergence products applied to kill escapes were applied when weeds were too big for optimal control, perhaps due to still wet conditions, the demands of other vineyard management tasks or simply lack of enough equipment or operators to make timely sprays.
Typically, growers make their postemergence sprays from May through June when the weeds are emerging and tender. However, applying these products into July to control weeds when they're much larger, still makes sense, depending on the trellis system used and crop canopy location as well as the pre-harvest interval of the particular product, Hembree notes.
Left untreated, weeds can grow up into the fully-developed canopy, where, eventually, they can interfere with harvest work. Going into harvest with vine rows as clean as possible is particularly important in raisin vineyards to reduce the risk of trays of drying grapes becoming contaminated with weed seeds.
"Otherwise, you may have to send in a crew to cut the big weeds before they set seed," Hembree says.
He offers these tips for using herbicides effectively and wisely before and after weeds emerge:
Mix and Match
Hembree recommends applying a herbicide in combination with at least one other offering a different mode of chemical action. This is to improve control of any weeds that may have survived one of the products and to reduce development of resistance by weeds to an individual herbicide.
"Growers are blessed with a toolbox of some really strong herbicide compounds – both pre and post materials," he says "Using them effectively is a matter of mixing and matching to meet the specific weed threats in a particular field.
"At the same time you need to mix up the modes of action to keep resistance at bay. In Extension, we stress the importance of that. As growers have done with their use of fungicides and insecticides, they're becoming more and more aware of the need to change modes of action with their herbicides by not staying with the same weed control program year after year. If you lose a product to resistance, you've lost part of your tool box."
Pay now or pay later
Controlling weeds early can prevent a more costly battle against them later in the season.
"I don't know of any grower who misses a sulfur application to control powdery mildew," Hembree says. "They can see the direct impact of their spray very quickly. But weeds require thinking more long-term. They may not pose a problem earlier in the season. But, if you don't spray them then, you'll see the impact later when you're fighting them at harvest."
Fit your spray schedule to the weed's growth stage
That's not always easy, due to conflicts with other vineyard work, he says.
But, matching both schedules is crucial for best weed control.
The product label indicates the proper time of application. In the case of postemergence herbicides, that's generally when the weeds have grown no more than 3 or 4 inches.
"You really have to be on top of your schedule," Hembree says. "Once you see a new flush of weeds, you have only about two to four weeks, depending on the species and growing conditions, to make your application. If you wait too long, you may have to re-treat later, when the weeds may have grown too large for good control."
Summer annual weeds can grow quickly. Consider palmer amaranth, which is becoming an increasing problem in vineyards.  Once it's reached 2 to 3 inches tall, the plant can grow an inch or two every day.
"That doesn't give you much time to spray," he says. "If you're off just a few days, you could miss controlling half the plants you treated."
Develop the right attitude
"You want to make the herbicides work for you," Hembree says. "That requires being aware of all the pieces involved in the selection of materials and equipment setup and operation for a successful application. That includes having someone to apply the herbicides who understands what is required and can do it properly."
In addition to applying the right products at the right times, this involves spraying them using the correct nozzle and pressure at the correct ground speed as listed on the product label.
For example, applying a herbicide at too much pressure can overdose the plant, risking drift and damage to the vine canopy, while traveling too fast risks weed escapes by not treating the plants with enough product.
The type of nozzle affects the droplet size of the spray.
"For contact herbicides, like paraquat, which kill only the parts of the plant the droplets touch, you want smaller droplets for more volume of material to cover as much of the plant as possible," Hembree says.
"For a systemic product, like Roundup, which works by moving through the plant, you don't need broad coverage to kill the weed. That means using nozzle tips that produce larger spray droplets which usually means less volume."
Subscribe to receive top agriculture news
Be informed daily with these free e-newsletters
You May Also Like
---