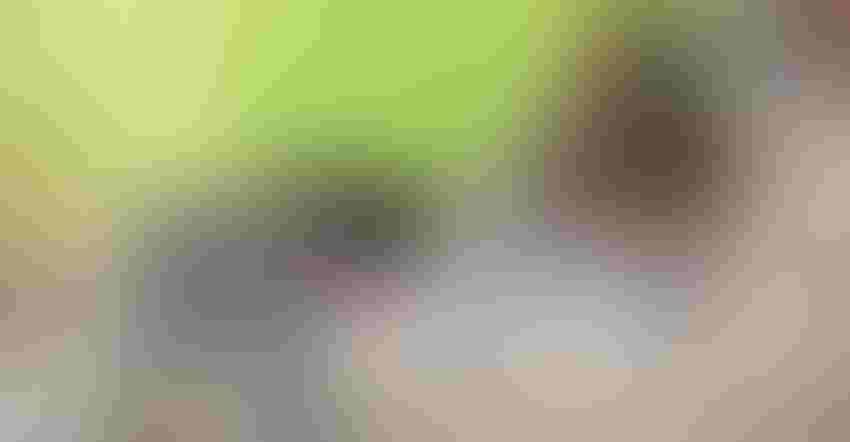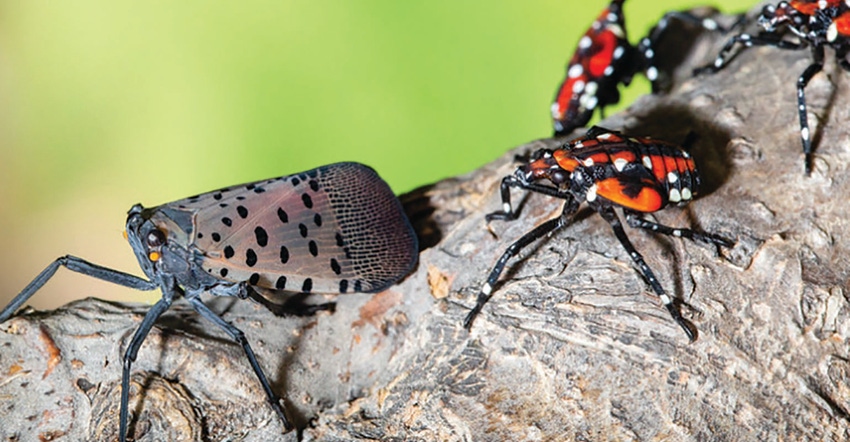 The spotted lanternfly is a major pest of vineyards in 11 states.
North Carolina State University Cooperative Extension Service
Inspectors at California's borders are on the alert for evidence of spotted lanternfly, a bane of grape growers that is now found in 11 states.
Since a quarantine was enacted last July, "We've had a couple of interceptions, a dead adult and a few nymphs," said state entomologist Kyle Beucke, "but we haven't found any vehicles covered in egg masses."
Aircraft inspections have yielded a few more. "Probably about 20 adult spotted lanternfly, a few of them alive, found in incoming cargo."
At this point, California vineyard managers have not called in a panic over any SLF finds among their grapevines.  "It's a big state," said Buecke.  "If it does make it here, it probably will be a grower or a member of the public who discovers it.  That's why our current efforts are focused on awareness."
Interestingly, while a study published in Communications Biology indicated a computer simulation to predict the timing of the spread of SLF into California has it reaching the wine region by 2027, Buecke isn't so sure.
The North Carolina State University study assumed, "The spotted lanternfly needs Tree of Heaven to complete its life cycle, a factor that could drive its spread to California where temperature there is relatively suitable across the state."
Replied Beucke: "While a good part of the state, including the coast, appears suitable to its establishment, there's no evidence that SLF has established anywhere with a Mediterranean climate, so we really don't know, we can't be sure whether it is able to establish here or how well it would do here.  There are a lot of unknowns.
A 'significant impact'
"We can't assume it's not going to be able to establish here, but I wouldn't say its arrival is inevitable — or if it does show up, that it would spread and make a significant impact."
Acknowledging that the current affected states are included in the California quarantine, the entomologist alludes to the involved states climate — all Northeastern states that have cold winters and humid summers with lush vegetation different than that found in California.
Spotted lanternfly feeds on over 100 species of plants with a menu preference for trees like Tree of Heaven, stone fruit orchards, and grapevines.  Their feeding produces quantities of a residue called honeydew that covers stems and leaves and promotes the growth of sooty mold, infestations that weaken and eventually kill the host plant.
In 2021, a scientific advisory panel met to discuss SLF biology, crop systems, and quarantine management and came up with a tentative action plan.  "It's in its advanced stage at this point, but still under development," said Beucke.  "Ironically, we've never done this much for something that isn't even here yet."
Asked how growers could become part of the front line for the yet-to-arrive pest, he says: "They can learn about the California Department of Food and Agriculture quarantine [www.cdfa.ca.gov/plant/Regulations.html] as well as things like the SLF lifecycle, what stages they might expect to see at different times of the year.
Educate workers
"And they could educate their field workers that if they see something they suspect is an SLF, they should kill it, document where it was found, take a picture of it, and submit the specimen to us so we can confirm its presence."
So, while there is no reason to panic, "There's no way to know for certain if and/or when SLF might arrive.  There are a lot of rural areas in the state that could harbor an egg mass where nymphs could hatch in the spring and might not be discovered until summertime when they became adults."
CDFA has already assigned the pest an 'A' rating as "likely to establish wherever they are found."
About the Author(s)
Subscribe to receive top agriculture news
Be informed daily with these free e-newsletters
You May Also Like
---