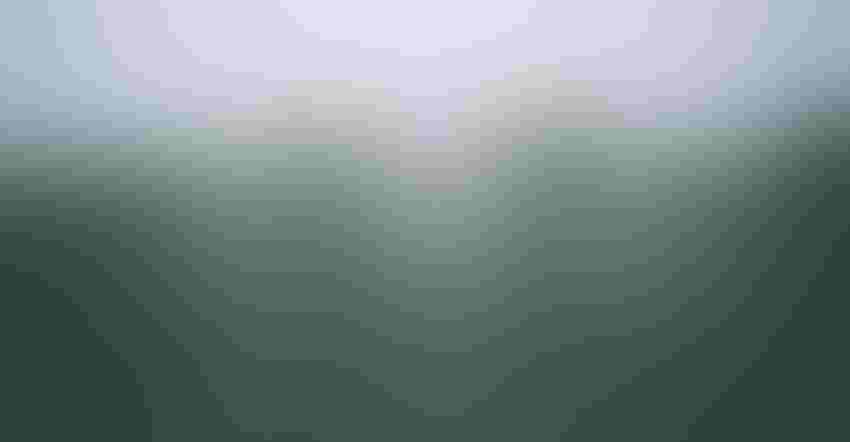 A vineyard is shrouded in smoke from a nearby wildfire.
Washington State University
Although there are other words like "drought" and "wildfire" that bring looks of concern to the faces of the winegrape industry, two of the most-hated words in this field are "smoke taint."
In just that tiny two word terminology lies a possible ruined season, so any new developments to help deal with smoke-on-grapes will help advance that science.  That's why the research project that has identified the compounds linked to smoke taint in grapes and wine is being heralded as the latest breakthrough.
"This discovery of a class of compounds that contribute to taint is critically important for winemakers," says Oregon State enology professor Elizabeth Tomasino who outlined the findings at the recent annual conference of the American Society for Enology and Viticulture in San Diego.
"It provides them markers that are much more predictive of smoke taint in wine than what we previously had," she said.
Tomasino, along with Drs. Anita Oberholster (UC Davis) and Tom Collins (WSU), outlined the importance of the four-year, $7.65 million, grant-funded project for the grape industry in California, Washington, and Oregon, three of the nation's Top Four wine-producing states.
By way of explanation, they noted: "For years, a class of compounds (volatile phenols) were used as markers for smoke taint in wine and grapes.  Wines with high levels of these compounds often didn't taste smoke-tainted while wines with low levels did."
Using that thesis as base reference, Tomasino and her team searched for other compounds that might bear some responsibility for taint and in the process discovered a new class of sulfur-containing compounds --- called thiophenols --- that were believed to cause taint in combination with the volatile phenols.
Research confirmed
Further research confirmed the sulfur compounds found in wines were there when exposed to smoke and not in samples that had no smoke exposure.
"This changes the game as those new compounds are a completely different class than we were studying previously," she said.  "To date, much of the smoke taint mitigation work has not been overly successful --- because we've been looking at the wrong thing.  Over the next year or two we should be much more successful in providing mitigation strategies that are actually effective."
One aspect of their research dealt with making wine from grapes that had been rinsed of treatment.  "There were lower free phenols in wines made from unrinsed fruit," said Collins.  "Previous testing had shown that washing vines had little impact and we're going to try and replicate that again this year."
According to an Oregon State University press release: "The work aims to provide tools for the grape and wine industries to quickly make decisions about whether to harvest grapes or make wine following a smoke event."
The trio of experts went deep in the weeds on this one covering things like barrier sprays where Dr. Oberholster discussed experimentation involving 12 different treatments followed by two hours of intentional smoking.  Less than half the applications were judged to have any efficacy.  "If you apply spray, it may or may not help.  Just don't make things worse," she said.
In concluding the presentation update on the SCRI-funded Smoke Impact Research Project, professor Tomasino admitted that while current discoveries "have opened up a lot of interesting phenol questions, there's still a lot of work to be done.
About the Author(s)
Subscribe to receive top agriculture news
Be informed daily with these free e-newsletters
You May Also Like
---