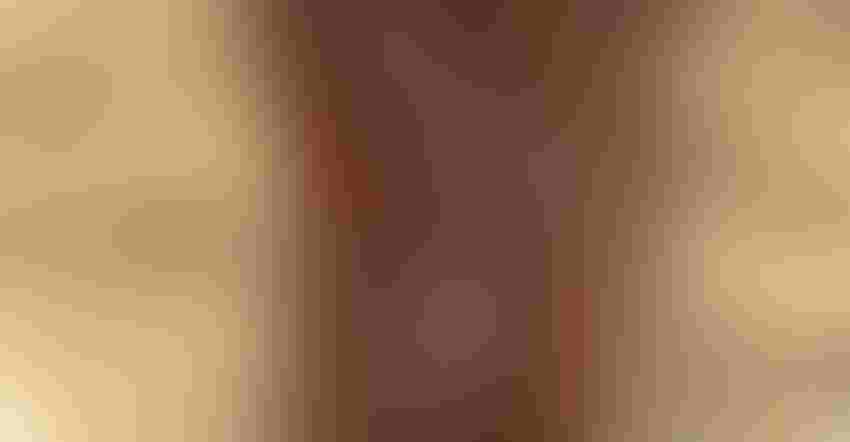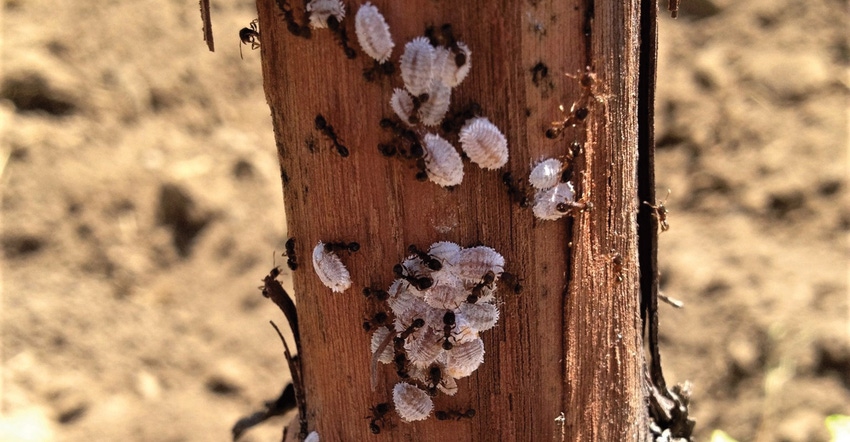 Bark is stripped away to show vine mealybugs and ants that are active underneath.
Kent Daane/UCANR
Trying to figure out potential pest problems in a new growing season is somewhat like trying to nail Jell-o to the wall --- you need to see the condition of the Jell-o first to know how difficult the project will be.
That's the situation with the 2022 growing season as it pertains to vine mealybug, a vector of leaf roll.  Although it continues to gain ground, the exact extent of this year's problem may be predicated on last year's experiences.
"Vine mealybug continues to be one of the major problems for grape growers in California," says Kent Daane, University of California Agriculture and Natural Resources in Parlier.
"One of the issues is that we're losing some of the materials that have been relatively effective against it.  We've already lost a couple of somewhat effective and relatively inexpensive materials and the worry into the future is we'll lose more.
"Last year, growers were trying different combinations of materials and with each combo were coming up with some hits and some misses.  Last year, things varied with some growers showing high bug counts, others, not so much damage.  As growers play with new combinations, we're learning to be more effective with the new products."
Daane's work focus is on Fresno north and the Central Coast, but he hears the reports of mealy bug problems in other locales, too. "They seem to have been problematic in the Woodbridge area, Carneros, and San Lupo and they remain a problem for table grape growers down south.  In Woodbridge, growers had been looking at a single application program, but they're now looking at two applications per year to get a larger population under control."
Recommendations
His recommendations include the use of sample trapping, "perhaps a pheromone trap or two per 48 acres in the problematic blocks starting in the Fall and looking every couple of weeks to obtain a historical record toward the end of the season."
That kind of record helps in patterning success as various products are used.  "It shows that there was no problem in a product in one year, but when the program was switched to different product in a drip system the next year, you saw a tick up in VMB.  The record will show what products were applied, when, and with what level of success, and it's a handy historical trending record to have."
Despite the potential of having to do more with less, some progress is being made in slowing the spread of vine mealybugs that feed on phloem and excrete honeydew, a sugary/shiny/sticky solution that grows mold.  A wet trunk is an indication that a colony of mealybugs is feeding under the bark with the honeydew seeping through the bark.
As temperatures warm in springtime, young nymphs move towards the base of spurs, then onto new shoots.  Broods reach maturity in late May and early June with new eggs being laid to hatch from June to early July.
Daane is currently wrapping up a multi-year, million-dollar research project involving demonstration blocks on a thousand acres in two winegrape regions where pheromone disruption tools have been used to combat VMB.
"While there are tools to fight mealybugs --- insecticides, disruption, biologicals --- we can't get it completely removed.  We're hoping to uncover some better solutions, so growers with a portion of their vines infested will understand the economic advantage of rubbing those vines out and replanting.  We're not going to reinvent control programs, but look at them in relation to roguing."
Asked about problem potential in the current planting, he cites "a fairly mild winter (although that varies around the state) that might signal greater survivorship of mealybugs.  As soon as vines start to push out, new generation mealybugs will be underneath the bark, feeding before coming out in May or June.  And it's easier to control a low-density population than trying to bring down a high-density/high-damage population once it grows into clusters --- because there are few materials that will clean up clusters.
Subscribe to receive top agriculture news
Be informed daily with these free e-newsletters
You May Also Like
---