Table grape harvest delayed as insurance deadline nears
Table grape harvest delayed as insurance deadline nears
It's been a very unusual year in terms of SJV table production and varieties coming off in their normal time periods.Sonoma County wine grape crop two weeks behind and it's too late in the season to catch up.Fresno County, Calif., raisin grape producers watching calendar, weather and labor force as insurance deadlines approach.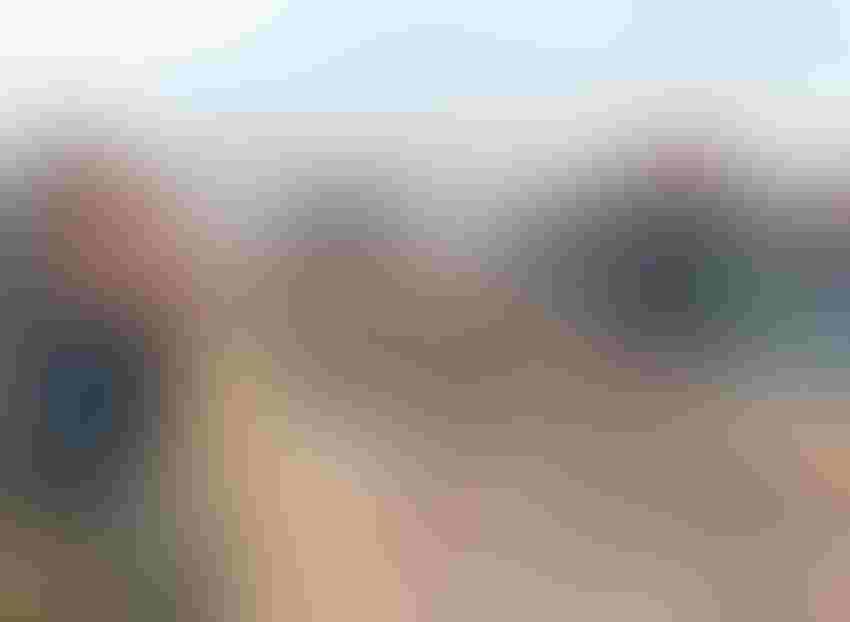 Castle Rock Vineyards cold storage facility in Delano, Calif., would normally be humming with activity this time of year with workers filling as many as 25,000 to 30,000 boxes with fresh table grapes.
This year, though, production is running at only about half that level, as harvesting and packing crews wait for the rest of the grapes to finish ripening.
"It's a situation many of us haven't seen before," says Jim Llano, sales manager for the grower shipper with vineyards in Coachella, Arvin, Bakersfield, Delano, Ducor, Lindsay and Reedley, Calif.
"It's been a very unusual year in terms of production and varieties coming off in their normal time periods," Llano told GrapeLine, an e-newsletter distributed by Western Farm Press and sponsored online by Chemtura AgroSolutions. "Prices have been healthy and demand has been better than in the past two years."
Meanwhile, crews continue picking early-season varieties. After finishing the Sugarones, they're on track to complete Flame Seedless fields followed by Summer Royals.
Llano told GrapeLine he expects production to begin picking up in September as varieties like Thompson seedless, Scarlet Royal and Crimson Seedless reach maturity.
"I'm looking forward to early September, when we'll be packing multiple varieties and volume within in the industry will finally start to pick up," he says. "As more fruit becomes available in September and October, exports will also increase."
Smaller Sonoma County crop
Development of the Sonoma County wine grape crop is running late, production of some key varietals is off significantly, and quality is still up in the air.
That's what veteran grape grower Phil Enzenauer told GrapeLine.
The fourth-generation farmer owns Enzenauer Vineyard Management at Healdsburg, Calif., growing Chardonnay, Sauvignon Blanc, Zinfandel, Petite Syrah, Cabernet Sauvignon, Merlot, Champagne and Carignan grapes in the Anderson Valley, Dry Creek Valley, Russian River Valley and Sonoma Coast appellations.
"Right now, we're probably two weeks behind," he says. "If the weather stays cool and foggy, I don't see us catching up."
"The weather was miserable when vines were supposed to be setting buds for this year's crop," he says. "Who knows what the 2011 crop will be like? This year, we have had the same weather as last year to a T, except for the heat wave we got last year — which we may still get.
He describes Chardonnay grapes in his Dry Creek vineyards as "lots of chicks and hens." Because of such a wide variation in berry size, he expects Chardonnay tonnage there will be 15 percent to 20 percent less than normal.
Learn of what the veteran grape grower had to say in the archives of GrapeLine.
Raisin harvest late
As fall approaches, Fresno County, Calif., raisin grower Ken Shinkawa is casting one wary eye at his slow-to-mature Thompson seedless raisin crop and another at his calendar as the date edges ever closer to the Sept. 20 insurance deadline for machine picking grapes onto raisin trays for drying.
Also a concern is the ever-present field chatter about possible labor shortages.
Shinkawa's 120 acres of vines north of Caruthers, Calif., are "a good two weeks later than I'd like to see," he told GrapeLine. "Maturity is so late this year that growers will want to hold off harvesting as late as possible — which means a pretty small window to harvest grapes without weather damage.
"Those who normally work for me report that the supply of labor is short, not just in California, but also for apple growers in Washington. A lighter labor supply and a shorter harvest window will put quite a bit of pressure on grape growers and labor contractors to get the job done in a timely fashion."
A smaller-than-expected California crop may help ease that pressure somewhat. The USDA's National Agricultural Statistics Service predicts California growers will harvest 2.05 million tons of raisin grapes this year — down nearly 7 percent from the July forecast. This year's bearing acreage is 210,000, the same as last year. The 2011 California Raisin Grape Objective Measurement Report describes the 2011 crop as shaping up to be of average size.
For Shinkawa, the maturity of his grapes is not only late, it's also variable — even within clusters.
"Clusters have more berries of different sizes than usual," he says. "Some berries are achieving sugar, while others on the same cluster haven't softened yet." He attributes this to erratic spring temperatures that prolonged the bloom.
You can read more about what Shinkawa and his fellow growers had to say about their 2011 grape crops by visiting back issues of GrapeLine at http://subscribe.westernfarmpress.com/subscribe.cfm?tc=NNWEB where you can also subscribe to future, exclusive in depth issues. Mailed twice monthly through September, the e-newsletter is sponsored by Chemtura AgroSolutions.
Subscribe to receive top agriculture news
Be informed daily with these free e-newsletters
You May Also Like
---