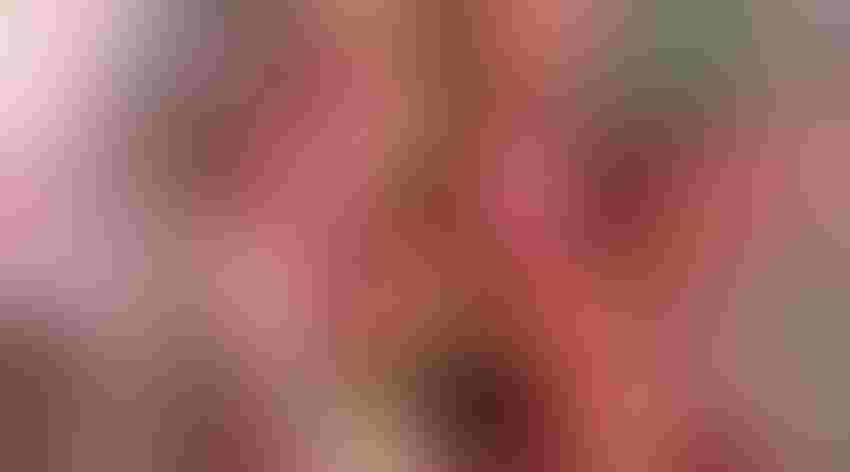 Table grapes grown in California fill a bag.
Tim Hearden
The California Table Grape Commission exists to promote product and its leader Kathleen Nave does so enthusiastically.
As the 2019 shipping season wrapped up a few weeks ago, she described success as "a normal year in many ways with relatively normal timing and a normal sized crop, certainly better than 2018 which was an anomaly."
The year previous involved a large crop that was late and suffered under imposed tariffs. 
"It was a whole host of things," she said. "2019 is a much more normal year in terms of timing and crop size and we expect final numbers to come in around our earlier estimate of 109 million 19-pound boxes."
With little pause between one season and the next, plans are already being implemented for the 2020 season. 
"We don't know what that season will bring, but based on 50+ years of historic data, we expect a year of relatively normal crop size … somewhere in the 110 to 112 million box range," she said.
"We'll make an official preliminary estimate in April, but history tells us we have reason to expect another 'normal' crop size."
There are a lot of industry changes that could impact that process. 
"There are vineyards coming in and vineyards going out and there will be some new varieties," she said. "In some ways, that's no different from what it has always been because change is always a constant and the industry has a long history of reinvesting in its vineyards.
"There are a lot of new varieties, some proprietary in a few hands only, others proprietary and in many hands, and then there are a number of public varieties. We may be approaching a point where introduction of new varieties will kind of level off and the focus will be on growing volume on these newer varieties — changes in volume in the varietal mix is the best way to characterize it as some of the older and more traditional public varieties decline in volume."
Contributing factors
Outside factors play a big part in determining the future, not only for table grape growers, but for those who grow grapes for wine and raisins. 
"We're all facing the same things in the way of water supply, labor shortages, climate change, challenging pest and disease management — the challenges of growing a high value commodity crop in the state of California are many.
"But I don't think that is fundamentally different than it has ever been.  It may be different in scale, but growers are doing what they've always done, assessing the competitive landscape, looking at what it costs them to produce a crop, and trying to figure out how to strategically position themselves."
The Commission has some aggressive marketing plans for 2020 that are getting underway, globally and domestically.
"Around the world, we have a campaign to motivate primary shoppers to buy grapes from California, moving volume throughout the season. And we want to position California grapes competitively against grapes from other origins so our campaign will emphasize — Grapes from California, Every Day."
Messaging is also being developed to focus on grapes as an anytime snack. "Not only are they healthy, they're great in recipes, bringing a little bit of special California sunshine."
While this season's crop should be a normal one, the way that crop is marketed will be more vigorous from market access to the impact on the ability of growers to sell into that marketplace.
For more news on pests, disease management and other issues affecting vineyards, subscribe to the bi-monthly newsletter The Grape Line.
Subscribe to receive top agriculture news
Be informed daily with these free e-newsletters
You May Also Like
---