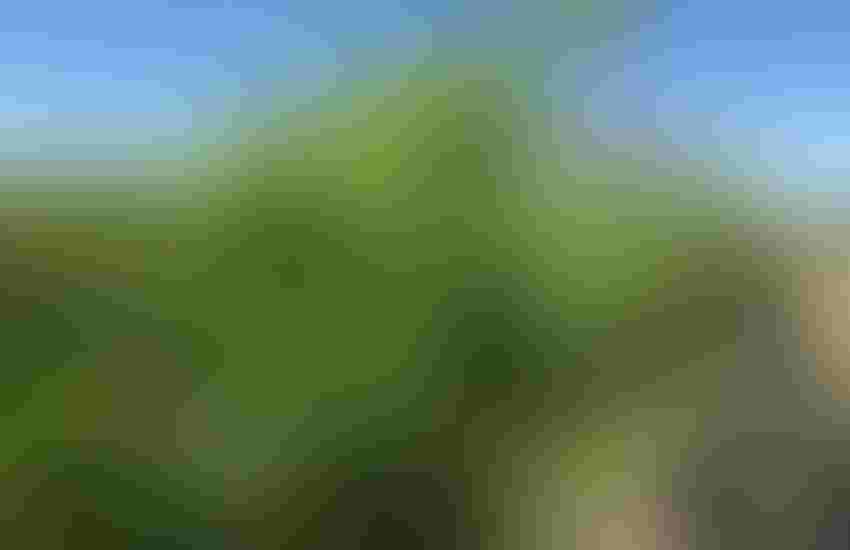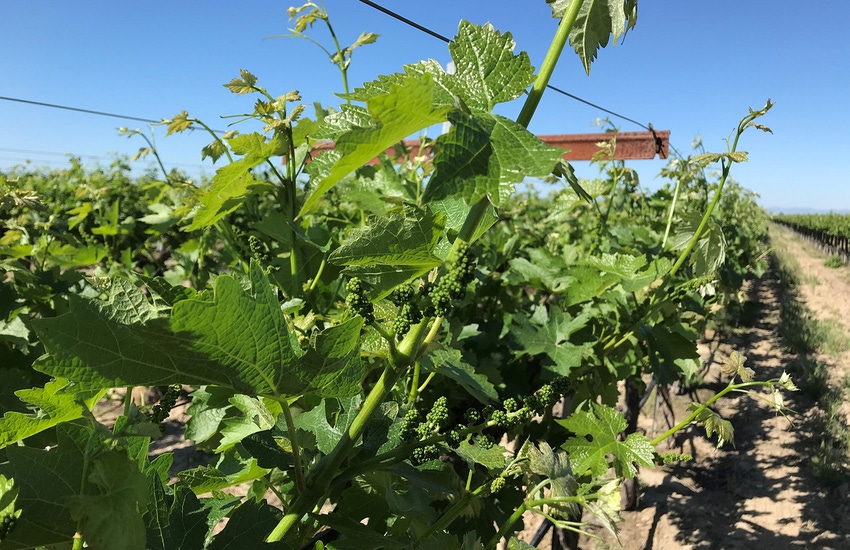 Heat waves can affect the development of grapes, particularly in July and August.
George Zhuang/UCCE Fresno County
Lots of folks have put the mid-summer heat wave phenomenon to music, like when Ella Fitzgerald sang, "We're having a heat wave, temperature's rising, it ain't surprising."
But for grape growers in California, summertime heat waves are nothing to sing about.
Heat waves with extreme daily temperatures are becoming more and more common in the middle of a growing season, like a recent July/August when San Joaquin Valley growers experienced two to three weeks with maximum daily temperatures of 110 degrees. Sunburn and severe water stress resulted in significant yield loss and poor berry quality as sugars, organic acids, and phenolics were impacted.
Already this season, a heat wave in late June pushed afternoon temperatures as high as 113 in Red Bluff, 107 in Fresno and 105 in Bakersfield. The federal Climate Prediction Center foresees at least a 60% chance that average temperatures will be hotter than normal throughout the West over the next three months.
"High daily temperatures and severe grapevine water stress will eventually reduce berry size, ultimately making the berry shrivel and raisin," says George Zhuang of the University of California Cooperative Extension, Fresno County.
Speaking to The Grape Line just before things started to bloom, Zhuang remarked, "Things started popping earlier this year, early storms, early temperatures."
Based on previous years moving into the summertime, canopies are full and heat stress and sunburn management come into play. 
"July into August is probably the biggest risk time zone for heat waves requiring greater irrigation than normal to give vines a stronger defense against stress and sunburn," he said.
Proactive management
Smart growers take into account things like row orientation, irrigation scheduling, and canopy management. 
"We recommend the use of California sprawl or a modification of any two-wire vertical trellising that provides some protection and shades the clusters from overexposure to sunlight in the middle of the day," he said. Single high wire, quad high wire T-top and Y-trellis systems all provide the required canopy shading on clusters.
Water stress is an on-going concern when temperatures run hot. 
"While you'll have some direct damage to canopy leaves from sunlight, you'll also get fruit damage if the canopy is too open."
So what's a grower to do? "Probably the most important thing that can be done is prevention, keeping a close eye on the future weather forecast, especially if it includes alarms involving excessive sunlight or above-average temperatures," he said. "The first thing you can do is put more water on the vines right before the heat wave arrives, keep the vines as hydrated as possible."
The hydration aspect is especially important for susceptible varieties like Chardonnays and Muscat of Alexandra that are extremely sensitive to sunburn. Air block sprayers come in handy here to dampen the whole canopy.
Consideration can also be given to covering the canopy with a shade cloth fabric cover. A bit more expensive, but for premium wine grapes in Napa or quality table grapes in the south San Joaquin Valley, it's a cost of doing business rather than ending up with a destroyed crop.
More frequent water applications can sometimes be a welcome mat for pests or diseases that seek out the cooler dampness to get out of the dry heat. 
"Some situations are favorable to fungal disease because there's a lot of shading, but a lot depends on the variety of vine and the overall condition of the canopy," Zhuang says, again advising regular vine row inspections.
He adds a caution between too much and too little moisture. "The worst thing you can do is put too much water into the ground which will cause the canopy to get so big it explodes."
While it's a bit late in the season for some remedies, off-season consideration should be given to row orientation to minimize direct light exposure on the fruit zone. Shoot thinning and leafing management is a must to provide enough light and air exposure to the fruit without exposing clusters to too much direct sunlight.
For more news on pests, disease management and other issues affecting vineyards, subscribe to the bi-monthly newsletter The Grape Line.
Subscribe to receive top agriculture news
Be informed daily with these free e-newsletters
You May Also Like
---