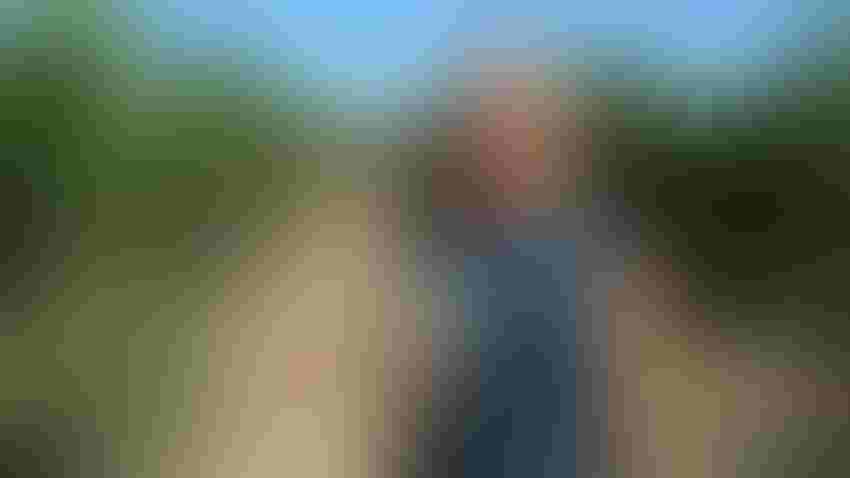 Karissa Kruse, president and chief executive officer of Sonoma County Winegrowers, stands in a vineyard near Santa Rosa, Calif.
Tim Hearden
The wet winter in California should make for a better season for Sonoma County vineyards than last year, when drought and chilly spring weather led to a diminished crop, an industry leader says.
"Mother Nature didn't disappoint in her 2022 harvest dance," said Karissa Kruse, president and chief executive officer of the 1,800-member Sonoma County Winegrowers. "Although tonnage was down a bit, lighter by 9% over the previous year, that was expected because of chilly spring weather damage despite frost protection measures.
"Drought and water conservation efforts contributed to the lighter yield because growers didn't have the option of irrigation as a tool during harvest," she added.
Kruse is more optimistic about 2023. "Recent rains have been welcome — although we would have preferred to spread them out a bit more because they arrived so fast and furious and we saw some flooding in vineyards," she said. "The good news for our growers is we were up in overall tonnage pricing, almost 7% across the board in all our different grape varieties."
The National Integrated Drought Information System has reported that last year -- prior to the deluges — was the driest year to date in the last 128 years.
Now, with reservoirs and catchment ponds full and vines awakening from dormancy and heading into bud break, Kruse admitted: "We're in pretty good shape with soil moisture and overall conditions but keeping a close eye on any surprises from Mother Nature, specifically a surprise spring frost. We're setting up to be in pretty good shape for the 2023 vintage."
Kruse's analysis came as attendees of a 2023 Dollars & $ense seminar in March addressed a theme titled "Going On the Offense – The Farm of the Future."
"We're building to a mid-July summit, partnering with the Wharton School of Business and others, all joining in to do long-term scenario planning to give farmers the data, the technology, and the resources they'll need over the next couple of decades," Kruse said. "Instead of waiting to see how things develop, we're trying to be proactive in thinking of the needs of agriculture and inviting partners to make those things possible."
Innovations advancing
Acknowledging that "our whole goal is to make Sonoma County a living lab for companies who want to help support agriculture," she cites electrification of vineyards along with innovations in solar applications and carbon sequestration practices and greenhouse gas emissions. "Innovation, partnerships, and collaboration are the key words," she said.
Although pushing aside the established ways to try something new often evokes reluctance, grape growers are responding positively. "It's been remarkable all the way back to 2014 when we introduced our sustainability commitment," she said. "Back then, no one was making those region-wide commitments, but once the benefits of working together were acknowledged, it was a real game changer for our farmers and the DNA of our county — the spirit of how our farmers approached changes and wanted to be a part of the change."
Responding to a flattened year of lower production and declining wine sales, Kruse admits to being an optimist. "Sonoma County's well positioned for whatever happens because we grow so many different varieties here," she said. "We can appeal to many different taste profiles and market sectors. Our appeal is to many generations, likes and dislikes. We just need to be innovative in how we communicate, how we walk about wine and how we do our outreach and partnerships.
"The challenge is on us to figure out how to reach out and do that job even better, so I say, 'Bring it on'."
Subscribe to receive top agriculture news
Be informed daily with these free e-newsletters
You May Also Like
---