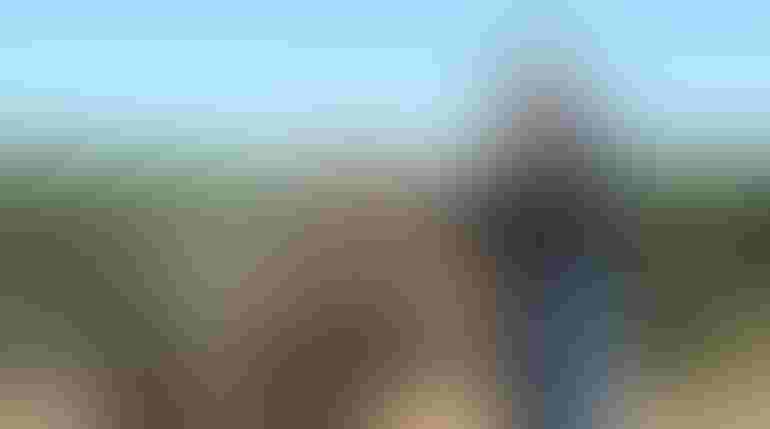 Sonoma County Winegrowers board chairman Glenn Proctor (right) speaks as SCW president Karissa Kruse (left) and Laurel Marcus, executive director of the California Land Stewardship Institute, listen during a news conference in Santa Rosa, Calif.
Tim Hearden
Winegrape growers in Sonoma County, Calif., are closing in on achieving full participation in their 5-year-old sustainability certification program, and are celebrating by announcing a new climate partnership.
With 99 percent of its more than 1,800 local vineyards certified sustainable, the Sonoma County Winegrowers (SCW) will build on the movement by participating in the California Land Stewardship Institute's Climate Adaptation Program, which leaders say is the first such program in agriculture.
While other climate programs exist in ag, this is unique in that it includes a reduction and sequestration regime for all three main greenhouse gases (GHG) – carbon dioxide, nitrous oxide and methane, representatives of the two groups explained during a recent news conference.
"Today is a truly historic day for growers in Sonoma County and was five years in the making," Sonoma County Winegrowers president Karissa Kruse said during the Sept. 12 event at the organization's headquarters in Santa Rosa, Calif.
The voluntary climate program will be customized to each farm with growers monitoring their emissions, documenting reductions and undergoing an annual audit, officials said. After launching in Sonoma County, the program will be made available in other wine regions around the world.
"It's pretty hard not to run into discussions" about climate change in the world of agriculture, said Laurel Marcus, executive director of the California Land Stewardship Institute. "Farmers have been adapting for thousands of years, but there's a lot more that can be done."
Programs for 12 crops
The institute began in 1997 with a fish-friendly farming program that included water quality, soil conservation and habitat improvement, Marcus said. Today it has programs for 12 crops, with 190,000 acres enrolled and 120,000 certified through third-party verification by regulatory agencies, she said.
In developing its climate program, the institute reviewed about 300 scientific journal articles with three peer reviewers – two from the USDA and the third from the University of California Cooperative Extension, Marcus said.
According to researchers, agriculture is responsible for about 8 percent of California's greenhouse gas emissions, but "there's opportunities in farming," she said. The program looks at the use of such things as diesel equipment and fertilizer, but it also promotes carbon sequestration to offset emissions from other sources, she said. One way to do this is by planting trees next to vineyards, she noted.
Through the program, the institute will be able to explain the industry's GHG reductions to consumers in terms such as the equivalent of fewer planes flying or cars driving, Kruse said.
The effort appeals to fourth-generation winegrape grower Glenn Proctor, SCW's board chairman.
"Our goal is to be around for many, many years to come," Proctor said of his family's operation, noting that his grandfather used to remind him that one day the ranch would be his responsibility. "Growers want to maintain their farms by managing resources carefully and investing in solutions."
Mostly small businesses
Sonoma County's wine industry is primarily comprised of small, multi-generational family businesses, the winegrowers' group explains. Its 59,218 acres of vineyards accounts for only 6 percent of the county's total acreage, as 80 percent of the vineyards are less than 100 acres, according to the organization.
Still, the region is one of the world's most famous for wine, with its first vineyards dating to 1812. The county is home to 18 separate American Viticulture Areas, each with its own climate, soils, elevation and historical significance, the organization notes.
Among these farms, only a handful remain unenrolled in SCW's program. A few already achieved certification as organic and don't wish to take part in another program, and others are involved in other projects, Kruse said.
"We say 99 and counting," she said, adding that participants in the voluntary program agree to undergo monitoring and tracking verification every year. She said growers' mindset has changed in the last five years so that most are receptive to the program.
"We had to lay that foundation," she said.
"Climate change is a critical threat, yet there is little information available on the role agriculture can play," Kruse told reporters. "This program addresses that by focusing on the importance of local solutions to combat a global concern."
For more news on pests, disease management and other issues affecting vineyards, subscribe to the bi-monthly newsletter The Grape Line.
Subscribe to receive top agriculture news
Be informed daily with these free e-newsletters
You May Also Like
---