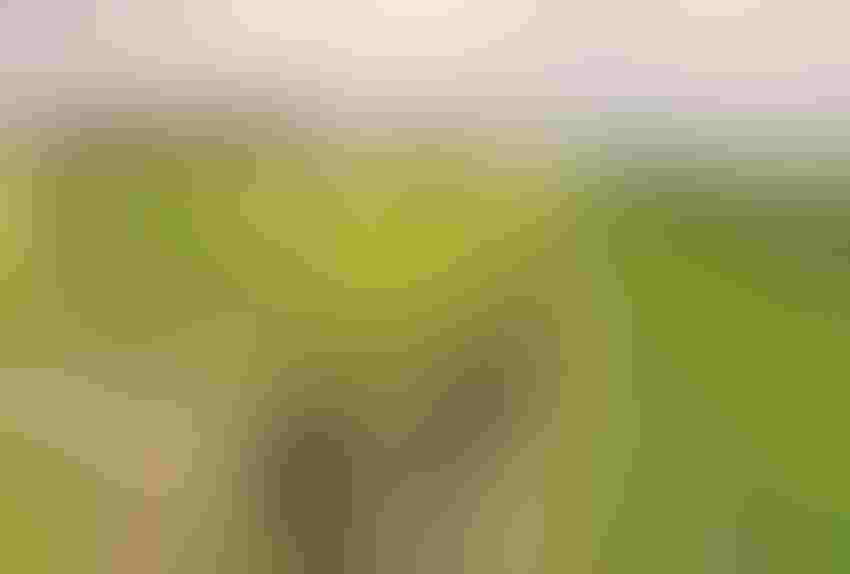 Sonoma County vineyards are entering the transition stage between initial bud break and the need for frost protection, reports veteran grape grower Duff Bevill.
His company, Bevill Vineyard Management LLC, Healdsburg, Calif., oversees the care of vineyards, ranging in size from five to 200 acres, throughout the county.
"This year's growing season is progressing pretty much on the normal track," Bevill says. "Several of our Pinot Noir and Chardonnay blocks in the Russian River area are at the popcorn stage or beyond. Leaves are popping out some of the one-year-old vines on the lighter soils and older vines on the warmer hillsides. But we're still waiting for bud break on most varieties. For example, Cabernet Sauvignon and Sauvignon Blanc are still pretty tight."
In the first part of February the cold, dry weather this winter and signs of life beginning to stir in early bud break trees, like flowering plums and native willows, prompted talk in the coffee shop of a possible early start to the 2013 wine grape season. As it turned out, that wasn't the case.
Bevill's crews wrapped up winter pruning in the first week of March. They were aided by lack of rain in January and February. But that has left growers in the Healdsburg area short of their normal rainfall for the winter. In fact, the total so far is similar to what it was in the previous rain-short winter, he says. This time, however, there's one critical difference.
The number of rainstorms this winter was lower, but each tended to be heavier, especially those in December, than last year, resulting in more runoff, Bevill notes. This has raised water levels significantly in the two public reservoirs that supply the area with irrigation water, Lake Mendocino and Lake Sonoma, and filled many farm ponds.
For the past three decades, Bevill has planted a legume-grass cover crop on drip-irrigated hillside vineyards. The legumes fix nitrogen. When incorporated as a green manure, this crop mixture adds organic matter to the soil, enhancing microbial populations, improving soil structure and nutrient cycling. Also, a cover crop like reduces soil erosion and protects streams from sediment pollution.
Cover crops each year
Bevill has tried both permanent and annual cropping systems. Two years ago, after a decade of maintaining a year-round cover crop, he returned to seeding and incorporating the cover crop each year in some vineyard blocks.
After a decade of growth, Bevill found that permanent, no-till cover crops weren't providing enough nitrogen to meet the long-term needs of the vines. So, two years ago he began converting from no-till to a reduced tillage approach, disking the crop under in the spring and re-seeding in August.
"We're going back to growing our own nitrogen again," he says.
His cover crop includes a blend of bell beans, vetch, field peas and barley, which he purchases from LeBallister's Seed and Fertilizer, Santa Rosa, Calif. 
He plants a cover crop each year in every other row middle, leaving alternating strips of bare and vegetated soils between the vine rows over the winter. He mows the crop in late winter to reduce frost risks in the vineyard and disks the crop under in early spring. If needed, he'll come back in early summer with Roundup to knock down problem weeds that may have emerged after disking.
At one time, Bevill planted his cover crop right after harvest in late October or early November. However, cold, rainy weather then made establishing the stand a hit or miss proposition, he reports.
If you would like to read more about California grape growing, subscribe to GrapeLine, the exclusive electronic newsletter sponsored twice a month by Chemtura. To sign up, go to the Newsletter Sign Up box at the bottom-right of the Western Farm Press home page (westernfarmpress.com). It's free and e-mailed the second and fourth weeks of each month from March through October.
Subscribe to receive top agriculture news
Be informed daily with these free e-newsletters
You May Also Like
---