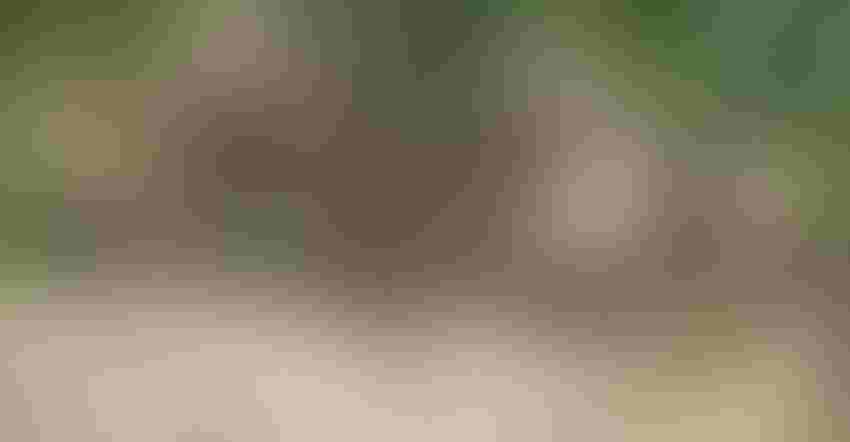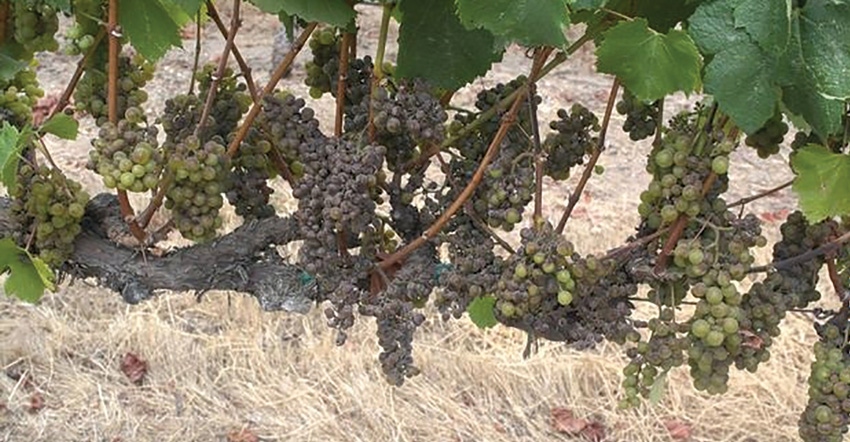 A severe case of powdery mildew appears on grapes in Santa Barbara County, Calif.
UCANR
By outward appearance, it looks like one needs a medical degree to discuss innovations in the fight against powdery mildew, especially the concept of RNA interference or spray-induced gene silencing.
Just the concept produces more of a "huh?" than a "wow!"
But University of California, Berkeley plant biologist Mary Wildermuth, who studies how to turn off mildew's mode of infection on grapes, says the pioneering technology will allow growers to control powdery mildew with less reliance on FRAC 3 fungicides.
"Compared to traditional chemicals, mildew is less likely to develop resistance to this technology, thus reducing the need for fungicide applications," she said.  With vines typically treated up to a dozen times over a growing season and with 90% of the pesticide use for grapevines designed to treat powdery mildew, that's good news.
In essence, SIGS (spray-induced gene silencing) involves RNAi molecules that target the powdery mildew genes essential for infection development and growth.
"Our results suggest SIGS treatment could be used as a replacement for systemic fungicides in mid-growing season as it has no impact on canopy, berry development, or berry chemistry," she said, after studying powdery mildew and host plant interaction for some 20 years.
"This technology solves a need and adds a novel mode of action to the grower's toolbox.  Topical RNAi should be an effective method to control powdery mildew," she added.  Project scientist Jyoti Taneja estimates field technology could be available to growers within three years.
So what are the scientists so excited about?
"Every organism has DNA, the blueprin which translates into protein via converted RNA messengers  and we can now spray a small piece of RNA that is complimentary to the powdery mildew messenger RNA.  It's very specific in terms of only recognizing powdery mildew," said Wildermuth.
'Very specific'
"We designed things to be very specific to the target, cleaving to it and doing no harm to other beneficial insects or microbes, just the target gene we're trying to kill."  RNA is a natural component of the environment and readily degrades.
"We're still in the process of deciding the final formulation to be supplied to the market," said Taneja, noting the registering process with the EPA will require more large scale testing under different environmental conditions.  Testing has already been conducted at vineyards in Fresno and Yolo counties.
Because it's organic technology, it's beneficial to the environment.  From a cost standpoint, "Right now it's similar to the cost of chemical fungicides applied every 10-14 days, but we're anticipating costs will come down further while allowing longer intervals between application," said Wildermuth.
"I suspect growers would start out with a couple of rounds of copper sulfate combinations before relying more heavily on this technology.  I see our process being complimentary to other technologies, although there is a potential for it to be a complete replacement for the way things are done today, possibly becoming a completely biological replacement for chemicals because double-stranded RNA is a naturally organic sustainable product."
Which would lead to the question of whether or not this technology could spell the death knell for powdery mildew?  "It will definitely control it, but in biological terms, the end of something is hard to ever predict, she said.  "Our field testing has shown it to definitively be an effective form of control."
Subscribe to receive top agriculture news
Be informed daily with these free e-newsletters
You May Also Like
---