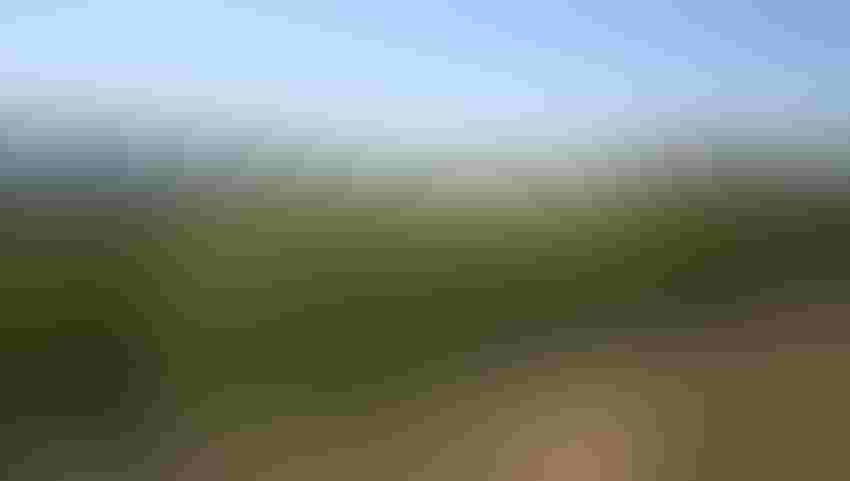 A vineyard in Oregon's Eola Amity Hills AVA at harvest.
Patricia Skinkis/OSU
Vineyard red blotch virus can be found most anywhere grapes are grown — just one of 86 known viruses that infect grapevines.
"My colleagues in the East, Midwest, Canada, and elsewhere in the Pacific Northwest report red blotch, but it seems to be more prevalent in Oregon and California, and less so in Washington," said Patricia Skinkis, viticulture extension specialist at Oregon State University.
"We're not exactly sure why that is, but it could be related to the fact that Washington has had a pretty strict quarantine in terms of having clean plant material coming into the state from other areas."
The Skinkis lab at OSU is completing a three-year study of red blotch across a number of vineyards trying to identify symptoms in Willamette Valley and what the virus does to the plants and what growers have to be fearful of.
"Just having red leaves may not affect ripening or quality," Skinkis reported. "We're processing our research to see if we can come up with greater understanding of the virus and how we might help growers make sense out of whether they should keep the infected vines or rogue them.
"One of our early findings is that testing is not black or white and the timing of testing is absolutely critical. We feared people were testing too early and early testing will not give you an accurate idea of whether your vines are afflicted or not. If you don't collect samples late enough in the year, you could be getting false negatives that end up positive later. We sampled multiple times on vines we suspected to be virus free and healthy, but they turned up infected.  Samples taken after October were more accurate."
Skinkis said sampling at their Southern Oregon research and extension center showed that summertime sampling might indicate a free-and-clear status while later sampling of the same vines could prove positive.  "The growers thought the disease was spreading, but vines were probably infected long before that and it didn't show in early sampling.
"If you sample anywhere post-harvest to pruning time, those cuttings could be sent to a lab along with bark scrapings from just under the Cambium.  If it's positive, it's going to show up then for sure."
Finding the virus
So what happens if the tests indicate the presence of the virus? "I'm a viticulture extension person, not a pathologist who might suggest the best way to get rid of it would be to pull the plant.  But people have been living with this GRBV condition since it was first described in Napa Valley Cabernet in 2008 and it's likely it's been present for decades causing canopies to become red and blotchy.
"We feel pretty safe in saying that if your vines are OK, producing quality grapes with good yield, there's no need to immediately rip out the vineyard. Our studies show there's virtually no impact on fruit ripening when comparing healthy and diseased vines in the same established vineyard and we're not finding potential vector candidates in high populations, so we're suggesting that if the vines are producing fine, don't rogue them."
So is this a case of '"Much Ado About Nothing?" "Basically, yes.  We do have some examples of seriously impacted vineyards, but they are few. Our grower feedback in statewide surveys indicates less than half who have confirmed red blotch report any negative impact on production."
Asked if we could learn to live with GRBV, Skinkis said: "Absolutely.  It's already gone on undetected for a long time."
Subscribe to receive top agriculture news
Be informed daily with these free e-newsletters
You May Also Like
---