New outbreaks on North Coast heighten need for continued vigilance in controlling Pierce's disease
New outbreaks on North Coast heighten need for continued vigilance in controlling Pierce's disease
Symptoms of Pierce's disease vary depending on variety and when vines were infected. Symptoms of those infected the previous growing season or earlier are more severe than vines infected in the current spring.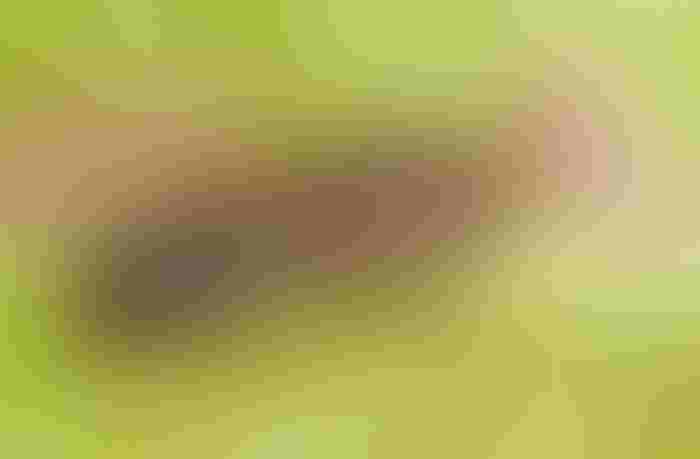 Widespread reports of the largest increase in Pierce's disease in Napa and Sonoma counties in at least 20 years highlight the need to monitor and manage this disease and the glassy-winged-sharpshooter, an aggressive vector of the disease.
There is no effective treatment for this bacterial disease which kills grapevines. The disease is spread by members of two sap-feeding families of insects – sharpshooter and spittlebug. No other sucking insects, such as grape leafhoppers, are vectors.
Pierce's disease has been in California for a century. It poses a threat not just to grapes but also to other crops crop ranging from alfalfa to stone fruits. However, the stakes for growers were raised significantly in the 1990s when the glassy-winged sharpshooter, a native of the southeastern United States, became established in southern California. Because this insect flies farther and occurs on a wider range of host plants in various habitats than other vectors, it's particularly well-suited for spreading the disease-causing bacteria.
Last month the Pierce's Disease/Glassy-winged Sharpshooter Board voted to fund a University of California research project to look for any new conditions or vectors that could be contributing to this recent upsurge in Pierce's disease on California's North Coast in distribution patterns not seen before, The goal is to develop ecology-based strategies for managing the disease.
The Pierce's Disease/Glassy-winged Sharpshooter Board was established in 2001 to support scientific research to find a cure for Pierce's disease. The board includes representatives from each of the major grape-growing regions in the state. An annual assessment paid by wine grape growers supports its research efforts. The board also advises the California Department of Food and Agriculture on a variety of issues pertaining to Pierce's disease and the glassy-winged sharpshooter.
UC IPM guidelines for managing the disease include checking vines from summer through harvest and flagging any showing symptoms of Pierce's disease. Vines that have had symptoms for a second year and first-year vines with extensive foliar symptoms (including tip dieback) on most canes should be removed.
Symptoms of Pierce's disease vary depending on variety and when vines were infected. Symptoms of those infected the previous growing season or earlier are more severe than vines infected in the current spring.
Advanced late-summer or fall symptoms of Pierce's disease on foliage of a white grape variety can include concentric rings of drying from the outer edge toward the center. Leaf margins of a red grape variety, on the other hand, turn red and then brown. Other symptoms:
Fruit clusters shrivel or raisin

Petioles of leaves remain attached to canes after leaf fall.

Wood on new canes matures irregularly, producing patches of green, surrounded by mature brown bark
Not all of these symptoms are required to be present in vines infected with the pathogen.
Some vines recover from Pierce's disease, depending on the date of infection and temperatures in the winter following infection. Low winter temperatures favor recovery, while mild winters reduce it.
Recovery rates also depend on grape cultivar; recovery is higher in Chenin Blanc, Sylvaner, Ruby Cabernet, and White Riesling, compared to Barbera, Chardonnay, Mission, Fiesta and Pinot Noir. Thompson Seedless, Cabernet Sauvignon, Gray Riesling, Merlot, Napa Gamay, Petite Sirah and Sauvignon Blanc are intermediate in their susceptibility to this disease and in their probability of recovery.
In tolerant cultivars, the bacteria spread more slowly within the plant than in more susceptible cultivars. Once the vine has been infected for more than a year recovery is much less likely. In susceptible varieties, recovery is unlikely if disease symptoms are apparent in the growing season they became infected.
Young vines are more susceptible than mature vines. Rootstock species and hybrids vary greatly in susceptibility. Many rootstock species are resistant to Pierce's disease, but the rootstock does not confer resistance to susceptible Vinifera varieties grafted on to it.
UC IPM recommendations also include checking glassy-winged sharpshooter traps weekly and monitoring traps for glassy-winged sharpshooters throughout the season until daytime temperature remains below 65°F.. Growers should record the results. Traps should be replaced every 2 weeks or when they become excessively dirty or discolored and especially on edges adjoining other alternate glassy-winged sharpshooter hosts such as citrus.
More information on identifying and managing Pierce's disease and the glassy-winged sharpshooter are available at www.ipm.ucdavis.edu.
Subscribe to receive top agriculture news
Be informed daily with these free e-newsletters
You May Also Like
---