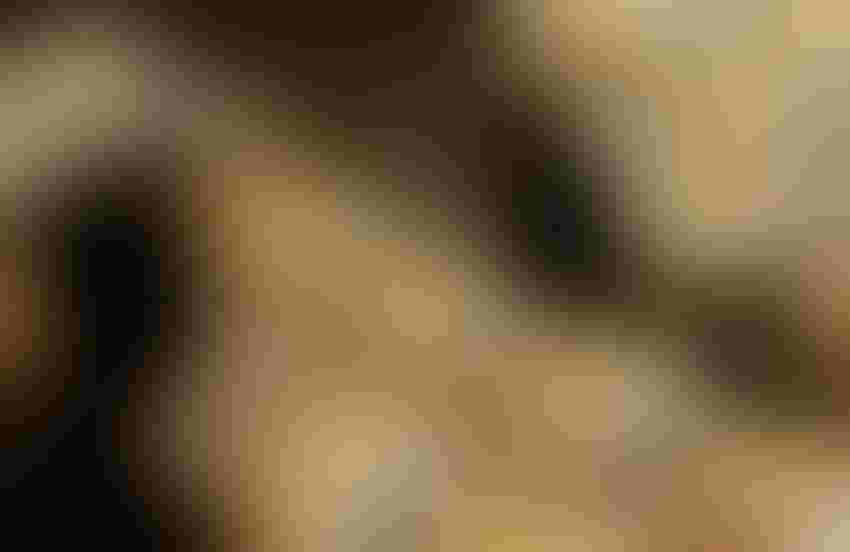 California's grape crush for wine in 2017 slightly exceeded that of 2016, at just over 4.23 million tons.
Justin Sullivan/Getty Images
Wine industry leaders say they're pleased — but not entirely surprised — that a preliminary state report found that California's grape crush in 2017 slightly surpassed the previous year's tonnage.
Last year's crush totaled just over 4.23 million tons, up less than half a percent from the 2016 crush of nearly 4.22 million tons, according to the California Department of Food and Agriculture's initial report released in February. A final report is due March 9.
Red wine varieties accounted for the largest share of all grapes crushed, at about 2.24 million tons, down 1.6 percent from 2016. Last year's crush of white wine varieties totaled about 1.76 million tons, up 7 percent from the previous year.
Allied Grape Growers Vice President Jeff Bitter, at Fresno, Calif., attributed the overall increase to additional table grapes crushed, which has no impact on wine. Last year's 131,884 tons of table grapes crushed represented a 38.2 percent jump from 2016, while the 94,268 tons of raisin varieties crushed was up 4.6 percent from the previous year, the CDFA reported. Crushed table grapes are used for concentrate and brandy, Bitter notes.
SUPPLY/DEMAND BALANCE
But he remains positive about the state of the industry. "I am perfectly optimistic that we are in balance in the marketplace with supply/demand," Bitteer said in an e-mail. "A short crop could cause things to get pretty exciting, and a long crop might slow activity and soften prices. But then again, we can say those things in any given year."
Bitter says the one thing that surprised him was the volume of tonnage from the Central Valley. District 13, which consists of Madera, Fresno, Alpine, Mono, and Inyo counties, and the northern portions of Kings and Tulare counties, had the largest share of the state's crush, at just over 1.4 million tons. The average price per ton in the district was $304.47. "I thought the total would have consisted more of coastal grapes and less interior," he says.
Gladys Horiuchi, spokeswoman for the San Francisco-based Wine Institute, hopes news of the increase will further reassure consumers of the health of wine production after last summer's heat wave accelerated harvests, and wildfires in October devastated urban areas in the state's most lucrative wine-producing region.
OPEN FOR BUSINESS
Industry leaders have been vocal in their efforts to persuade consumers that wineries and vineyards in the northern San Francisco Bay area are open for business.
For example, of the 60,000 acres of vineyards in Sonoma County, 2,500 acres were in the fire zone and fewer than 100 acres were actually impacted by crop loss or damage, Sonoma County Winegrowers President Karissa Kruse says.
"The fact that the overall crush basically came in the same as last year was good," Horiuchi says, although she acknowledges it may be of more interest to people within the industry than to the public. "This information is kind of trade-oriented. People are interested in the quality of the wine and the quality of the experience they'll have."
The crush report loomed as Bitter and others gave a "State of the Industry" presentation at the 24th annual Unified Wine and Grape Symposium at Sacramento in January, predicting that stability in grape supply from California's prime growing regions over the next three years will accompany a trend among consumers to more premium wines.
FLATTENING PRODUCTION
Growers have been planting at an attrition rate since 2015 — meaning they have planted at the same rate as they have removed vines due to age — with the result being that overall production is expected to flatten out, at about 4.25 million tons a year statewide, Bitter said at the conference.
According to the CDFA report, Chardonnay continued to account for the largest percentage of the total crush volume in 2017, at 14.5 percent, although Cabernet Sauvignon has nearly caught up, at 14.2 percent. Thompson seedless, the leading raisin grape variety crushed last year, accounted for less than 2 percent of the overall crush.
The 2017 average price for all varieties was $775.09, up 1.5 percent from 2016. Average prices for the 2017 crop by type were: red wine grapes, $961.76, up 4.6 percent from 2016; white wine grapes, $586.73, down 2 percent; raisin grapes, $252.86, up 18.4 percent; and table grapes, $178.37, up 16.5 percent.
The 2017 Chardonnay price of $921.77 per ton was up 4 percent from 2016, while the Cabernet Sauvignon price of $1,547.94 was up 5.3 percent. Zinfandel's value dropped, with its average price of $589.82 per ton down 2.4 percent from the previous year, while the French Colombard average price rose 2.5 percent from 2016, to $267.39 per ton.
Napa County grapes recorded the highest average price of $5,204.98 per ton, up 11 percent from 2016. The district encompassing Sonoma and Marin counties had the second highest return of $2,803.52, up 8.2 percent.
The entire report is available online at www.nass.usda.gov/ca
About the Author(s)
Subscribe to receive top agriculture news
Be informed daily with these free e-newsletters
You May Also Like
---