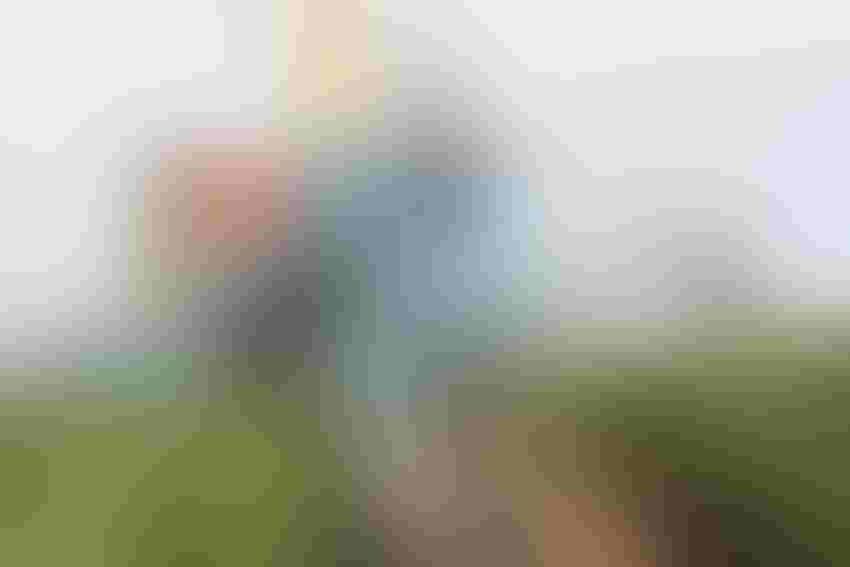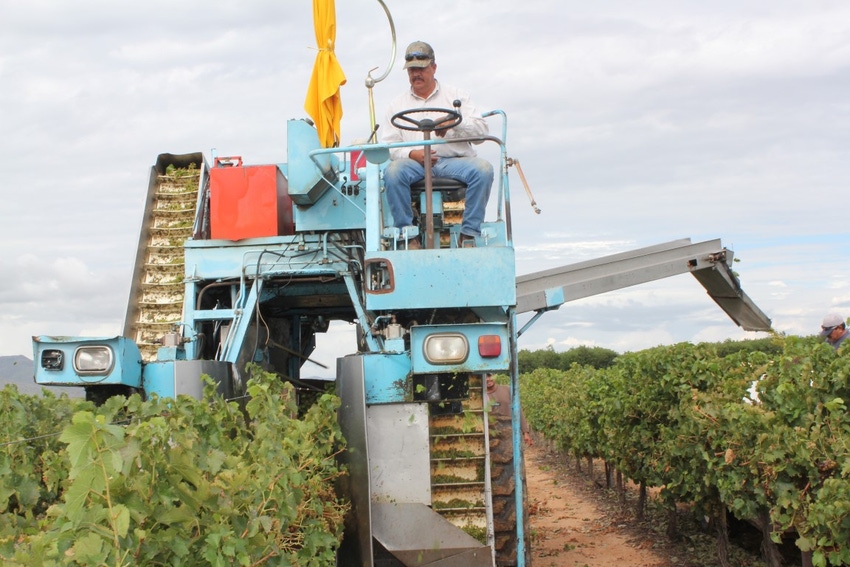 Mechanical grape harvest in an Arizona vineyard.
Nearly 100 members of the Arizona wine grape industry huddled this winter for the Arizona Grape Grower Symposium to discuss issues including pesticide safety, soil chemistry, frost protection, weed management, and organic fertilizers.
Jeff Silvertooth, director, University of Arizona (UA) Cooperative Extension, called the Arizona wine grape industry a viable entity with a promising future.
"One of the biggest current challenges is producing enough Arizona-grown grapes to have a continuum in the production process," Silvertooth said.
Grapes are imported from other states, particularly California, to help supplement production to make wine in the Grand Canyon State.
Silvertooth acknowledged, "It would be advantageous to have a full 100 percent Arizona grape wine grown, vinted, labeled, and marketed as totally Arizona-grown."
That's a tall order for the still relatively new Arizona wine grape industry where growers are working one-step-at-a-time to improve their operations. In the vineyard, growers are working on improved vineyard weed management; effective applications of crop protection materials; fertilizer use; soil chemistry; salinity; vineyard pests from rodents and raptors to rattlesnakes; and the best regional methods to protect vines from frost and heat in the high desert.
The largest wine-growing regions in Arizona are in in Cochise and Santa Cruz counties in the southeastern reaches of the state.
The day-long event was supported by UA Extension, the Arizona Wine Growers Association, Arizona Vignerons Alliance, the National Oceanic and Atmospheric Administration, and Fertizona.
Growing wine grapes in Arizona remains a work-in-progress, Todd Bostock of Dos Cabezas Wineworks told the group. His family farms 50 acres of grapes in the high desert grasslands of Santa Cruz and Cochise counties with 22 years of producing wines under their belts.
Bostock said, "A lot of research we worked with in the early days came from other places and wasn't necessarily applicable to our specific geographic area. It's nice to see research now being done that applies to local conditions."
He grows grapes in two distinctively different regions – Bostock's Cimarron Vineyard in Willcox in Cochise County at a 4,300 feet elevation and the Pronghorn Vineyard at Sonoita in Santa Cruz County at 4,800 feet.
"In Willcox, weed control is mostly mechanical with spot spraying while in Sonoita it's all over the place - a real challenging set of conditions with spring loaded weeds that just explode," Bostock said. "We've tried a lot of ways and going forward we're looking at more of a no-till situation using a roller-crimper."
Bill McCloskey, UA weed management specialist, advised growers to be proactive in weed management by using field scouting and recordkeeping to know the weed species involved, and then choose the appropriate "tactics" to control the problem.
"There's a huge diversity of elevation, slope, and sunlight in our vineyards so orchards are different in terms of the weeds. It's not a one-size-fits-all." 
McCloskey prefers a weed strategy including pre-emergent herbicide early in the season to reduce the weed population which in turn will result in fewer trips later to spray post-emergent herbicides.
"My take-home advice is to use a diversity of tactics including herbicides, cultural practices, and tillage since healthy vines go a long way towards reducing weed populations."
Most Arizona vineyards are located at 3,500 to 5,500 feet elevation.
The modern Arizona wine industry began in the early 1980s with experimental vineyards by the UA's Gordon Dutt who later started Sonoita Vineyards, the first winery of the modern era.
Mike Wierda, UA pesticide safety education entomologist, discussed the chemical characteristics of fungicides and advised applicators to become more aware of temperature and drift.
"Check your product label for drift abatement, and remember - the bigger the droplet the less drift. Read the label since composition and process details are always changing," Wierda said.
UA Extension Specialist Jim Walworth discussed salinity management, noting that most desert soils have a pH level of around 8. Referring to dissolved salt content in soils, he said salt damage is similar to drought damage; and salt management is a part of water management.
Walworth said, "Know your salinity levels because cultivars vary in salinity response."
Michael Kilby, a retired UA plant science professor and now a consultant, says the amount of land for wine grape production could be limited.
"Growers are more knowledgeable now and are doing a better job of growing product, but expansion acreage is not unlimited, especially in the lower areas subject to frost damage, hail, and drying summer winds," said Kilby.
Time will determine whether growers can adapt to these conditions.
Grape grower Rod Keeling of Keeling-Schaefer Vineyards farms fruit at 5,000 feet with about 17 inches of rain annually. While his vineyards can have many weeds, the Arizona wine grape veteran chose to stop tilling the vineyard.
"We don't run a disc for three reasons - vine health, erosion control, and public perception."
Instead, Keeling uses a six-foot rotary mower, a sprayer, and an aerator. He uses pre- and post-emergent herbicide in rows and aisles where he can't mow.
"We spray our fence lines and we're not seeing broadleaves or tumbleweed anymore, just annual grasses. Our soil organic matter and vine health have improved."
Subscribe to receive top agriculture news
Be informed daily with these free e-newsletters
You May Also Like
---