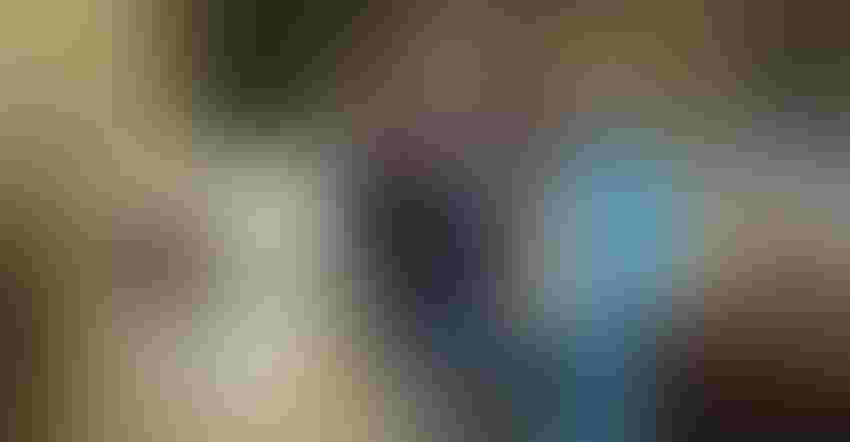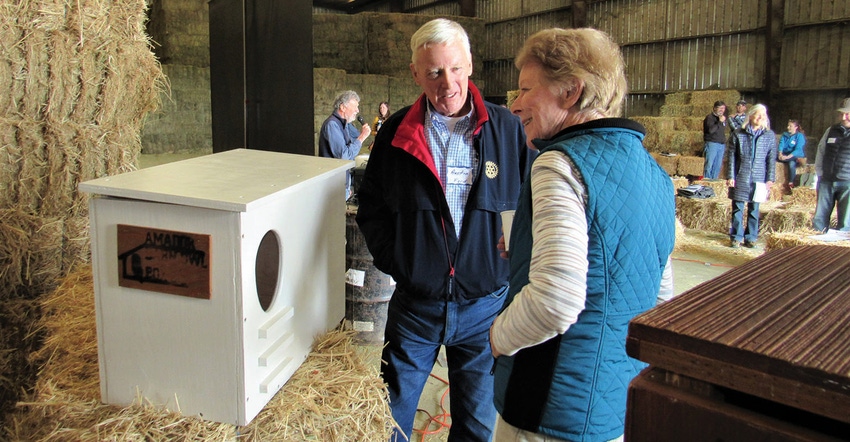 Attendees at a University of California Cooperative Extension field day in 2019 learn how to deploy bird boxes on their farms to manage rodents and other pests.
Tim Hearden
Talk about an Eye-in-the-Sky protector — what about Rodent-eating Birds on Farms, part of the learning series being presented by Wild Farm Alliance in Watsonville.
More than a hundred participants logged on to a recent lesson about the role of birds on the farm, specifically raptors that help control rodents in vineyards, where the virtues of these flying pest patrols were extolled.
"This is real and more effective than just purchasing rodenticides," said Matthew Johnson, professor of Wildlife Habitat Ecology at Cal Poly Humboldt where his job is to find win-win scenarios in which farmers and wildlife can mutually benefit each other.
"The presence of either natural habitat like hedge rows or human-made enhancements like nesting boxes for barn owls has been proven to correlate with decreased pest activity as well as increased yields," he reported.  "A barn owl diet consists of 99% rodents and in particular, mice in row crops and gophers in California orchards and vineyards."
Noting that statistics have shown a 14% decrease in rodent activity during the spring, the February to May bird breeding period, he said barn owls spend up to 40% of their time hunting in vineyards and covering a 1.5 mile hunting range.
Monitoring 300 barn owl boxes in 65 Napa vineyards since 2015 has proven that over a years' time, one barn owl family of two adults and their chicks can be named responsible for killing as many as 3,000 to 4,000 rodents.  "It's enough to matter and make an impact," he said.
Much of Johnson's research focuses on understanding both habitat selection and quality for animals in agricultural landscapes.  He suggested use of either plastic or the preferred wooden boxes mounted 10 feet off the ground and installed on metal poles with minimal forest or urban areas nearby.  Summer heat in the boxes can be reduced by vent holes with the entry facing north and east.  Boxes may be placed within 100 feet of a neighboring box (as shown on barnowltrust.org.uk/barn-owl-nestbox).
Watch for bones
Colonization may take a year or more and will be confirmed by little rodent bones found on the ground under the boxes which should be cleaned and maintained during the late summer/fall non-breeding season.
"While barn owls get the gold medal for rodent control, American kestrels also do their part in eradicating voles, mice, and insects," he said.  "The two species may not entirely wipe out rodent populations, but they can help shift prey behavior.  Either or both represent a practical application for farmers and there's real value in this reciprocal relationship."
UC Davis ecologist and raptor biologist Breanna Martinico spotlighted natural pest control from other types of raptors who consume pests on farms.  "Hawks, falcons, eagles, kites, and owls, they all are natural enemies to vertebrate pests such as gophers, voles, rabbits, and ground squirrels, and some are tireless workers who impact diurnal pests.
"The benefit of raptors isn't limited just to what they consume.  They instill a landscape of fear in rodents," she said.
About the Author(s)
Subscribe to receive top agriculture news
Be informed daily with these free e-newsletters
You May Also Like
---