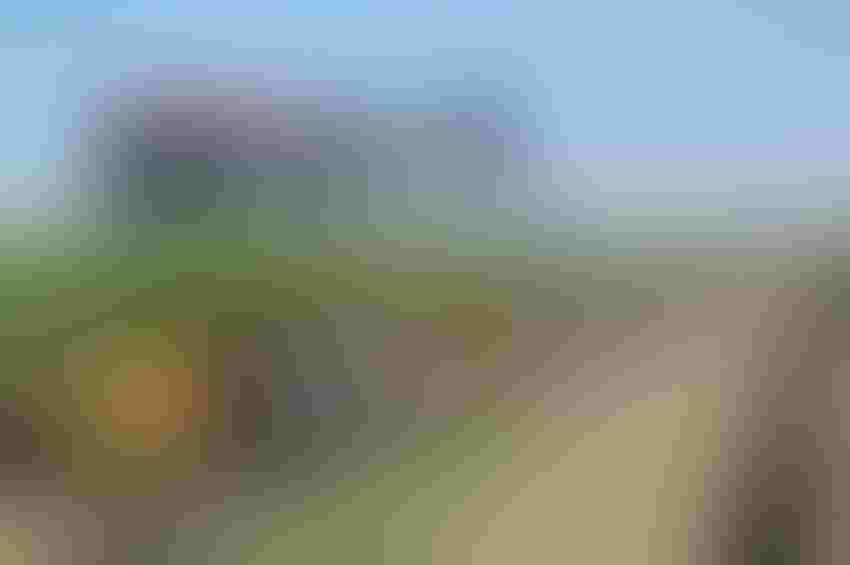 A pruning machine works in a University of California Cooperative Extension test vineyard in Oakville, Calif.
Univ. of Calif. Division of Agriculture and Natural Resources
Along with everyone else, the grape industry was impacted this year by the government shutdown, waylaying things like required laboratory analyses, approval of labels, and dissemination of the crush report, due to missed deadlines to submit purchase data for the 2018 harvest.  But the $57 billion economic sector represented by 6,000 wine grape growers in California has carried on, tallying 2018 year-end facts and crystal-balling 2019 predictions.
As the West Coast's table grape industry reported shipments of near record volume in 2018, regional winegrowers touted exceptional quality due to a later harvest. Players like Sun-Maid Growers of California launched aggressive raisin marketing plans for this year and grape growers throughout the state met to discuss down-to-earth strategies to keep things humming in current fashion.
In Sacramento at the Unified Wine & Grape Symposium, wine economist Mike Veseth reminded the thousands in attendance, "Sales have slowed and demand by the public for wine has leveled off." 
Speaker Glenn Proctor, an international wine broker noted, "Global wine harvest in 2018 was huge, so we don't have a supply problem - we have a demand problem."
In Santa Barbara and San Luis Obispo, growers attended a seminar on Vineyard integrated pest management sponsored by the University of California Cooperative Extension featuring a dozen key speakers presenting on various aspects of pest, disease, and vine health management.  The seminar also coverage a variety of topics ranging from winter freeze damage to foliar spray to fruit chemistry.
Pruning injury
In Fresno, growers affiliated with the San Joaquin Valley Winegrowers Association met to discuss the latest UC research on incidents of disease and machine injury to trunks and rootstock.
Although pruning is a relatively straightforward process - year one establishes the trunk; year two focuses on lateral branches; and year three (and subsequent years), fruiting spurs are established and/or renewed - there are many ways that things can go wrong. 
Pruning, one of the most important steps in vineyard management, is both an art and a science because doing it well has a big impact on grape yield and quality.  One grower likened it to giving vines a haircut, buzz cut style, removing the previous year's canes to allow fresh growth in the new season.
"Growers are having a hard time finding workers to maintain their vineyards and increasing labor costs are challenging grape-farming's economic sustainability," says UC Cooperative Extension viticulture advisor George Zhuang.  "We're studying the use of machines to reduce the number of people needed to perform tasks like pruning.
"Because canopy architecture and yield characteristics involving mechanically-pruned vines are much different from those that are hand-pruned, water and fertilizer requirements for the mechanically pruned vines can be quite different.  Performance of different rootstocks in mechanical pruning systems is critical for both yield and fruit quality of grape production in the San Joaquin Valley."
Mechanization push
Kaan Kurtural, UC Cooperative Extension viticulture specialist in the UC Davis Viticulture and Enology Department, whose research involves improving vineyard production efficiency through canopy and crop load management via mechanization, says the case for switching out hand labor with machines gets stronger with growers using such mechanization for pruning, suckering, and removing shoots and leaves.
"Mechanical pruning can produce more stable year-to-year fruit yields of better quality than traditional and more costly hand pruning spurs or canes."  His comments were based on a Kern County two-year research trial looking for ways for growers to reduce both cost and water use.
Addressing the current status of mechanical pruning instruments, Kurtural says: "We're not in the early stages of development anymore because we can now do final one pass pruning, but that's only one portion of the equation.  We can also do shoot and leaf removal, cordon brushing, and suckering trunks.  About 90% of harvesting in California now involves machines that follow rows via basic sensors and video assist. Operators just line up the machine and hit 'go'. "
Subscribe to receive top agriculture news
Be informed daily with these free e-newsletters
You May Also Like
---