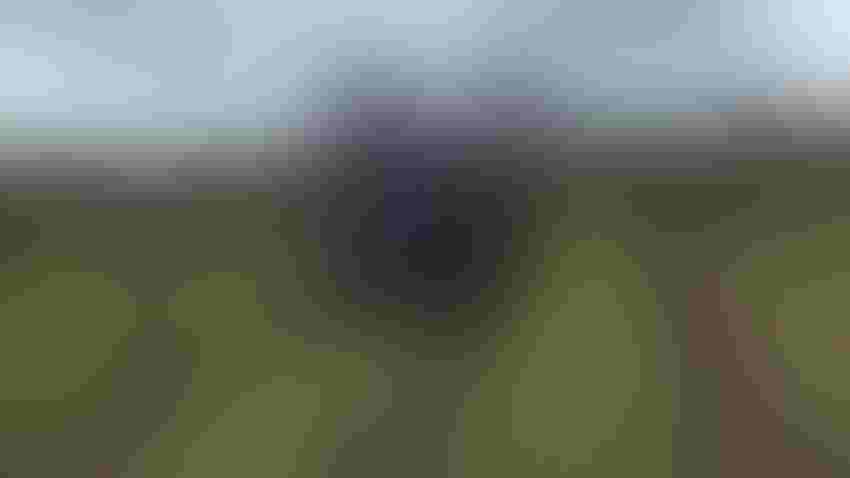 Grape vines are trimmed mechanically in a Northern California vineyard.
University of California, Davis
While much of the early 2023 industry conversation has been taken up by discussions of rainfall, snowmelt, flooding, and rock slides, grape grower talk will soon return to that of continuing drought and punishing summer heat and how to protect vines.
High-wire trellises to beat the heat -- VSP or vertical shoot position — have been around for awhile, seen with growing frequency in Central Valley vineyards. Duff Bevill, who has farmed well over a thousand acres in California, has been keeping an eye of those developments elsewhere for over a decade now.
"One of our clients was doing a vineyard redevelopment in flatland country near Healdsburg and was planning to install VSP moveable wire," Bevill said. "I knew there had been some experimentation with high wire, but didn't know many growers who had anything really positive to say about it except folks on a 2,000 acre vineyard in King City who had converted older vineyards into high wire, replanting it all in that fashion. There was the inevitable trial and testing and modification as they developed different blocks, but once they found the right way to do it, everything got better. We utilized that King City template in Alexander Valley and we're now in our fifth year of mechanical harvesting."
Success?You bet. "The goal here is to have no footprints in the vineyard, literally no people in the field, and we're moving closer. There's no hand harvesting, no hand leafing, no hand suckering in the head, and no pruning. In the early days, comparable VDP systems would cost some $6,000-$7,000 per acre and today's cost could push $10,000.With current time-tested high wire systems, costs might run between $3,000-$4,000 less per acre. It's pure economics," he says.
Grapes shaded by leaves
With the grapes shaded by vine leaves, the effects of intense and prolonged heat is mitigated on the fruit and money is saved at harvest by allowing machine pruning instead of intensive hand labor.
"Once a Cabernet Sauvignon canopy has established, sunburn virtually goes away when your fruit wires are at 48 inches," he said, noting the process has also brought success to growers of Pinot Noir, Chardonnay, and Merlot.
"What I'm doing this coming year is stuck my neck out on my own personal property by converting new Sauvinion Blanc acreage from a VSP into a block vineyard, taking a more conventional system and turning it into a box prune high wire that will be mechanically harvested for the first time in 2024. This crop has all the growth characteristics similar to Cabernet.It's just simply a white grape that grows well in Dry Creek Valley and I'm trusting I can manage a high wire system with it, just like Cabernet."
The experimentation, the trial and error of learning by doing…and re-doing when necessary, is all aimed at better environmental conditions for the fruit and a reduction in labor costs that run some 60% of production."We've created new efficiencies, like mechanical leafing as an option to hand leafing.And every time we discover a new efficiency, we reduce labor costs.
"The high wire doesn't just modify certain tasks, it actually eliminates or drastically reduces them.Hand harvesting is gone, another elimination where machines do the jobs rather than people as a response to the increasing cost of human labor, and in some cases, actual profitability."
Subscribe to receive top agriculture news
Be informed daily with these free e-newsletters
You May Also Like
---