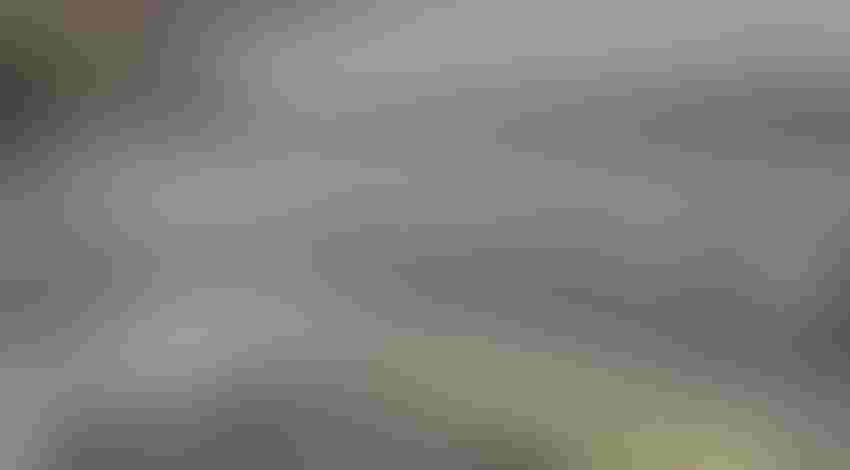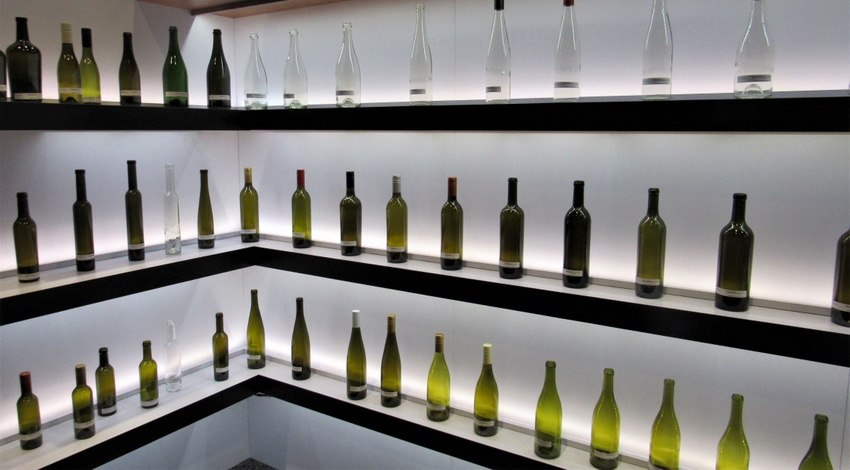 Wine bottles are displayed at the Unified Wine and Grape Symposium in Sacramento, Calif., in late January.
Tim Hearden
A lobbyist for the glass recycling industry says there's enough raw material in North America to serve bottlers' needs. But vendors who procure new bottles for the wine industry say it's not so simple.
Scott DeFife, president of the Glass Packaging Institute, asserts a "glass shortage" is not an accurate description of the state of the market. He says glass manufacturers have never run out of raw materials to make glass bottles, jars and other containers, and he encourages bottlers to consider switching to domestically sourced glass.
His pitch recently at the Unified Wine and Grape Symposium in Sacramento, Calif., raised some eyebrows among bottle vendors with booths in the trade show, who reported that shipping backlogs of items from China have made the new wine bottles commonly used by wholesalers much more expensive and difficult to get.
"The glass shortage is extreme," Cynthia Fisher of West Coast Bottles in El Dorado Hills, Calif., told Farm Progress.
DeFife says improving the bottle recycling system in the U.S. and building more recycled-glass manufacturing plants would enable industries to forego imported glass.
"I have been getting a lot of press questions about glass shortages," DeFife told reporters during the conference. "We are not denying that wineries have been having a problem getting glass bottles. But by and large they are relying on imports."
Shortages reported
The difference of opinion comes as wineries in the Napa Valley and elsewhere have complained recently that traditional 750-milliliter glass bottles are becoming nearly impossible to find, and new bottle inventory is sold before it even arrives. International freight delays, labor shortages and higher costs have contributed to supply-chain challenges for glass suppliers and their customers, CNBC reports.
The cost of glass has skyrocketed by 45% compared to 2019, and wine in some cases has been left fermenting in barrels for longer than desired, according to Yahoo News. One winery even resorted to buying bottles with another vineyard's name on them, the site reported.
While supplies are tight as unfilled imports have been stuck in port, DeFife argues the industry could accommodate new customers who are looking to source from the U.S.
"We're not saying imports are bad, but we're trying to be precise," he said.
More recycled glass could get into plants in the U.S. if the waste management stream were improved, he contends. Single-stream recycling "messed up more than it helped," he said
"Glass is a unique part of the recycling stream," he said. But in sorting facilities, it's often "the last pile before the landfill pile," and there wouldn't be enough "clean" material left to double production, he said.
Imports important
But Joel Miller, president of Canada-based Phoenix Packaging International Corp., asserts that only about 5% of wine bottles are manufactured in North America. A majority are made in China, and some Asian factories have been shut down because of a variety of reasons, he and other vendors said.
For one thing, a tariff on Chinese glass has prompted some manufacturers to seek other sources. Another problem is the factories pollute; some near areas that are growing in population have closed, and some manufacturing was shuttered temporarily for the Beijing winter Olympic Games.
Over the past several years, some American glass companies have shut down factories as craft beer has switched from glass to aluminum, Miller told Farm Progress.
The Glass Packaging Institute disputes the vendors' figures, noting that in 2021 alone the U.S. domestic glass container plants shipped out nearly 2.2 billion wine bottles to their customers, which was much more than 5% of wine bottles globally.
The organization cites U.S. International Trade Commission data showing that through the end of December, almost 40% of the 1.49 billion 750ml bottles imported last year for wine and spirits were from Canada and Mexico.
But the vendors counter that the antidumping duties proposed by the U.S. on Chinese glass in 2019 -- which the American glass manufacturing industry supported -- caused wholesalers to scramble to find bottles elsewhere. Glass bottles from China currently face a 25% tariff.
"They're the ones who are trying to stop glass from coming in from China," Fisher said.
Before the tariff was imposed, the U.S. Department of Commerce estimated the value of Chinese glass container imports in 2018 at $371 million, according to WineBusiness.com.
Environmental concerns
There are 33 plants in the U.S. that process glass waste into new materials, according to ENF Recycling's directory of companies. Damaged and broken product, called cullets, are returned to the furnace, emitting gas pollutants such as Sulphur dioxide and carbon dioxide, the Science Times explains. The process also uses a tremendous amount of energy; the most important fuels for glass-melting furnaces are natural gas, light and heavy fuel oil, and liquefied petroleum gas, according to Environmental XPRT, an industry marketplace and information resource.
These environmental constraints and a shortage of manufacturing-plant workers would likely hinder more glass-bottle production in the United States, Fisher said.
"Go ahead and recycle it; that would be great," she said. But new plants would face "a not-in-my-background-type thing," she added.
[This story has been updated with additional comments from the Glass Packaging Institute and vendors.]
Subscribe to receive top agriculture news
Be informed daily with these free e-newsletters
You May Also Like
---