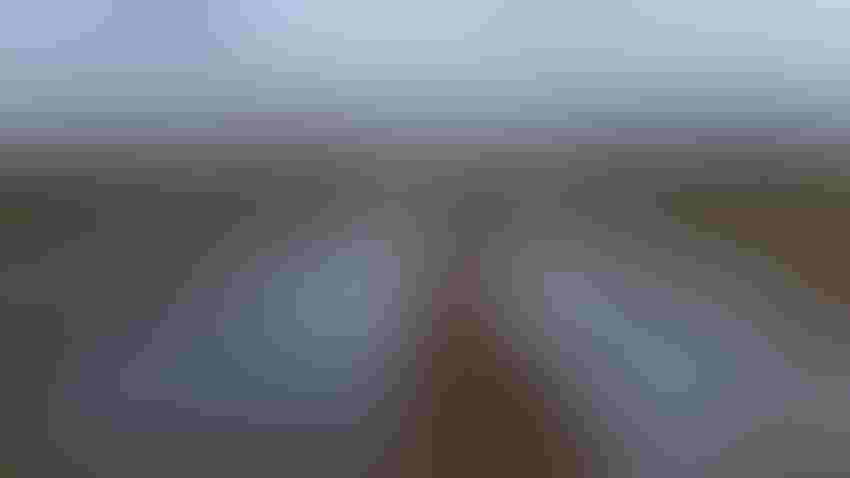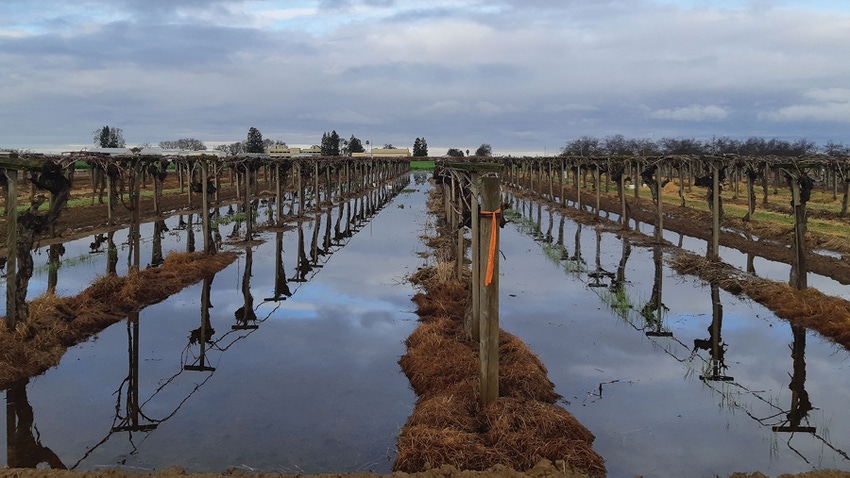 A vineyard in California is flooded. A University of California researcher is touting the flooding of fields to replenish aquifers.
Helen Dahlke/University of California, Davis
Lots of column inches have been filled lately with hosannas about raindrops and reservoirs, snow drifts and submerged acreage. And despite the attendant negatives that often accompany most positives, the wet stuff was welcome — although conversations are returning to issues of continuing drought.
While the liquid lingers and before the record 400% snowpack in the Sierra Nevadas begins to melt and flow, a variety of suggestions about saving that water are being debated. On the University of California campus, where Thomas Harter lectures in the Department of Land, Air, and Water Resources, discussion centers around aquifer recharge.
"Heck," he says emphatically, "why can't we save some of that water that's coming down the mountain before it slips into the ocean or evaporates from the newly revived Tulare Lake?
"Between now and August/September, between the San Joaquin Valley and Tulare Lake Basin, some 36 million acre-feet is gonna run off before it gets into reservoirs. And that doesn't include the Sacramento Valley where we'll have another 11 million acre-feet coming into that watershed. While some of it will recharge to groundwater, it really puts the conversational spotlight on managed aquifer recharge throughout the agricultural landscape."
Emphasizing the uniqueness of weather's recent past — "a year unlike others" — Harter encourages a positive and rapid plan of action to save as much as possible, banking it for leaner times.
"This may end up being the only surplus water we have and given the constraints between SGMA and the availability of surface water, it will really be the only additional water we could have in the system that we're not already saving somewhere in our reservoirs. Since our holding facilities are topped out, recharge is our very best option to put this amount of water away over the next few months and growers are the ones we need to incentivize to do this."
'Goes beyond engineering'
According to the Cooperative Extension Specialist with a doctorate degree in hydrology, it's not rocket science.
"This isn't an engineering project because it goes beyond engineering," he says. "What it comes down to is that for a hundred years we've treated water and flood management as engineering projects where you plan a project and build it, then have an agency manage it. In this case, while some engineering may be required, it's in essence, the use of existing landscape and current irrigation systems on a large scale, millions of acres involved in flood management of agricultural acreage. We should take as much of this water as possible that's not already allocated and put it out there where it's most feasible. Field flooding recharge — managed aquifer recharge or MAR — is the way to get the most out of these river overflow waters."
Alluding to the fact that "it doesn't have to be much," the figure of some four-feet-deep squirreled out over the 5-6 million acres in the valley and the basin, would logistically be feasible.
"Can we figure out ways to do it," he asks noting that if meetings with growers could come up with a plan perhaps even delaying its distribution until after the growing season, "instead of running out into the ocean what is not needed for environmental purposes, water users could delay its use into October, November, or December.
"The governor has made an effort to level the playing field for this year and allow for some creative solutions. The most promising use of this newly-found excess water would be for agricultural lands. If we could get the creativity and engagement into the grower community, this water could be flowing into vineyards.
"If we don't take advantage of this, more fields will have to be fallowed and the growable acreage footprint will have to shrink further."
Subscribe to receive top agriculture news
Be informed daily with these free e-newsletters
You May Also Like
---