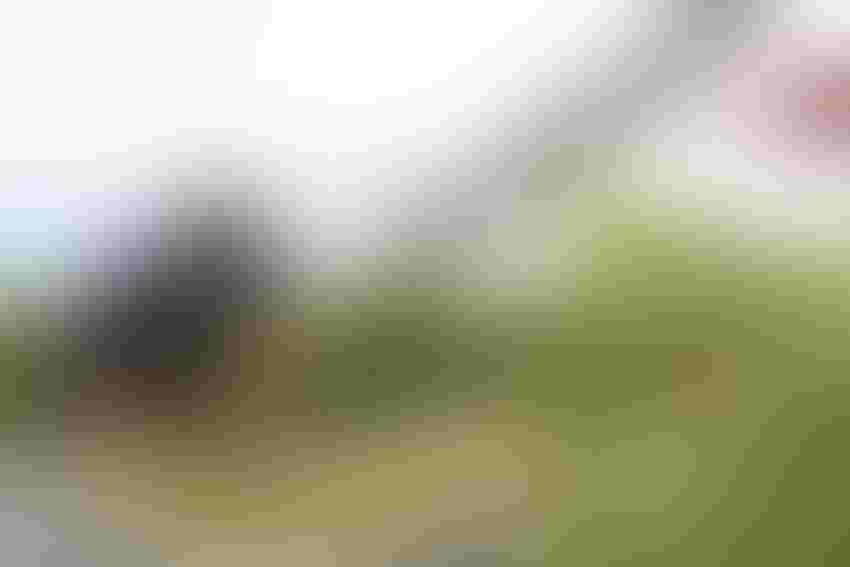 Wine grapes are harvested at the Pillsbury Wine Co., in Wilcox, Ariz., whose wines will be featured at an upcoming festival.
Lee Allen
There's a certain irony that in pre-Prohibition days, Arizona had more grapes in the ground than California.  Contemporary production, however, shows the West Coast boasting some 1,200 vineyards and the Grand Canyon State just managing to hit triple digits in the number of licensed and bonded wineries.
The last official USDA survey, sponsored by the Arizona Wine Growers Association, is now five years old, but even in 2014, that first set of comprehensive statistics showed that statewide production was already totaling well over $2 million in the thousand or so acres then being planted with the top five varieties being Cabernet Sauvignon, Syrah, Grenache, Zinfandel, and Merlot.
Rod Keeling of Keeling Schaefer Vineyards was the newly-elected president of the wine grower group back then with the Arizona Farm Bureau quoting him as "on a mission of establishing a more defined wine brand for Arizona (with) focus on quality and authenticity."
Although there are three major wine regions in the state, the oldest centers around the southeastern part in the rolling hills of Sonoita/Elgin, designated as an American Viticultural Area.  Despite the spotlight focus there and in the nearby greater Willcox area --- acknowledged by Food & Wine magazine as 'gaining critical mass in fine winemaking' --- the biggest wine whoop-de-doo of the year, the 10th annual Arizona Wine Growers Association Grand Wine Festival, took place in Phoenix (Jan. 26-27) with representation by 30 wineries pouring over 250 different wines.
That event was preceded by the always-sold-out Grand Wine Gala where winners were recognized in competition for the Academy Awards of Arizona wines.  Former Wine Growers Association President Brian Predmore called it "AWGA's largest event of the year, the biggest celebration of Arizona wine in the state.  This year marks a record number of both wineries in attendance and the number of wines being poured."
Current President Barb Coons added: "Given the festival's long history in the community, we're grateful to be back for a tenth year with a reinvigorated lineup and an opportunity to showcase our award-winning wines with some of the most dynamic personalities in the industry."
Taking center stage
Not to be totally outdone by the larger metro valley crowd, Southern Arizona takes its own center stage  with the 6th annual Off the Vine Festival on Feb. 16 inviting 25 vineyards/wineries to show up and pour.
Among those in attendance will be Alcantara Vineyards and Winery, one of the largest vineyards in central and northern Arizona's wine country, as well as Pillsbury Wine Company, producers of a variety of wines out of Willcox Bench Winery, and Golden Rule Vineyards in nearby Cochise.
Sam Pillsbury, American-born and New Zealand-raised, is an accomplished film producer and director who staked claim to 100 Willcox acres where he produces 16 wines concentrating mostly on Rhone blends.  "There's enough generic food and wine in the world," he says, harvesting only fruit grown in his organic vineyard with a mission to make the perfect terroir.
First planting in 2000 and using 100% Arizona fruit, his nuanced wines are already returning rewards like "Best Arizona Winemaker" from the Arizona Culinary Institute and "Best Arizona Winery" from MSN.com Food and Wine as well as a Grand Wine Festival Gold Medal for his Diva 2016, a combination of Grenache, Syrah, and Petite Sirah. 
His 2018 harvest "was a dream with the right amount of rain and a couple of 4 inch snowfalls.  All indications are that our 90 tons of fruit is the best harvest ever."
And you'll go nuts (bad pun here because they also grow pistachios to go with their wines) for the yields at Golden Yule Vineyards, nestled on the slopes of the Gunnison Mountains in Dragoon where Jim and Ruth Graham have grown grapes since 2007.
"We'll be featuring recently-released 2016 varietals including Syrah, Petit Verdot, Sangiovese, and Cabernet Franc, wines that have already received recognition in competitions this past winter, in particular, the Syrah that has received Double Gold and Best in Class honors," says Jim Graham, indicating more good news may be forthcoming as "Our 2018 grape harvest was one of our best for both quality and quantity."
Old wine barrels
Not only will the skill and dexterity of Arizona's growers and vintners be on display, so, too, will a byproduct of their creativity --- those old oaken wine barrels.  Eagle Eye Barrels of Camp Verde will be showing the rustic elegance of those retired and repurposed barrels as crafted by owner Kenny New.
"What was once an oak tree that got modified by a coopers hands into a storage container for red wine and ultimately infused by its color during the process, now gets another life, repurposed into furniture and décor --- each piece completely unique because each barrel retains the wine's natural dyes differently," he says.
 And there's still time for some whimsy with backyard patio barrel stave placards that read: "Swirl  Sip  Savor", "Drinks Well With Others", and "Love the Wine Your With
About the Author(s)
Subscribe to receive top agriculture news
Be informed daily with these free e-newsletters
You May Also Like
---