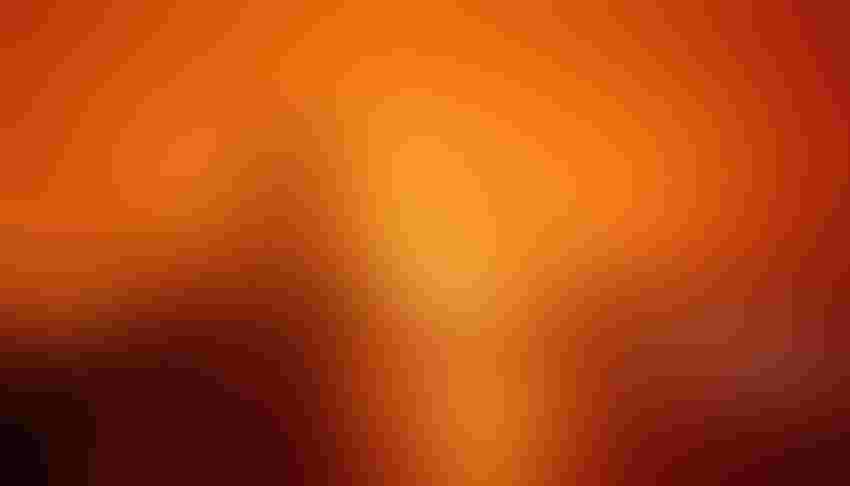 A boat motors by as the Bidwell Bar Bridge is surrounded by fire in Lake Oroville during the Bear fire in Oroville, California on Sept. 9, 2020.
Josh Edelson/AFP via Getty Images
Before lightning storms ignited another destructive wildfire season, vineyards on California's North Coast were on track for what Sonoma County Winegrowers president Karissa Kruse called an "almost ideal" growing season.
The first picks of Pinot Noir and Chardonnay for sparkling wine occurred in early August, about 10 days earlier than 2019, she said.
"The vines had been ahead of schedule all season and the lighter crop led to earlier ripening fruit," Kruse told Farm Press.
Growers in Sonoma County had harvested about 15 percent of their crop when hot, humid and windy weather prompted lightning strikes around the state in mid-August. Record-setting temperatures around Labor Day fueled numerous new fires.
One cluster of blazes, the LNU Lightning Complex in Napa, Sonoma, Lake, Yolo and Solano counties, burned over 360,000 acres before it was contained. It destroyed or damaged over 1,500 structures while killing five people and injuring five others, reports the state Department of Forestry and Fire Protection.
Largely in the mountains
"We have heard of some damage to a few vineyards that were right in the fire zone, but don't believe that many overall acres were impacted," Kruse said in an email. "It is important to note that this fire, unlike recent fires, has remained largely up in the mountains and hillsides and not down on the valley floor where most of the vineyards are located.
"Also important to note was that the fire events from the LNU Lightning Complex Fires were present in only three of our 18 local AVAs – all in fairly remote areas of Sonoma County," she said. "It is still a little early to know the full impact and some growers and vintners are waiting on test results for the winegrapes."
Labs have been inundated in recent weeks with grapes they're testing for smoke taint. While it usually only takes a couple of days to get results back, labs are currently facing a six- or seven-week backlog, said Glenn McGourty, a University of California Cooperative Extension emeritus viticulture advisor.
"Fresh smoke is what we're worried about," McGourty told growers in a webinar. "When smoke inundates a vineyard from a rapidly spreading fire, that's when we're going to have problems. Old smoke from some distance … makes our lives miserable, but it probably won't affect the fruit. Old smoke is mostly suspended particulates."
Assessing damage
The wine industry is among many agricultural sectors that are assessing damage from California's devastating 2020 wildfires, which burned a university ranch in Santa Cruz, charred hundreds of square miles of rangeland and timber, destroyed livestock and bees near Vacaville and shrouded nearly the entire state in thick smoke and ash for weeks.
As of mid-September, wildfires in California, Oregon and Washington had burned nearly 5 million acres, destroyed thousands of homes and other buildings and killed at least 35 people, including at least 24 in California, according to authorities.
Among the largest was the August Complex, a cluster of blazes across the Mendocino and Shasta-Trinity national forests, which had combined to become the largest fire in state history at over 870,000 acres as of mid-September, according to the InciWeb interagency fire information website.
Others included the nearly 400,000-acre SCU Lightning Complex south and east of the San Francisco Bay Area and the more than 260,000-acre North Complex Fire in Butte and Plumas counties.
Among the damage to agriculture:
--Nearly 300 animals – mainly horses, sheep, goats and alpacas – were killed during the LNU Complex Fire in Solano County. Some were hit by vehicles, and others couldn't escape burning buildings, the UC's news service reported.
--Vacaville area beekeepers suffered severe losses just as they were repopulating their colonies for almond pollination next February, the California Farm Bureau Federation reported. The fires also damaged or destroyed bee habitat and forage, according to the organization.
Caroline Yelle, owner of Pope Canyon Queens in Vacaville, lost about 500 hives valued at $100,000, according to the Farm Bureau.
--A Santa Cruz research ranch operated by California Polytechnic University, San Luis Obispo lost seven of its nine residential houses, two classrooms, computer equipment, rangelands and water infrastructure to the CZU Lightning Complex fires, the CFBF reported. Fires also burned six reserves in the UC's Natural Reserve System.
Worker safety concerns
The thick smoke that lingered for more than a month in some areas created safety concerns for workers harvesting a multitude of crops, including early-variety almonds, table grapes, plums, apricots, oranges and numerous summer vegetables.
Lindauer River Ranch in Red Bluff had to turn lights on until about 11 a.m. on some days as it finished prune harvest in late August, co-owner Michael Vasey said.
"We had some unhealthy days from the fires early in the season … so we had to find N-95 masks and hand them out to all the employees," he said. "We've got to take care of people in the field."
The Sonoma County Winegrowers reopened a Farmworker Resiliency Fund that it started after wildfires in 2017 and 2019, providing gift cards, rent support, RV purchases and other goods for laborers evacuated and not working because of the latest fires, Kruse said.
Fires are becoming an annual occurrence in the North Bay's wine country, which has suffered a series of devastating blazes in the last three years. In 2018, smoke from the Mendocino Complex Fires destroyed the market for an estimated $41 million in wine grapes grown in vineyards near burned areas.
Growers whose vineyards were close to this year's fires have options, which include opting to not harvest selected rows or blocks, producing micro-fermentations to determine quality, and carefully analyzing wines throughout the fermentation process, said Gladys Horiuchi, spokeswoman for the San Francisco-based Wine Institute.
"We do anticipate that some of the winegrapes will go unpicked," Kruse said, "however the vast majority of the county and our vineyards were not under evacuation orders or experiencing heavy smoke and should remain of the quality necessary to be part of a Sonoma County wine program."
Subscribe to receive top agriculture news
Be informed daily with these free e-newsletters
You May Also Like
---