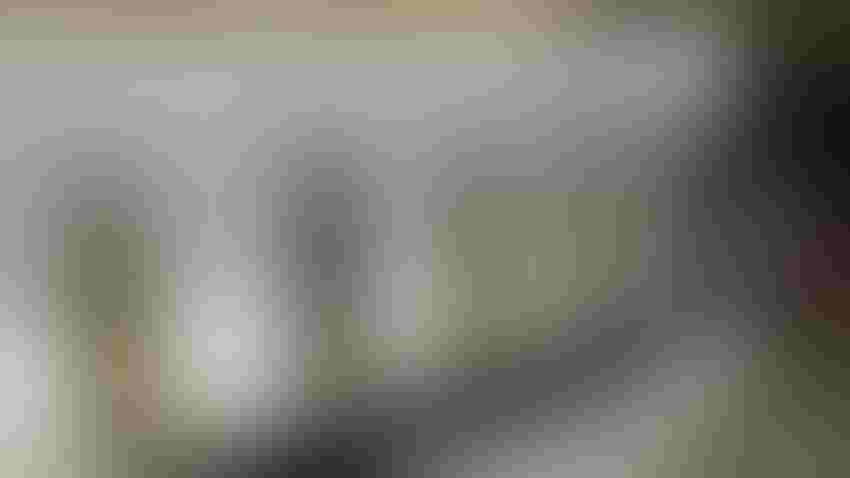 Wine bottles are displayed at the Unified Wine and Grape Symposium in Sacramento, Calif.
Tim Hearden
Typically in response to a crisis, the English put on the kettle and "brew a cuppa," according to the London Daily Mirror.Germans prefer a frothier lager liquid.Irish drinkers opt for a more potent libation.
While the beverage of choice may be a generalization, we do make our consumption preferences known and American wine consumption choices have been all over the board of late.
New data from IWSR, a firm that analyzes the drinks market through demographics and lifestyle trends, shows a paradox in the U.S. wine industry last year with more regular wine drinkers, but consuming in falling volumes.
"Following a low point in 2021, there's been a bounce-back in the rate of wine participation with tracking showing there were 4 million more wine drinkers consuming their favorite beverage on a weekly basis in 2022 versus a COVID-era low point in 2021," they report.
Conversely, despite the boost in the drinking population, overall wine consumption volume dropped 2% last year with an IWSR forecast of a gentle continuing decline.
Although seemingly a paradox, the researchers explain it by looking deeper into demographics and lifestyle behaviors: "America's drinking population has been in decline since 2015," they report."Participation among Millennials and Gen Z drinkers has declined faster than the overall population.In 2015, four out of ten U.S. residents between the ages of 21-34 said they drank wine at least once a month.The latest figures for the same age cohorts show that proportion (40%) has dropped to 25%."
And while other age group markets have also seen similar tumbles, the rates of the 55-plus age cohort have been more resilient.
"The impact of the pandemic, specifically lockdowns and closures of on-premise consumption, led to fewer opportunities for new recruits to be introduced to wine."
Wine bounces back
As the consistency of concern over COVID-19 waned, a bounce-back was noted in overall wine participation rates with a slight bump (3%) in monthly wine drinking in the under-40 population as bar and restaurant activity resumed.
"Lots to be done in that market," says 4th generation Madera County grape grower Jeff Bitter, whose day job is as President of Allied Grape Growers. "Gen Z and younger consumers, from legal age to mid-30s, exhibit a preference for alternative drinks and an indifference to wine.
"Products other than wine are catching the attention of the younger generation, causing the industry to take a closer look at consumption and asking the question, 'Why aren't these guys drinking wine?
"There's a growing movement away from alcohol in general, sort of a neo-prohibition based on societal pressure around personal health choices."
But Bitter is quick to remind those who still choose wine that, "Wine is a naturally-produced agricultural product with no added sugar that is low in carbs."
The IWSR report concludes with a focus on the data paradox, noting: "It's uncertain whether the current bounce-back in the wine drinking population is a temporary post-Covid blip or a reasserting of a longer-term trend.For an industry facing a loyal, but aging, consumer base that isn't readily being replaced with enough new entrants, now's the time to harness any positive momentum in wine participation and beverage alcohol spending — particularly the wine category —by these new recruits."
Subscribe to receive top agriculture news
Be informed daily with these free e-newsletters
You May Also Like
---