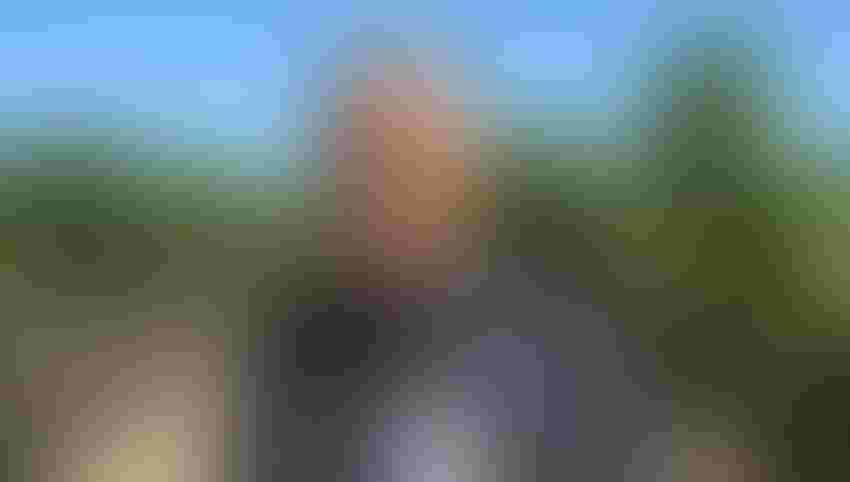 Glenn Proctor, a grower and board chairman of Sonoma County Winegrowers, says his grandfather taught him to respect the land.
Tim Hearden
[Note: This is the third in a series of articles examining what California agriculture could look like in 2030 – a decade from now.]
As a 4-year-old in the 1960s, Glenn Proctor was taught by his grandfather to work his family's vineyard northwest of Healdsburg, Calif., with a mule.
The family's Puccioni Ranch is composed of a small valley with up slopes on each side rising from 400 to 1,000 feet. The family didn't buy its first John Deere tractor until 1968.
Today the mule is a sort of mascot for the fourth-generation farm, with Proctor and his family claiming they're "stubborn as a mule" about using traditions and practices passed down through the decades to make good wine.
Proctor doesn't really think about the few dollars more for each bottle of wine he might earn for focusing on sustainability. The property has been in his family since 1904, and he farms it with respect for the land because he believes it's the right thing to do.
"Our goal is to be around for many, many years to come," Practor, board chairman for the Sonoma County Winegrowers, said during a media event last fall to promote environment-friendly winegrowing. He added that his grandfather, Louie Puccioni, used to remind him that one day the ranch would be his responsibility.
"Growers want to maintain their farms by managing resources carefully and investing in solutions," he said.
Marketing sustainability
However, the ability to market efforts to protect water and air quality and coexist with birds and other wildlife while also looking out for workers may be key to survival for California farms that operate under some of the most rigid government and consumer expectations in the world.
Ever-tightening state and federal regulatory burdens on growers in the areas of food safety, water and air quality, labor wages and worker health and safety have caused production costs to increase exponentially, researchers at California Polytechnic University, San Luis Obispo reported in 2018.
Moreover, food distributors are placing more demands on growers as they hear from consumers who clamor for sustainably produced products.
"I think the consumers are demanding more," said Jenna Oesch, global marketing and customer experience leader for Bayer Vegetable Seeds. "Younger generations are caring about how their food comes to be."
But will consumers pay more? History and survey research suggest they might, at least in some circumstances. Some California commodities, including prunes and olive oil, have baked their superior production methods into their wholesale and retail prices for years.
Prunes, olive oil, almonds
As the global prune market has become more competitive in recent years, the Golden State began to target higher-end consumers with a message of better quality. California prunes are processed in dryers, whereas the cheaper and smaller prunes from South America are typically sundried on the ground much like raisins.
Producers of extra-virgin olive oil have waged a decades-long battle against inferior European imports that were undercutting them in price. Several years ago, the California Olive Oil Council developed a labeling seal under which products must meet certain quality and taste benchmarks, including the care for which the farms handle olives and avoiding the use of chemicals during extraction.
Many other commodities have mounted industry-wide sustainability campaigns. One of the leaders is the Almond Board of California, whose Almond Orchard 2025 Goals seek to cut water use by an additional 20 percent, increase use of environmentally friendly pest management tools by 25 percent, eliminate orchard waste by making better use of byproducts and halve the amount of dust kicked up during harvest.
The industry plans to use measurements of growers' success not only to mollify policymakers, but also to attract buyers, board Chairwoman Holly King said during the Almond Conference in Sacramento in December. The industry's efforts are already starting to gain recognition.
"When I go around the United States, people ask me about the almond industry," said Rob Kiss, a former longtime field representative for Blue Diamond Growers who now holds a similar position with Bayer. "People from other commodities say, 'How do you do that? You're so successful.'"
Wine's big push
However, one would be hard-pressed to find an industry that's made as big an effort to market its sustainability as wine. Nearly one-third of California's vineyards representing more than 85 percent of commercial wine production are certified under a statewide sustainability program, according to a report issued in February.
The California Sustainable Winegrowing Alliance's voluntary program imposes stringent vineyard and winery requirements in the areas of soil health, water and energy conservation, habitat preservation, natural pest control and other aspects of production. Other certifications – such as Lodi Rules, Napa Green and Sustainability in Practice – have similar requirements.
In 2014, the Sonoma County Winegrowers embarked on a goal of achieving full participation among the county's vineyards in sustainability certification programs. As of last fall, 99 percent of the county's more than 1,800 vineyards were certified.
"We say 99 and counting," said SCW president Karissa Kruse, adding that participants agree to undergo monitoring and tracking verification every year. She said growers' mindset has changed in the last five years so that most are receptive to such programs.
The industry believes all its efforts could pay off in the prices paid to wineries. In surveys and focus groups last year, the consumer research firm Wine Intelligence found that nine in 10 regular wine drinkers are willing to pay more for sustainably produced wine.
Among all U.S. wine consumers, $3 was the average extra value that consumers gave to sustainable wines, but younger consumers – Millennials and Generation Z consumers of legal drinking age – indicated they'd pay up to $8 more per bottle.
Consumers largely associate sustainable wine with California, whose exports have increased by 60 percent in the last decade, according to the San Francisco-based Wine Institute. Several wineries in the northern San Francisco Bay area are paying premiums to growers for sustainably produced grapes, Kruse said.
"Our high-quality wines, leadership in sustainable winegrowing and the aspirational lifestyle of the Golden State continue to attract consumers worldwide," said Bobby Koch, the Wine Institute's president and chief executive officer.
Experts still skeptical
But University of California agricultural economist Dan Sumner questions whether these premiums will help the industry enough to start to offset regulatory costs. Answers in a survey are one thing, he said, but actual market behavior is another.
"I'm sort of agnostic," he said. "There are certainly changes in what consumers are paying for. But organic ag has been growing a lot for 30 years and it's now up to about 5 percent of acreage, maybe more. For some products it's about zero; it's hard to do organic almonds."
Lynn Hamilton, a Cal Poly SLO researcher who coauthored the report on regulatory costs, sees little evidence that third-party certifications will net a premium in the way that organics do.
The organic label is governed by the USDA and has certain guidelines, whereas for consumers "it's a lot of work to find out what the third-party certification means," she said. "There's no federal standard, and there are all kinds of marketing ploys. It's very difficult to find out how they're audited."
That said, Hamilton envisions farms that wish to stay small finding niches to add value and make their farms more profitable, she said.
"It's going to take increasing creativity to be a small producer," she said, "because it's only going to keep increasing."
[Next month: Examining California's shrinking number of farms]
Subscribe to receive top agriculture news
Be informed daily with these free e-newsletters
You May Also Like
---