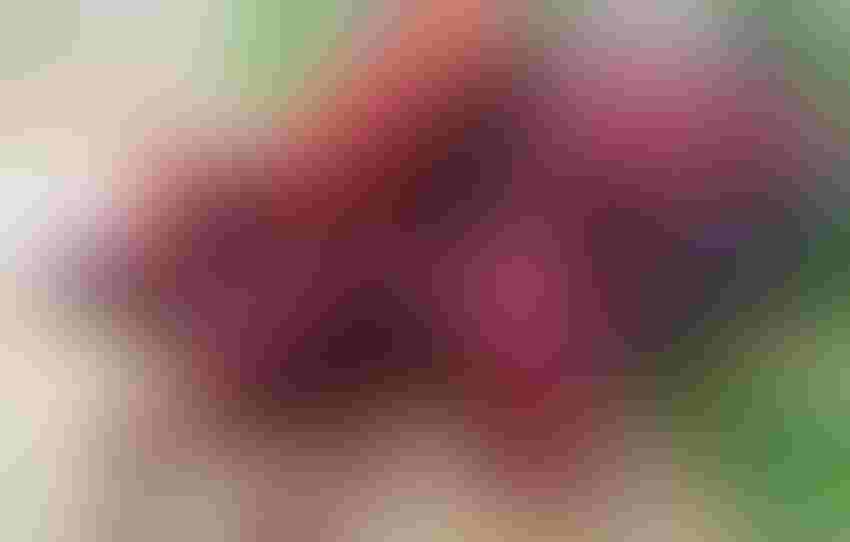 Rapid cooling of grapes immediately after harvest to remove field heat helps to slow respiration and provide a longer shelf life, agronomists say.
DarrenPlatts/iStock/Getty Images
Table grapes should be cooled as quickly as possible after harvest, applying sulfur dioxide within the first 12 hours after picking to maintain quality, experts from the University of California and the USDA advise.
For grapes, as with other fruits and vegetables, rapid cooling immediately after harvest to remove field heat helps to slow respiration and provide a longer shelf life. In general, each hour that passes before picked fruit is cooled reduces its shelf life by a day.
In California, many grape forced-air coolers are designed to achieve sufficient refrigeration in 6 hours or less, after which the pallets of grapes can be moved to a storage room, says Carlos Crisosto, University of California-Davis, and Joseph Smilanick, USDA Agricultural Research Service.
IDEAL CONDITIONS
Ideally, the storage room operates at 30 to 32 degrees F. with 90 percent to 95 percent relative humidity and a moderate air flow for mature grapes. The high humidity and moderate air flow are needed to limit the rate of water loss from fruit stems, Crisosto and Smilanick note in a paper outlining post-harvest quality maintenance guidelines for table grapes.
Serious water loss following harvest "can result in stem drying and browning, berry shatter, and even wilting and shriveling of berries," they note. "Gray mold, caused by the fungus Botrytis cinereal, requires constant attention and treatment during storage and handling."
The advice to cool picked grapes quickly is among numerous tips offered by Crisosto and Smilanick to keep fruit free of blemishes. They note that California's major cultivars, Thompson Seedless and Flame Seedless, are marketed for up to eight or ten weeks after harvest.
High sugar content and berry firmness are important factors in maintaining consumer acceptance, as are a lack of defects such as decay, cracked berries, stem browning, shriveling, sunburn, dried berries, and insect damage.
COMMON PROBLEMS
Here are a few common physiological disorders and other issues experienced with table grapes, and some ways that Crisosto and Smilanick suggest dealing with them.
Shatter — This is a loss of berries from the cap stem, which generally increases in severity the longer the fruit is on the vine. Berries of seedless cultivars are usually less well attached to the cap stem than seeded cultivars.
Shatter often occurs with rough handling from field packing all the way to the final retail sale. It can be reduced by controlling pack depth and fruit packing density, using cluster bagging, gentle handling, and maintaining recommended temperature and relative humidity.
Waterberry — This is associated with fruit ripening, and most often begins to develop shortly after veraison, or berry softening on the vine. The earliest symptom is the development of small dark spots on the cap stems or other part of the cluster framework.
Over time, these berries become watery, soft, and flabby when ripe. In California, this disorder has been partly associated with a high nitrogen status vine, so avoiding over-fertilization with nitrogen can help prevent waterberry. Trimming off affected berries during harvest and packing is commonly done, although it's labor intensive.
Gray mold, or Botrytis cinereal — This is the most destructive of the postharvest diseases of table grapes, largely because it develops at temperatures as low as 31 degrees F., and spreads from berry to berry, Crisosto and Smilanick explain. Wounds on berry surfaces near harvest provide opportunities for infection, although no wound is necessary for infection when wet conditions occur.
Removing desiccated infected grapes from the previous season can reduce gray mold infection, as can leaf-removal canopy management, pre-harvest fungicides, and trimming visibly blemished grapes before packing. Sulfur dioxide is also commonly used for decay control.
The complete paper can be found at https://bit.ly/2o777cv
For more information, visit the UC-Davis "Fresh Produce Facts" website at https://bit.ly/2BJtleo
Subscribe to receive top agriculture news
Be informed daily with these free e-newsletters
You May Also Like
---