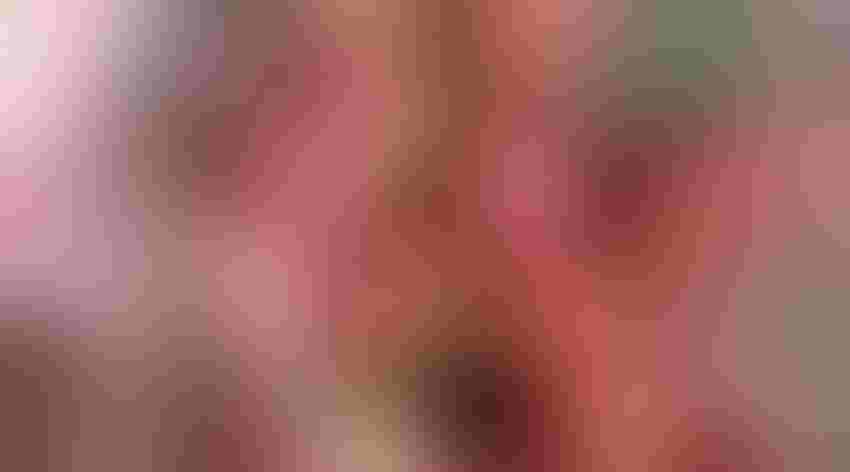 Table grapes from California are ready to be enjoyed.
Tim Hearden
California table grapes have waited patiently — and now it's their turn.
"Usually the earliest fruit gets to the U.S. in January and comes from all over — Peru, Chile, some from South Africa, South Korea, and Mexico," says Kathleen Nave, the California Table Grape Commission's president and chief executive officer. "There's a lot of folks contributing to satisfy consumer need."
Once the early season crops start to wane, harvest of California table grapes gets underway — weather dependent — sometime in May in Coachella Valley, followed by San Joaquin Valley starting in late June or early July. That timing coincides with the approximate ending of the imported season, usually about mid-June.
"Mexican grape harvest started in April this year with product coming into the U.S. in lower volume and slower compared with the same time last year," Nave says. "California is also starting its volume a little later, but prices are good and demand is high, so we feel like the California season is off to a good start."
Nave says demand for grapes continues to run high and consumers do make a distinction about product quality.
"Although imported grapes are less expensive for retailers compared to California product, consumers can handle the combined volume of imported and domestic product and our research shows over 90% of consumers prefer California-grown if prices are the same," she says. "Even if prices for California grapes come in a bit higher, 73% of buyers will pay the extra price because of the better quality."
Because of fluctuating weather patterns, Coachella ran a bit behind schedule this year as did San Joaquin Valley. "High heat at a particular time slows down the development of color," says Nave.
"That just means it takes a bit longer for the fruit to mature and that's not uncommon. We still anticipate we're on target for our early estimate of 106.5 million 19-pound boxes, slightly higher than last year's final production of 105 million." 
A fairly typical year
A final estimate for 2020 output will be announced in late July.
"Comparing box units over recent past years, there's a range of 106 to 110 million so this should be a fairly typical year based on California's table grape growing history," she says. "If you look back over 30 years, it's pretty common to have three years where you've got a pretty stable crop, then you take a big jump up and then you pull back a bit and stabilize. So I'm comfortable with the initial crop estimate this year, it's a nice-sized crop allowing for a promotable volume where supply won't exceed demand."
Those stable production numbers are impressive in light of the fact that over the last three years "a lot of table grape growers have merged, sold, or moved into other commodities, so we're seeing a reflected volume in light of fewer vineyards and fewer table grape growers and shippers."
From a marketing standpoint, "overall, there are 80 varieties grown here, each of which has its own seasonality, flavor, and texture characteristics — so it can be a lengthy season representing a lot of new varieties if people are interested in discovering new flavors," Nave says.
Because of COVID-19, consumer shopping behavior has changed, so the table grape industry advertising has also changed, this year reflecting on healthy snacking. And because there's more home cooking being done, there are more recipes that include grapes, like using them as a replacement item for anchovies on your pizza.
"Our foundational message will be that the purchasing decisions you make matter because the livelihoods of many people depend on shoppers choosing grapes from California over those from other countries. We're asking buyers to look for California product because these grape-growing communities need their support."
For more news on pests, disease management and other issues affecting vineyards, subscribe to the bi-monthly newsletter The Grape Line.
Subscribe to receive top agriculture news
Be informed daily with these free e-newsletters
You May Also Like
---