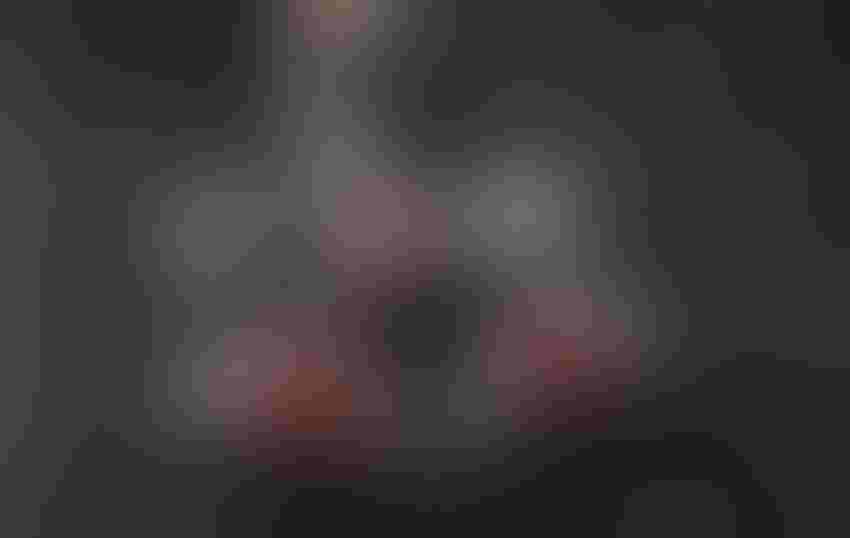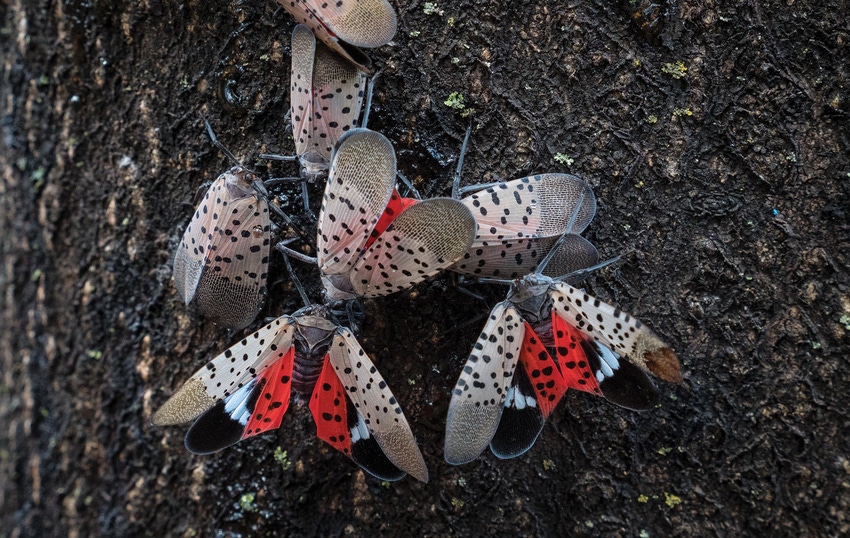 The spotted lanternfly can kill a plant outright or leave it so damaged it can no longer produce fruit. And it loves grapevines.
USDA ARS
The drumbeat about spotted lanternfly started elsewhere but is getting louder for grape growers in the West who, in all probability, will eventually have to face that same music.
Myriad publications continue to tell of the destruction possible. "Spotted Lanternfly is Moving West (South, and Sometimes North and East)" writes WineBusiness.com. "How Can We Keep Spotted Lanternfly Out of California?" is a headline from the California Department of Food and Agriculture.
The ravenous half-inch-long, beautiful-but-deadly insect can kill a plant outright or leave it so damaged it can no longer produce fruit. And it loves grapevines. "It kills the plant and you're out of business," said Pennsylvania Agriculture Secretary Russell Redding.
And habitat modeling has shown the entire grape-growing region of California is highly suitable to SLF.
"It has been detected in both California and Oregon," reports WineBusiness.com, "but established populations have not yet been discovered. The important point is that this insect is here and it's moving slowly, but surely, into new locations."
In its native Asia, SLF isn't a problem because natural predators keep populations at steady levels. In the U.S., there are few predators and over 70 suitable plant hosts for spotted lanternfly, making its population level very problematic, especially within the multiple agriculturally important crops and ornamentals in California.
The California Department of Food and Agriculture has already given the pest an 'A' rating with SLF "likely to establish wherever they are found." Although the lanternfly only produces one generation per year, infestations "may lower crop yield and increase production costs in economically-important crops such as grapes. Since it entered this country, the insect has caused considerable vineyard damage and is not yet under any kind of official control. The consequences of introduction of Lycorma delicatula to California are rated high."
Industry reps and ag officials throughout the state, especially in grape country, have been monitoring the pest's progress elsewhere. "We want to discover it before it becomes heavily established here," said Matt Kaiser, CDFA State Survey coordinator.
Inspections throughout the state
Responding to Farm Press' questions, Kaiser replied: "Last year, 141 sites around 68 high-risk locations in 24 counties across the state were inspected — with no evidence of SLF infestations found. Those locations were receiving shipments of goods directly from SLF-quarantined areas, including ports, stone importers, rail yards, and an airport.
"We focused on two preferred hosts of SLF, grapevines and Tree of Heaven," Kaiser said. "During CDFA inspections of incoming cargo flights from the eastern US in 2019 and 2020, a small number of adult SLF were found on aircraft. Movement of single adult insects via aircraft is considered a lower risk pathway than the movement of live egg masses, which can be laid on anything from trucks and rail cars to packing materials and firewood. Plans are being made for additional survey activities in 2021."
Bottom line — no confirmed detections of SLF in any California environment to-date with aggressive action planned for this year.
CDFA surveys have focused on locations where SLF would likely be introduced via high-risk pathways. county agricultural department staff have also been asked to watch out for SLF when performing trapping activities for other pests. A few public sightings of suspected SLF reported to the Pest Hotline have been investigated but proved to be other insects or photos taken outside the state.
"This is a potentially serious pest for California grape growers that has proven to be a challenge to manage where it is already established," said Kaiser. "We are learning new things all the time that are aiding in new management strategies as well as new regulations to prevent the artificial spread of the pest."
For more news on pests, disease management and other issues affecting vineyards, subscribe to the bi-monthly newsletter The Grape Line.
About the Author(s)
Subscribe to receive top agriculture news
Be informed daily with these free e-newsletters
You May Also Like
---