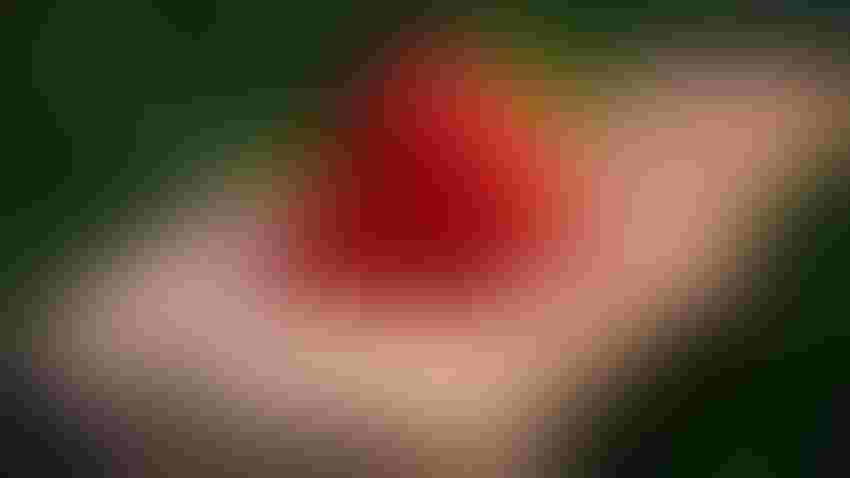 Five new strawberry varieties were recently released by Foundation Plant Services at UC Davis. One of those varieties is called Eclipse, which is said to yield better, promises to provide a longer shelf life, and like the others four, is resistant to Fusarium wilt.
Jael Mackendorf/UC Davis
Five new strawberry varieties said to have good flavor were released recently by the University of California. The varieties are available for sale to California nurseries from the Foundation Plant Services.
The varieties are resistant to Fusarium wilt and boast high yields and improved fruit quality. Released in April, the varieties include UC Eclipse, UC Golden Gate, UC Keystone, UC Monarch, and UC Surfline. Monarch was developed specifically for mechanical harvesting.
According to Steve Knapp, a plant breeder and director of the UC Davis Strawberry Breeding Program, this is the first release of cultivars with Fusarium wilt resistance. They are meant to replace disease-susceptible plants currently on the market such as Monterey, UCD Royal Royce, and UCD Valiant.
 "These provide the same yield or better and are Fusarium resistant," Knapp said of the new varieties.
Eclipse is a summer cultivar with the potential to increase grower profitability as it produces during the fall and winter months. Yields during research tests were 54% higher than similar cultivars. Knapp says he expects this variety to become popular with commercial growers.
Golden Gate and Keystone varieties are "day neutral," meaning they can grow well throughout the summer. Surfline and Monarch are "short day" plants with resistance to Verticillium wilt and Phytophthora crown rot.
Surfline and Eclipse are said to be firmer with a promise of longer shelf lives.
Fusarium wilt is a soilborne pathogen. It became more of a problem in commercial strawberries after the fumigant methyl bromide was phased out in the United States nearly 20 years ago. According to UC Davis researchers, the pathogen remains in the soil. Over time the cases of wilt increased, leading to concerns that it would destroy the California strawberry crop.
The varieties are said to have improved flavor and characteristics that allow them to be produced almost year-round in California. About 1.8 billion pounds of strawberries are harvested each year in California.
The UC Davis strawberry breeding program dates back almost 100 years. It has released 72 patented cultivars since its inception.
Information on the varieties and orders can be found online at https://fps.ucdavis.edu/strawberrypatent.cfm.
Subscribe to receive top agriculture news
Be informed daily with these free e-newsletters
You May Also Like
---