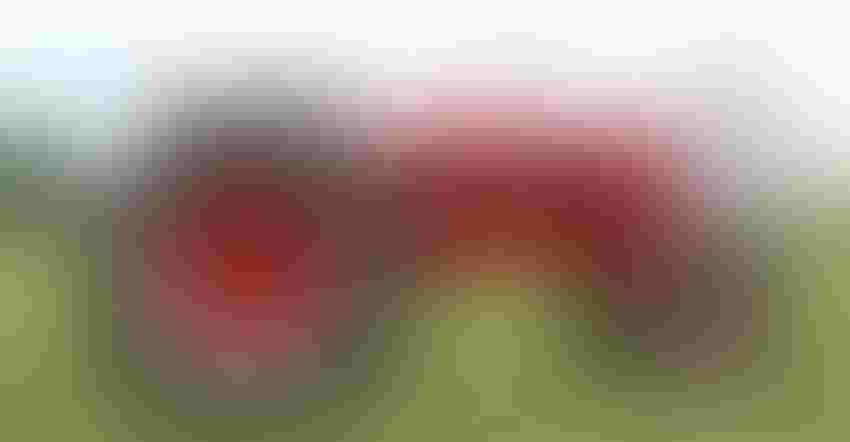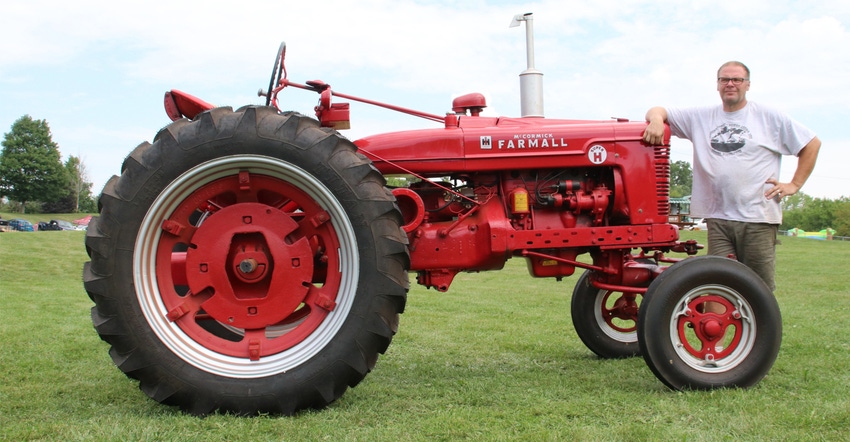 FAMILY ADDICTION: Working on tractors is a hobby that began with Kevin Riemer's great uncle Kenny Marske and his father, Gary Riemer.
Harlen Persinger
Enthusiasm for old tractors began when Kevin Riemer of Sussex, Wis., was 5 years old. His father and great uncle would take him to the local antique machinery show, where he could climb up on the old tractors and pretend to drive them. His favorites were the red ones because his dad, Gary, did daily chores with them where he was employed on a farm near Lisbon, Wis.
"In 2000, there was a 1953 model Super H Farmall listed for sale in a farm paper. I learned the first owner was from Eagle River, Wis., and used the machine for logging and farming. When he passed away, someone purchased the property as an investment," Riemer says. "After looking at the tractor, I paid $1,200 and drove it home. Although the temperature was minus 13 degrees, that never bothered me because I was so elated to own that tractor. I always wanted that model, and I was looking forward to restoring and playing with it."
Over the next few months, he checked the transmission, drained all the oil, and installed new spark plugs and wiring. Two years later the paint was scraped off, the sheet metal was sandblasted, and the castings were cleaned with brushes and a grinder.
Manufactured by International Harvester, this row crop tractor, serial number SH7241J, followed the model H and was the forerunner of the Farmall 300. The super H was the perfect size to work 160 acres, the average farm size in the 1940s. There were 28,784 machines built, and the cost was $2,100 off the showroom floor in 1954.
Features included a wide front, mechanical steering, open operator station, five forward and one reverse gear, dry disc clutch, 17-gallon fuel tank capacity, mechanical disc brakes, pressure radiator, two headlights in the front and red combo light in the rear, fenders, toolbox, activated hydraulics, battery under the fuel tank, paper belt pulley, amp, oil pressure and water temperature gauges.
Taking ownership of the Super H was the springboard that pushed Riemer to start collecting more tractors. Today, he has 10 machines from the 1930s, 1940s and 1950s, including a model 1936 Allis-Chalmers WC, a model 1949 Case DC and a model 1951 John Deere B. Other equipment he's picked up includes four plows and a 10-foot disk.
Riemer, who operates equipment for Seegers Brothers Excavating in Waukesha, Wis., notes that working on tractors is a hobby that began with his great uncle Kenny Marske and his father, Gary Riemer. As a member of the Sussex Antique Power Association, he and his family attend plowing days and other events. For many months of the year, he and his wife and children take the tractors out for drives in the countryside.
"The Super is my favorite tractor because it's the first one I ever owned. It features a personality that just wants to run," he says. "I never let it sit outside, and even when parked in the garage, a blanket covers the tractor to keep it looking new, right off the dealer showroom."
Persinger writes from Milwaukee, Wis. To have your favorite tractor featured, email or send in a photo of yourself with your tractor, along with a 300-word write-up about the tractor, to [email protected] or Wisconsin Agriculturist, P.O. Box 236, Brandon, WI 53919.
Subscribe to receive top agriculture news
Be informed daily with these free e-newsletters
You May Also Like
---