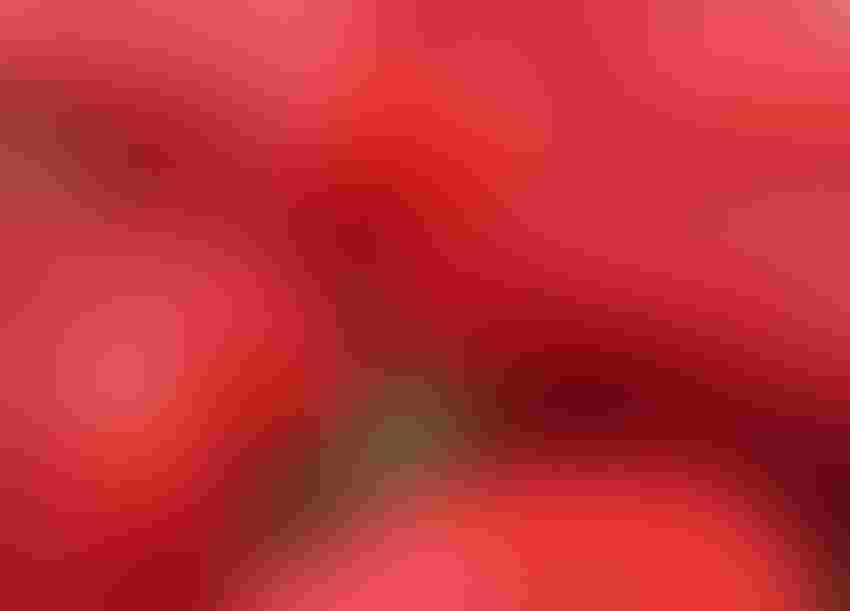 Per capita consumption of strawberries set a record in 2017.
A commodity group is rolling out its latest promotional campaign for strawberries just as the USDA reports that per capita consumption of the fruit set a record in 2017.
As domestic fresh-market production increased again in 2017, estimated fresh strawberry per capita use rose to 8.34 pounds last year, up 4 percent from the previous high in 2016, according to the USDA's latest Fruit and Tree Nuts Outlook.
Mexico continued to supply nearly all the fresh strawberry imports to the United States in 2017 with overall volume relatively steady from the previous year, the USDA reports in its March 29 outlook.
The boost in fresh consumption coincided with the California Strawberry Commission's launch in May 2017 of the "Pick Real" campaign, with the aim to "better connect the family farm to the family table," says Chris Christian, the commission's senior vice president. The campaign promoted the health benefits of eating one serving of 8 strawberries a day, she says.
"Shippers in our industry also expanded their marketing and promotional efforts," Christian told Western Farm Press in an email.
Record fresh production in California also contributed to increasing consumption, she says. Last year's total of 206 million flats was considerably better than the 196.8 million brought in from fields in 2016, which was then a record.
To maintain the brisk demand for strawberries, the commission has started a "Get Snacking" campaign, featuring monthly consumer contests, digital advertising, "influencer" partnerships and national media outreach to promote simple snack ideas, according to its website. The promotion will be conducted through August.
California's relatively mild winter this year advanced the start of strawberry harvest and put some downward pressure on prices, the USDA notes. In the Santa Maria and Oxnard growing districts, prices in March were in the range of $10 to $14 per 18-pound flat, compared with $12 to $16 per flat a year ago, according to the agency. However, prices could recover as recent heavy rains and cold weather may result in short-term supply gaps, the USDA explains.
Other commodities
Among other notable items in the 33-page report:
--Smaller orange crops in California are part of a nationwide trend of declining citrus production, although the anticipated 21 percent decline in U.S. citrus harvests in 2017-18 is largely attributed to crop loss in Florida from Hurricane Irma. In the Golden State, the navel crop – with harvest entering its home stretch – is projected at 1.4 million tons, down 11 percent from last season, according to the National Agricultural Statistics Service. Overall orange production in California is projected at 1.78 million tons, down 12 percent from 2016-17, according to NASS.
Total nationwide production of tangerines and mandarins for the year ending Sept. 30 is estimated at 881,000 tons, down 15 percent from the previous year. California's crop is projected to be 840,000 tons, down 12 percent from last season.
The smaller citrus crops have facilitated a surge in prices. For instance, fresh oranges nationwide averaged $25.45 per box in January, up 58.2 percent from the 16.09 per box on average a year earlier, according to the report.
--Despite some wind and wildfire damage in December, California avocado production this season is slated to total about 188,000 tons, up significantly from the "off-year" production of about 148,000 tons in 2016-17 and above the average of the past 5 years. The plentiful supplies are softening grower prices; shipping-point prices for Southern District California Hass avocados in February and early March averaged about $39 to $41 per 2-layer flat, down from about $53 per flat during the same time a year ago.
--Domestic consumption of melons declined slightly last year, coinciding with declines in domestic cantaloupe and honeydew production and overall lower imports that reduced total melon supplies. On average, 25.1 pounds per person were consumed, down from 26.3 pounds in 2016 but slightly above the previous 5-year average.
Subscribe to receive top agriculture news
Be informed daily with these free e-newsletters
You May Also Like
---