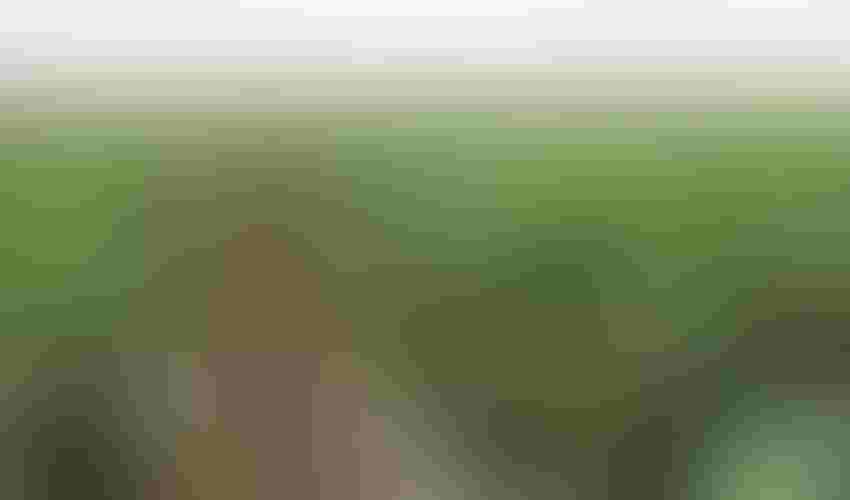 Strawberries grow in Watsonville, Calif. Soilborne diseases reduce strawberry yields and eventually kill infected plants.
Tim Hearden
In another step toward helping the strawberry industry become fumigant-free, a University of California researcher has won a $411,395 USDA grant to test the ability of other crops to suppress berry pathogens in the soil.
Joji Muramoto, a UC Cooperative Extension organic production specialist based at UC Santa Cruz, plans to test onions and other alliums and a certain variety of wheat to see if they suppress pathogens that cause ailments such as fusarium wilt and charcoal rot.
His team is conducting greenhouse and field trials after promising studies in Asia and other areas, university officials said.
"Studies have shown the potential of using allium crops to control fusarium wilt, and Summit 515 wheat for charcoal rot," Muramoto told the UC's news service. "Our goal is to examine the effectiveness of suppressive crops, optimize them for California strawberry production systems, and evaluate their economic feasibility for commercial use."
The research is a natural extension of the California Strawberry Commission's "Farming Without Fumigants" initiative, which it launched more than a decade ago, spokeswoman Carolyn O'Donnell told Farm Press.
"That initiative helped to illustrate that there would not be a single 'drop-in' replacement for fumigants, and the commission supported research into several strategies, including anaerobic soil disinfestation, and growing in raised beds filled with substrate (soil substitute)," O'Donnell said in an email.
"The commission submitted a letter of support for this research, which may uncover strategies for reducing soilborne diseases that can affect strawberries and other crops," she said.
Strawberries are particularly sensitive to soilborne diseases, as plant roots infected by fungi are unable to take in nutrients and water and the leaves and stems start to wilt, the UC explains. The diseases reduce yields and eventually kill the plants.
Methyl bromide phased out
California's $2.2 billion strawberry industry phased out its use of methyl bromide in 2016. The two remaining available fumigants, chloropicrin and Telone, are facing increased scrutiny by state regulators and will likely eventually be phased out, too, researchers warn.
As such, the strawberry commission and other entities are scrambling for alternatives and have placed a heavy emphasis on research, working on raised-bed troughs, "soilless" fields and anaerobic soil disinfestation. In 2017, a team of scientists at UC Santa Cruz received a $2.5 million USDA grant to further research biological soil disinfestation, crop rotation and other methods for fumigating soil, according to the commission.
Muramoto's project is seeking another biological alternative to fumigation to manage common pathogens such as fusarium wilt and charcoal rot. The two aren't as vulnerable as others to anaerobic soil disinfestation, a fermentation-based biological treatment using carbon sources such as rice bran under plastic mulch in moist soils for several weeks, the UC explains.
Muramoto's team plans to test alliums such as onion, bunch onion and leek and the Summit 515 wheat as rotation crops to see if they neutralize the pathogens, according to the university. At the end of the three-year study, the scientists plan to share the results at workshops, field days and webinars.
The grant is from the USDA's National Institute of Food and Agriculture. The team also includes Rachael Goodhue, UC Davis professor of agricultural economis; Carol Shennan, UC Santa Cruz professor of environmental studies; and Peter Henry, USDA Agricultural Research Service plant pathologist.
Subscribe to receive top agriculture news
Be informed daily with these free e-newsletters
You May Also Like
---