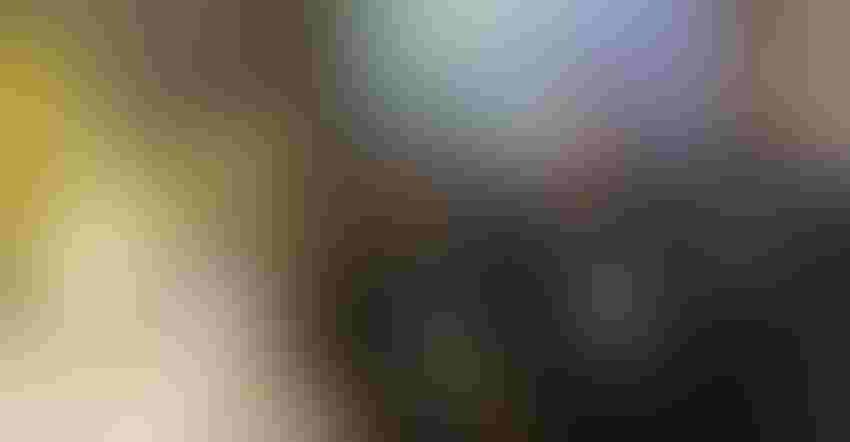 PROMOTING MICHIGAN BLUEBERRIES: Brian Clancy (from left), Tony Kucharski and Chris Wilde were promoting the advantages and qualities of Michigan-grown blueberries at the Naturipe display booth during the Global Produce and Floral Show in Florida.
George Hubka/MG News Service
MGB Marketing, a cooperative of fruit growers, was well represented at the International Fresh Produce Association's inaugural Global Produce and Floral Show held Oct. 27-29 at the Orange County Convention Center in Orlando, Fla.
MGB is headquartered in Grand Junction, Mich, and had representatives on hand to tell the Michigan blueberry story. Michigan is a major player in blueberry production, ranking third in the U.S. in regards to the number of acres in production for 2021, according to the most recent USDA figures.
Sign up for program designed for next-gen corn farmers
The Corn Marketing Program of Michigan has an educational opportunity for the next generation of Michigan corn farmers.
Put in your application now for the Michigan Corn Education, Networking and Training Program, a program centered on agronomy, technology, farm management, the work of the National Corn Growers Association and one topic picked by the class. There will also be plenty of time provided for networking and an optional additional session. 
The program consists of five sessions. The four sessions in Michigan will begin with an evening reception, followed by 1.5 days of educational presentations. The session in Washington, D.C., will be about three days. Details for the optional session will be provided to the class at a later date.
Applications are due Dec. 15. Primary selection criteria includes the applicants' desire and ability to participate. Diversity among farm size, geographic location and agronomy background will be sought as well.
The registration fee is $300, with all meals and lodging included. The program schedule is as follows:
• Session 1: Feb. 7-9
• Session 2: March 21-23
• Session 3: June 27-29
• Session 4: July 17-20 (Washington, D.C.)
• Session 5: optional session, TBD
Visit micorn.org to apply or nominate someone.
James Doyle named president of King Milling
James Doyle has been named president of King Milling Co. He succeeds Brian Doyle, who has been president of the company since 1995.
With the changes, Brian Doyle, who turned 65 earlier this year and was recently elected chairman of the North American Millers' Association, will become chairman of King Milling.
In other promotions announced by King Milling, Patrick Doyle has been named executive vice president of the company, and Regan Doyle has been promoted to vice president of operations.
Both James Doyle and Brian Doyle are fourth-generation members of the Doyle family involved in King Milling and are grandsons of William Doyle, who led the business in the 1940s.
Jim Doyle's father. Roland M. (Mike) Doyle, who died in 2003, was a longtime executive at King Milling and was a past president of the International Association of Operative Millers.
American Soybean Association offers scholarship
The American Soybean Association is offering a $7,000, one-time award to a high school senior who plans to pursue agriculture as an area of study at any accredited college or university in the 2023-24 academic year.
The soy scholarship is managed by ASA and made possible through a grant by BASF Corp. High school seniors may apply online through Dec. 31. Click here to apply.
"Whether its combating climate change, finding new sustainable uses for our crops and byproducts, or testing innovative technology in the fields, we're embarking on a new age of agriculture," ASA President Brad Doyle says. "It's an exciting time with numerous career opportunities for future ag leaders, and we're thrilled to support this next generation."
Doyle credited ASA's long-standing partnership with BASF to invest in the future farmers, scientists, teachers, and other ag careers that will drive the industry forward. ASA and BASF have recognized and rewarded students for their hard work and interest in agriculture through the Soy Scholarship since 2008.
The scholarship is awarded in $3,500 increments (one per semester) for the 2023-24-school year. The student must be a child or grandchild of a current ASA member, maintain successful academic progress and be in good standing with the college or university to receive the full amount of the scholarship.
The final selection will be made at the beginning of January by a select committee of soybean grower leaders.
Subscribe to receive top agriculture news
Be informed daily with these free e-newsletters
You May Also Like
---