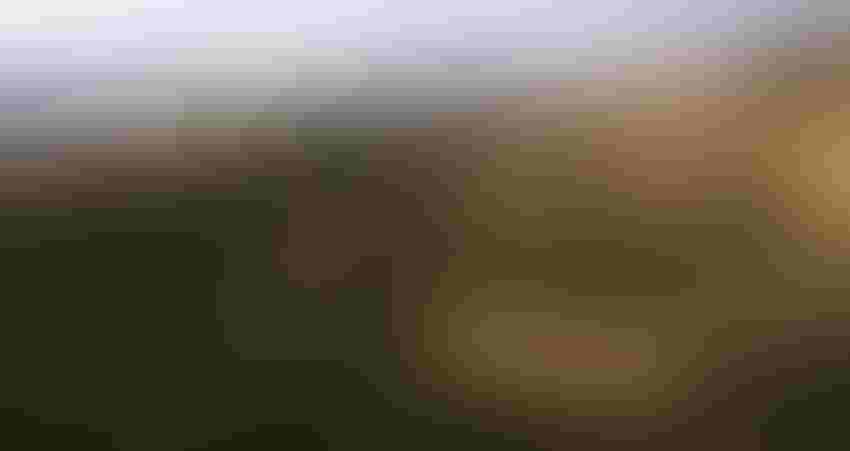 Orchards growing Cosmic Crisp apples blanket rolling hillsides in Washington state.
Proprietary Variety Management
Marketers of Washington state's new Cosmic Crisp apples plan a robust global marketing campaign in the months leading up to the fruit's third season opener this fall, a top industry official says.
With ramped-up production expected to boost supplies, the industry is launching campaigns with media influencers in Canada and Europe that focus on sustainability and natural quality, said Kathryn Grandy, chief marketing officer of Proprietary Variety Management. The Yakima, Wash.-based company markets the Washington State University-created apple variety.
The company is in talks with several national store chains, with a goal of having Cosmic Crisp apples in virtually every store in the U.S. by 2022, she said. The company is also positioning the variety as a veritable year-round fruit, with about 5 million apples expected to be stored and sold in the early fall before the new season begins, she said.
"I think the Cosmic Crisp is a delicious apple," Grandy told Farm Progress. "It's a beautiful apple, it's fresh eating out of hand, and it's versatile, which many people like. Its American recipes are so popular, and it's popular in many other countries as well for baking and preparing in pies or in different ways of eating. It's the basis of most all juices. There's many ways to consume apples, and they're so healthy for us."
The efforts come as the apple variety has been riding a wave of momentum since its initial launch on Dec. 1, 2019. WSU bred the apple – WA 38 -- as a cross between the Honeycrisp and Enterprise varieties and owns the Cosmic Crisp trademark. The apple is unique for its texture, juiciness and longer storage life.
Cosmic Crisp apples were lavished with media coverage in their first few months in the market, earning Prevention Magazine's 2020 Healthy Food Award and the Good Housekeeping Nutritionist Approved seal, among other accolades.
No sophomore jinx
In a sophomore season that began in late November, the variety has so far appeared to shrug off pandemic-related market upheaval by finishing the season's first three months up 48% in dollars and 74% in pounds sold, according to Nielsen data cited by Produce Blue Book, a marketing information agency. The variety brought in $15 million during the period, the agency reported.
The average retail price of $2.63 was down 46 cents from last year, which Produce Blue Book expects to further drive adoption. Grandy attributes the price slide to a drop-off in media buzz as the pandemic and election began to grab everyone's attention, and to the fact that there were more Cosmic Crisp apples in stores this year than in early 2020.
Growers produced about 350,000 boxes last year versus nearly 2 million this year, Grandy said.
"As I walk into grocery stores, you see in January, February and early March there are four or five times as many Cosmic Crisp in the bins as any other apple," she said. "That means they have to sell four or five times as fast. I think that's just a product of being new and having had so much media."
Produce Blue Book analysts expect Cosmic Crisp to continue climbing the apple rankings in the coming months and years as excitement around the fruit continues and volume and availability increase.
"I think it's selling very well," Grandy said. "There's a lot of product to be sold at one time. I think we're all learning lessons … From a quality standpoint, I think the apple crop across the board had its challenges this year. We see the price of apples has been down overall, not just Cosmic Crisp."
About the Author(s)
Subscribe to receive top agriculture news
Be informed daily with these free e-newsletters
You May Also Like
---