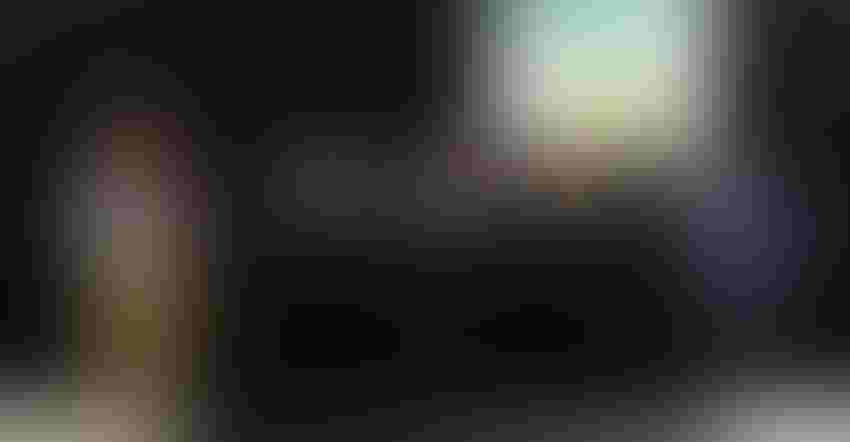 From left, Casey Creamer, president/CEO of California Citrus Mutual; Zak Laffite, president, Wonderful Citrus; Al Bates, president, Sun Pacific; Dave Smith, general manager, Booth Ranches; and, Jim Phillips, president/CEO, Sunkist Growers, discuss critical issues facing the fresh-market citrus industry at a recent grower meeting in Visalia, Calif.
Todd Fitchette
Growers of fresh-market citrus already know the last couple years have challenged their profitability. As harvest continues across California, growers were told by industry leaders recently that there's not much light at the end of the tunnel.
Four of the industry's chief executives sat for an hour-long discussion with California Citrus Mutual President Casey Creamer at CCM's recent Citrus Showcase in Visalia. The prepared questions elicited tough responses growers needed to hear about the state of their industry.
Sun Pacific President Al Bates set the tone by comparing the state of today's industry to just a few years ago.
"Two years ago, every commodity had record returns," Bates said.
From that high Bates says the industry was "lulled into an idea that citrus is an easy deal." New citrus plantings went in as a result, and now according to Zak Laffite, president of Wonderful Citrus, a global glut of citrus is affecting world prices.
Industry insiders had hoped for a lighter crop this year, which could have had a correcting effect on prices, but a variety of issues from the recent trade war with China to an overall decline in fruit sales by consumers, and now the export challenges related to COVID-19 are all impacting shipments and sales.
Nevertheless, leaders like Sunkist Growers President Jim Phillips says the downturn in grower returns was not unexpected. Aside from a world-wide oversupply of citrus, internal industry issues centered on marketing, the production of mediocre fruit and the competition for space in grocery stores are also to blame, says Phillips.
"We're not the only ones going through this right now," said Laffite. "This is a global phenomenon."
CITRUS STANDARDS
One issue the industry leaders seemed to agree upon was the production of mediocre fruit. Quality issues surrounding Navel oranges and other popular pieces of fruit are largely to blame. Dave Smith, general manager of Booth Ranches, a Tulare County grower and packer of fresh citrus, said the industry needs to cull the mediocre fruit by removing blocks that do not produce high-quality fruit or the varieties consumers desire.
"We've been talking about this for a long time and here it is," Phillips said of the mediocre fruit quality.
Global markets and competition from imports will also drive industry decisions and the need for change. "There's a sense that Peru has so many tangoes (mandarins) planted that you can see a 300% increase in the next five years," Laffite said. "The U.S. is one of two markets they're targeting with that fruit, and when consumption doesn't increase the only way to go is longer."
As market forces stretch the supply of imports further into the season, sellers become desperate, he says. This forces them to drop the price of fruit at a time when California growers are entering the marketplace, looking for more positive returns on early-season mandarins.
"So, as we're trying to start our season with strong prices, we're competing with the tail end of an import season with fruit sometimes 40 to 50% lower than the U.S. market," Laffite continued. "So there's some things to be done from a market protection standpoint that I think CCM can play a role in addressing."
MARKET CHANGES
The citrus industry must also address the cultural shift in generational buying decisions. As shopping behaviors change with the millennial generation and online buying becomes more prominent, Laffite says the citrus industry must address changes that have made citrus an "impulse purchase" by consumers. This has led companies like Wonderful to seek new ways to put fruit in front of consumers throughout the grocery store.
Citrus farmers are not just competing with imported fruit at reduced prices, but a fixed amount of space in grocery produce bins for an increasing number of items, Laffite says. Additionally, sales of all goods from produce departments have been flat for two years. Even vegetable sales are little changed.
Laffite says the industry needs to figure out how to take citrus from an "impulse buy," and create a core base of customers that consistently seek U.S. citrus. This will take a focus on quality as studies suggest consumers who have a poor eating experience with any piece of fruit will opt for other products "because there are plenty of other options," he said.
SUPPLY
Smith believes California could lose 10% to 15% of its citrus production in the next 15 years due to water restrictions resulting from the State Groundwater Management Act and its limitations on pumping. A report from UC Berkeley seems to back this up as fruit acreage will decline significantly across California. While this could have a "correcting effect" on oversupply, Smith cautions growers to look long-term at specific varieties that could be marketable.
GROWER TAKE-HOME
Phillips says citrus growers looking to stay in business need to produce upwards of 40 bins per acre of high-quality, good-tasting fruit. "Marginal fruit is not going to have a home," he said.
"You've got to be at 70 plus percent fresh utilization with 50% exports and hopefully with a 72, 56, 88 size structure," he continued.
As a packer of fresh citrus, Phillips says organizations like Sunkist will continue to work with retailers, who like farmers, also have been challenged by market forces. "We're going to keep working with retailers because they haven't had a lot of fun either," he said. "They seem to be a little more receptive to working with us on this."
Subscribe to receive top agriculture news
Be informed daily with these free e-newsletters
You May Also Like
---