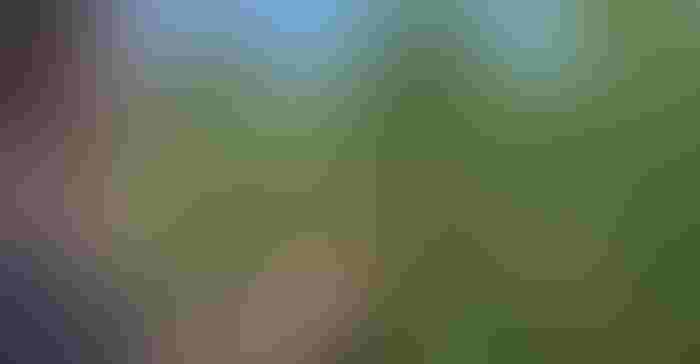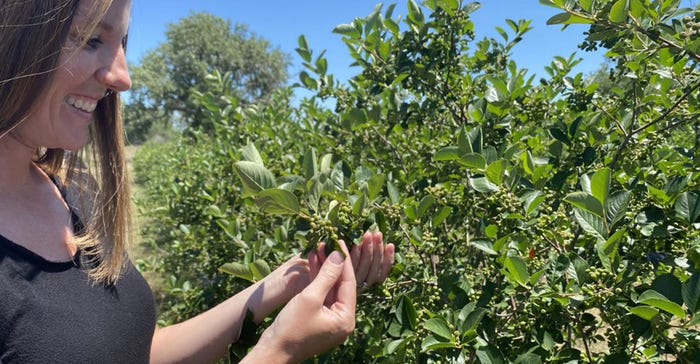 The aronia berry is tiny, purple and packed with a punch of wellness benefits. And one western Nebraska grower found a niche in the agricultural market by planting and marketing the aronia bush.
You'll find Good Berry Farms of Paxton along Interstate 80 off Exit 145. It's here that the Fote family has expanded their farming operation to include a product that is considered rich in important nutrients, vitamins and minerals.
"I met my husband, Justin, at Colorado State University, and we both had agricultural business degrees," says Leah Fote of Good Berry Farms. "In 2015, we moved to Paxton and purchased farmland. A piece of that was a tract with the old Union Pacific Railroad depot. My husband wanted to plant corn in the open plot, but I wanted a niche crop, something different. So that same year, we put in 25,000 aronia bushes on 20 acres."
The family has a cow-calf operation and raises corn, soybeans, wheat, alfalfa and USDA-certified organic aronia berries.
Homework done
"I had researched the aronia bush by touring farms in eastern Nebraska and Iowa," Fote says. "We soil-tested the plot, and the results show acidic soil at 6-6.5 pH. We're close to the South Platte River with a high water table and good water drainage."
The aronia berry is native to North America. The hearty bush takes three years to reach full production, and by that year, a grower can expect an average yield of 5-7 pounds per plant, and a maximum yield of 30 pounds. Aronia berries have been known to carry significantly more antioxidant properties than most fruit, including blueberries and even elderberries.
"Our bushes are 7 years old, and we've maybe lost 5,000 plants total," Fote says. "We've had no problems with pests, deer or birds. We've had no issues with crop diseases."
The care of the aronias is a family affair, with all hands on deck. The Fote kids, Ella, 14, Colton, 13, Abigail, 12, Jacob, 10, and Justin, 5, all play a role, either helping mow, laying irrigation pipe or even killing snakes, Fote adds.
Determining ripeness
To determine fruit ripeness, Fote employs several different methods, including Brix testing, which measures the viscosity or thickness of plant sap. "Normally, when the Brix level is at 18% — that's what I like it to be — although all farmers have their different opinions," she explains. "Some go by growing degree days; some just look at the stems to see if they've turned this reddish color. And so, I kind of go by all that, and I just taste them to have a sense if they're ready or not.
"The aronias are ripe in late summer, usually around Labor Day, so harvesting the berries is how we spend our holiday," Fote adds. "We purchased a used blueberry picker. The 'fingers' hit the bushes, and the loose berries drop into conveyors, then into 40-pound totes. Then the kids get the totes and replace them with an empty one. We're always looking for new ways to troubleshoot the process. Since the berries grow in clusters with multiple stems, we designed with a local welder a de-stemer."
The biggest challenge for producers is finding information for growers. "Not many people know about the aronia berry," Fote says. "There are just not that many commercial growers. We cannot bring the berries to the local elevator, and it's just not an established crop in the United States yet."
However, there are resources available like the American Aronia Berry Association, a group dedicated to bringing consumer awareness and providing information regarding the culture of aronia. The Fotes also have tapped into their alma mater with tough questions. Fote recalls, "One year, we had slugs because it was a moist year. We turned to CSU for criteria for getting rid of the slugs."
Final products
"I never imagined I'd be doing my production," Fote says. In the Good Berry Farms commercial kitchen and processing plant, the Fotes create homemade jams, jellies and syrups. "Our wellness syrup is the biggest seller," she says. "My long-term goal is to find a corporation to buy our berries. I have to work hard at selling my product for consumer awareness and educating the people about the berries."
Paxton's old train depot has new life where the Fotes run an antique and gift shop. In 2019, the Fotes moved into a 1920-era feed mill from which they sell coffee, ice cream and their aronia products. You'll find The Granary coffee shop and Anne Marie's antique store adjacent to their field of aronia bushes.
"I'd love to propagate in a little greenhouse," Fote says. "This could allow people to grow their own bush and have a healthy berry for themselves. Their friend may be in their garden looking at that plant, and then it's all about word of mouth. That's my whole goal in life is to get more people aware of the aronia berry. That, and to create productive children in society."
For more information on the aronia berry and Good Berry Farms, visit goodberryfarms.com or americanaronia.org.
Wortmann writes from Crofton, Neb.
Subscribe to receive top agriculture news
Be informed daily with these free e-newsletters
You May Also Like
---