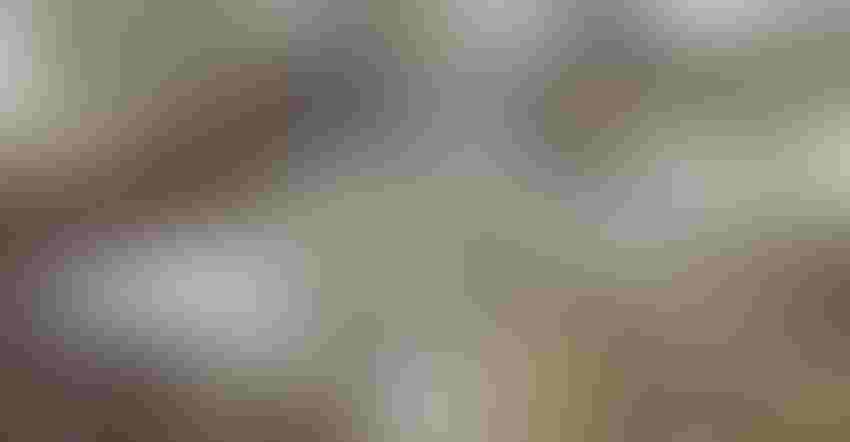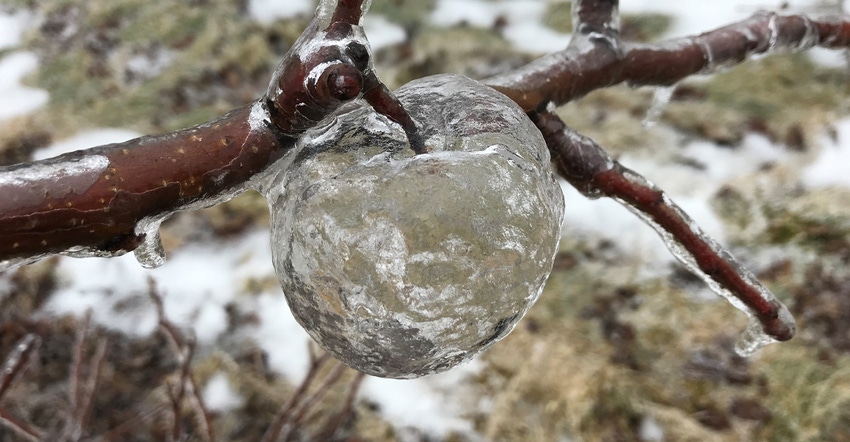 GHOSTLY: Michigan's winter weather was extreme and challenging at times, but it also created something unique. What has been dubbed 'ghost apples' were created after an ice storm.
By Stan Maddux
The discovery of so-called "ghost apples" in a Sparta orchard hasn't yet cast any spells on Michigan's 2019 apple crop, as little, if any, damage to trees is projected from 25 below zero temperatures experienced this winter.
Mark Longstroth, a fruit educator with the Michigan State University Extension office in Paw Paw, says any damage to the fall crop was in the southwest part of the state where temperatures from the late January polar vortex were coldest.
Conditions were not as extreme farther north, where most of the state's apples are grown, because of southwesterly winds blowing across the warmer waters of Lake Michigan.
Longstroth says apple trees, unless they're not healthy, can survive the 25 below zero temperatures experienced in southwest Michigan without damage, and only the low-lying areas where apples are not grown saw temperatures that far below zero. The mercury on hilltops and hillsides where apple trees exist reached 20 below in the southwest part of the state, while low temperatures in areas such as Grand Rapids and Traverse City were at least 10 degrees warmer.
"Right now, we expect a pretty good crop of Michigan apples," Longstroth says.
A ghostly sight
On Feb. 6, farm manager Andy Sietsema witnessed the creation of what he termed "ghost apples" at an orchard near Sparta about 25 miles north of Grand Rapids.
An ice storm after the late January polar vortex coated apples left in the trees after the fall harvest.
On Facebook, Sietsema said he was out at the farm when Jonagold apples on branches disturbed by his pruning began dropping through the bottoms of their ice capsules.
"As I pruned the trees, the melted, rotten apples would be shaken and slip out the bottom where it didn't get covered in ice," he said. "Like a Jona-ghost," he said.
Longstroth says sun penetrating the clear ice was absorbed more by the darker skin on the apples more than halfway rotted.
The warmth caused the encased apples to become mushier and slip from their stems and out the open bottoms.
The apple-shaped ice castings still were attached to the frozen branches.
Longstroth says he's never heard of such a thing happening anywhere, but the phenomenon likely wouldn't have happened had it not been for a mild December speeding up the rot in the apples.
Fresher ones probably would have stayed on the stems while getting bounced around, he says.
"It's not unusual to see apples in the orchard this time of year, but that's the first time I've seen the cast after an ice storm," Longstroth adds.
More will be known about the extent of any damage from the arctic cold in mid- to late March when trees start budding.
The quality of the crop in any given year usually is affected more by ice storms or late freezes after trees have budded and start bearing fruit, Longstroth says.
So, recent ice storms have no effect since the first buds emerging are several weeks from happening.
Rarely is the apple crop decimated by Mother Nature, unlike peach trees that can start being damaged at 15 below zero, Longstroth says.
Cherry trees can withstand extreme weather a little better than peach trees but not quite like apple trees.
"Apple trees are really tough," Longstroth says. "They can take the best you can give and say, 'Is that all you got?'" he says.
Maddux writes from New Buffalo, Mich.
Subscribe to receive top agriculture news
Be informed daily with these free e-newsletters
You May Also Like
---