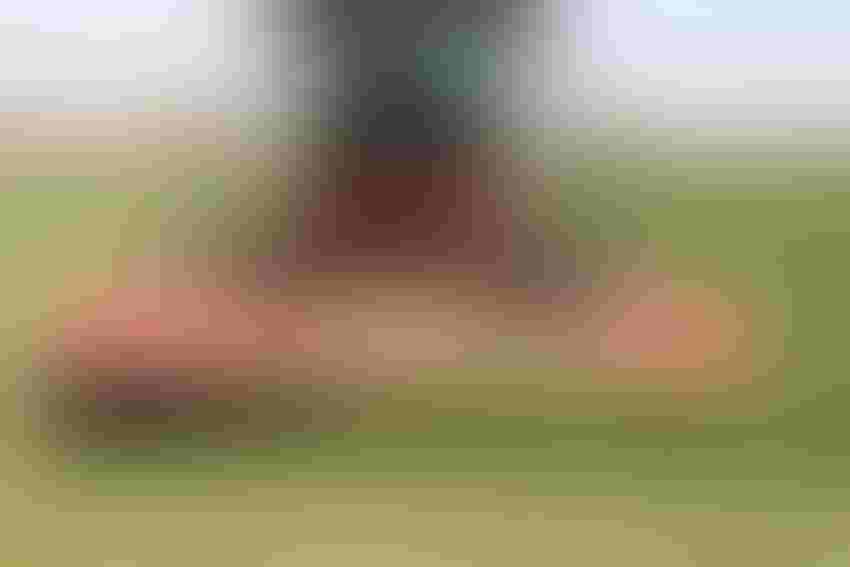 Cutting alfalfa for hay.
The western dairy industry continues to struggle financially as dairymen are involuntarily showered in 'red ink' as milk prices remain below the cost of production.
Veteran California alfalfa market specialist Seth Hoyt says dairymen need milk prices in the $15 to $15.50 per hundredweight (cwt) range just too financially break even. Meanwhile, California overbase milk prices this March were $14.15 cwt range with the April was estimated at $13.92 cwt.
Last year, the overbase price for the same two months was $12.90 in March, according to the California Department of Food and Agriculture (CDFA), and $12.61 last April. This unprofitable situation would likely draw no bids from savvy investors on the ABC television program 'Shark Tank.'
Milk prices in other western states have similar trends to those faced by California dairyman.
"At this point for some dairymen it's not so much about gaining more pounds of milk production anymore - it's about survival mode," says Hoyt, author of The Hoyt Report alfalfa and forage newsletter.
He discussed lower milk prices and their role in efforts by dairymen to push alfalfa hay prices lower during the 2017 American Society of Farm Managers and Rural Appraisers-Arizona chapter's 2017 Spring Ag Forum held late February in Phoenix, Ariz.
"Dairymen are instructing their nutritionist to "cheapen up" the feed ration."
Hoyt of Ione, Calif. has 35 years of agricultural marketing experience, including 23 years with the Market News Branch at the California Department of Food and Agriculture (CDFA), plus as CDFA's California Agricultural Export Program manager.
He also worked on the family ranch in Northern California where he learned about cattle and hay production.
A key way dairies have reduced production costs is by reducing the amount of alfalfa hay in cow rations, a decade-plus trend across the West. In 2004, Hoyt said California dairymen fed about 12.5 pounds of alfalfa hay to every cow per day annually. By the third quarter 2016, the amount
of alfalfa fed had dropped 37 percent to 7.9 pounds per head.
"While this will fluctuate based on the price of alfalfa hay, the trend has been fewer pounds of alfalfa hay fed to milk cows in the West."
In the Golden State today, Hoyt says most dairyman feed alfalfa to cows to maintain cow health and milk production. Yet a few dairies have removed all alfalfa from the feed mix.
While dairies are feeding less hay, how are they making up the difference in rations? It wasn't with corn silage last year, he says.
In 2016, California dairies offered to pay growers $30 per ton standing in the field for corn silage in central California. Corn growers responded that they'd lose money at $30 per acre so growers reduced acreage by 60,000 statewide.
With the reduced amount of corn silage dairymen upped the ante to $40 per acre for standing corn. Meanwhile, corn growers in Idaho planted 30,000 additional corn acres at a $32 per acre price. Arizona growers also boosted corn silage acres by 6,000 acres priced at $42 per ton standing.
Also partly replacing alfalfa has been rolled corn, delivered to Central California dairies for about $175 per ton. A railroad derailment and wet weather helped boost the amount to $200/ton for a short time.
Today, Hoyt says, "The spread today between rolled corn and supreme quality alfalfa hay is about $45 so it's narrowing. Rolled corn is still a cheaper price than supreme alfalfa hay."
Also taking a place in cow rations today are almond hulls, mostly fed to dry cows.
Hoyt says, "The almond hull industry in California is looking for more homes for this almond byproduct. It appears they will look at other western states including Arizona and Idaho - anyplace that has dairy cows."
Almond hull prices haven't changed much in the last year, still in the $70-$80 per ton delivered.
"Almond hulls are one of the most competitive byproduct feeds available today for mostly dry cows but also milk cows. Nutritionists are working this product into rations."
Hoyt's three "Big If's"
Hoyt also touched on what he calls his three "Big If's" which if they occurred could lead to an increase in alfalfa prices. First, of course, would be higher milk prices. Others include continued alfalfa acreage decline in California and the West, plus higher western-state alfalfa hay exports to China and Saudi Arabia.
Several of Hoyt's contacts believe milk prices will improve this year. If all three scenarios came true this year, Hoyt says, "The alfalfa hay market could be a little stronger but don't expect a big price increase. There are so many variables and issues that we just don't have the answers right now."
Hoyt quipped this analogy on the many variables facing the alfalfa industry, saying, "It's like walking through a mine field."
Fewer alfalfa acres
In 2006, California alfalfa acreage topped 1.1 million acres, and officially California's No. 1 acreage crop, but since then, acreage has slid over the last decade except one year. In 2016, acreage had fallen to 720,000 acres – a 35 percent drop from '06. Last year alone, Hoyt says Golden State alfalfa acreage dropped 8 percent.
Why the major downturn in acreage? The reasons are many, including more price competitive crops available to growers, including processing tomatoes and more lately almonds, plus the impact of the four-year severe drought.
In the western states of Washington, Idaho, Utah, and Oregon in 2016, alfalfa acreage has stayed about the same due to few good cropping options. In Arizona, alfalfa acreage has increased over the last decade, hitting the 300,000 acre mark in 2015 but dropping to 280,000 acres last year.
In California, while alfalfa hay a decade ago reached the 1.1 million acre plateau it's been replaced by almonds which have grown to 1.1 million acres. Hoyt expects almond and pistachio acreage to continue to climb.
"As long as almond and pistachio growers are making money they'll keep planting trees. Even though it's a permanent crop, the pros of tree nuts include less water to grow the crop. There were many California alfalfa hay growers last year who did not make a profit."
Another hint that California alfalfa acres will drop again this year are plans by growers to switch some alfalfa ground this spring to cotton.
Cotton leaders Roger Isom of the California Cotton Ginners Association and Leighton Liesner of the Arizona Cotton Research and Protection Council guestimate that cotton acres in both states could jump 25 to 30 percent this year.
Export update
Hoyt's third cog in the wheel to buff up alfalfa prices is further expansion of U.S. alfalfa hay exports to China and Saudi Arabia. The alfalfa market analyst said exports to China dropped in Fall 2016 and it was uncertain what they might do in 2017.
Last summer, he says the U.S. shipped a record amount of alfalfa hay to China. Chinese dairies, which are no longer subsidized by the government, offered less money for alfalfa hay in September 2016 due to low milk prices.
This caused a standoff between Chinese buyers and West Coast exporters which resulted in a decline in alfalfa exports to China in Fall 2016. In February of this year, alfalfa hay exports from the West Coast to China increased substantially.
Over the last year and a half, China has reduced its dairy herd substantially due to unprofitability.
"The Chinese want to be cheap right now, and they can't buy top hay for cheap prices," Hoyt told the ASFMRA crowd. "If they want to be cheap they will have a challenge competing in the early 2017 alfalfa hay market in California and Arizona."
Meanwhile, U.S. alfalfa hay exports to Saudi Arabia have been a bit "choppy," but the trend has been for more alfalfa exports to Saudi Arabia with 257,500 metric tons shipped in 2016 versus 75,500 metric tons exported in 2015, according to the U.S. Department of Commerce.
Hoyt says many of these additional exports are due to a Saudi dairy company's (Fondamonte) purchases of an export facility in California's Imperial County, plus a farm in Arizona's La Paz County.
In essence, these purchases have boosted the amount of western-grown alfalfa hay exported to Saudi Arabia. Hoyt notes that other Saudi dairies will continue to buy U.S.-grown alfalfa, noting the estimate is for about 3.8 million tons of alfalfa to feed the country's dairy cows.
The Saudi government has banned the use of the country's water supply to grow crops so hay exports from the U.S. are expected to grow.
Subscribe to receive top agriculture news
Be informed daily with these free e-newsletters
You May Also Like
---