Ways to help alfalfa growers weather continued low hay prices
Ways to help alfalfa growers weather continued low hay prices
"There are things you can do to survive the current environment, simple things like tarping or barn storing your product to protect it from degradation," says alfalfa and forage specialist Dan Putnam.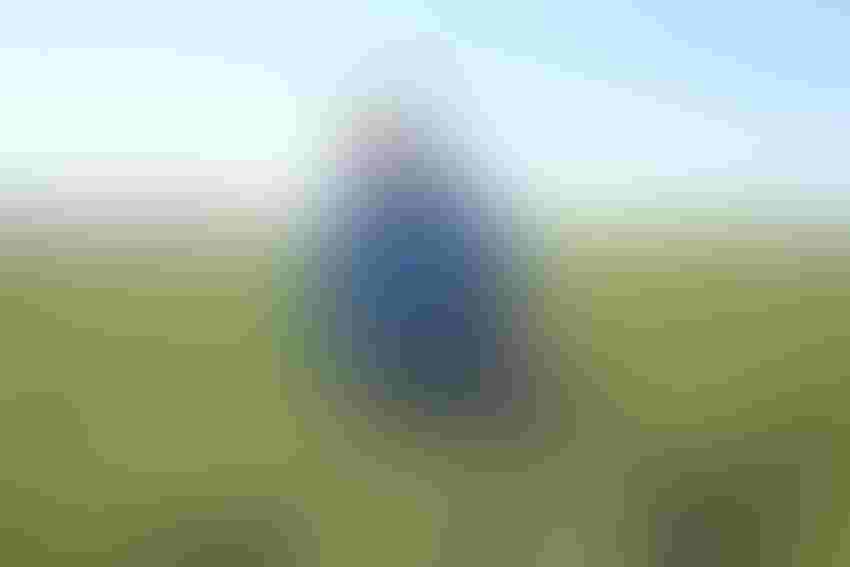 Terry Button looks over some of his 1500-plus acres of alfalfa in Sacaton, Ariz. "We're struggling right now, bleeding red ink in alfalfa, but I think we'll head out of the bottom in 2017," he says.
"A" used to be synonymous with apple, but for western growers this year it could stand for alfalfa since there's a lot of concern now in this industry over price point.
Those topics and more, including hay quality and seeking new markets, were pondered at the recent California Alfalfa & Forage Symposium in Reno. By its very theme, Aiming Toward Profitability, the focus was on one of the most challenging 12-to-24 month periods for alfalfa growers.
"2016 alfalfa prices were so low they were reminiscent of decades ago," said Dan Putnam, University of California Cooperative Extension agronomist and forage specialist. 
"Production has been challenging to say the least. Record-high prices in 2014 dropped significantly in 2015, and 2016 was the worst yet with poor prices and sluggish movement."
Reducing costs in down years becomes of paramount concern as only one in five growers interviewed said it would be business as usual for them. Western Farm Press asked opinions of some of the top industry experts for tips on how to weather the current storm characterized by low prices, agronomic problems of yield and quality, and an uncertain indication of improvement in coming months.
Approximately 40 percent of all alfalfa hay in the U.S. is produced in 11 western states with California and Arizona prominent players. 
"A fairly large percentage of the alfalfa crop in California, in the 70-80 percent range, ends up in the dairy industry, so we closely watch milk prices," Putnam said. "It doesn't take much deep thought to understand that milk price is very closely related to forage demand and growers will cut back as needed during pricing dips."
Fellow symposium presenter Seth Hoyt, editor of The Hoyt Report newsletter, noted, "When dairies lose money, they go into a survival mode and their hay buying patterns change. If it wasn't for export buyer demand in the early part of the season, little alfalfa hay would have been traded in some areas of the West."
Asked if current alfalfa price levels constituted a perfect storm, Putnam said his crystal ball wasn't working accurately, but he did acknowledge that most growers saw 2016 as a down year. 
"The low prices of 2015-2016 follow a period of record high prices in 2014 which saw top-quality hay selling for something north of $300 per ton in some cases.
"We have a current situation where a lot of growers have dried-down and fallowed their fields, or not planted new fields as the result of the market situation, so there is definite pessimism. But it's also mixed with optimism as some growers are planting new acreage in the hopes the pricing situation will improve in the next 6-12 months."
Now one understands the down times more than alfalfa growers, including Terry Button in Arizona's Pinal County. He farms 1,500-2,000 acres of alfalfa at Ramona Farms on the Gila River Indian Reservation in Sacaton.
Button said, "We've been bleeding red ink in alfalfa for the last year and a half with return less than the cost of production. We're struggling right now at what I feel is the extreme bottom of the trough and while it will take some time to climb out of it, I think we'll head out of the bottom in 2017."
Mike Ottman, Extension agronomy at the University of Arizona, says, "If you look at alfalfa in the West, it's becoming more important relative to other crops because of the dairy industry. Checking long-term trends since year 2000, alfalfa acreage in Arizona has doubled to almost 300,000 acres."
Conversely, according to USDA statistics, California acreage has dropped from roughly 1.2 million acres down to about 800,000.
"It's an up-and-down industry and farmers and alfalfa are involved in a cyclical dance. This is a temporary fluctuation," Ottman said.
"Farmers are pretty smart and it's not like they haven't been here before. I'm not wringing my hands over the current status because alfalfa, the most important forage crop there is, isn't going to go away."
So how do you get by until things improve?
"My number one priority would be to look at trying to reduce costs in order to increase profit," said Ottman.
The most common reaction from growers in a depressed market was to purchase less equipment and 42 percent interviewed selected this response.
Ottman adds, "Look closely at things that cost money, but don't really return income, like fertilizers. Consider split applications. What and when do I apply and will I get a return bang for the buck?"
In Putnam's survey, growers said they either quit fertilizing entirely or used reduced rates. 
"Not fertilizing or cutting back for a year may be a viable option for those who have maintained adequate fertility levels," said Putnam.
Likewise, there's pest management.
"When hay prices are high, fertilizer and pest control costs represent a manageable portion of your return," Ottman said. "During down times, while blue alfalfa aphids and leafhoppers should be controlled due to long-term effects beyond a single cutting, there may be other insects that affect one cutting and the costs associated with controlling them that aren't worth whatever yield reduction might result."
Putnam explained, "Farmers are price takers, not price makers, so they have to look for ways to control costs (selective cost cutting) or consider specialty markets not previously considered. 
"Cutting schedules are a real key strategy to increasing yield and quality, and growers might want to pay more attention to when and how often they cut, manipulating those times to maintain quality," he said.
Irrigation management is also at the top of both experts lists of how to weather today's market. 
"In Arizona, we can get 8-10 cuttings a year, so it's not how much water is used. It's the value you get back from what you produce," said Ottman, echoed by Putnam who advised, "You can gain two or three tons per acre per year by making sure you're not over- or under-irrigating."
Putnam suggested, "It's not doom and gloom. There are things you can do to survive the current environment, simple things like tarping or barn storing your product to protect it from degradation."
Other suggestions included cutting back on seeding rates, planting a cheaper variety, using less tillage for planting, and reducing the work force where possible.
Subscribe to receive top agriculture news
Be informed daily with these free e-newsletters
You May Also Like
---