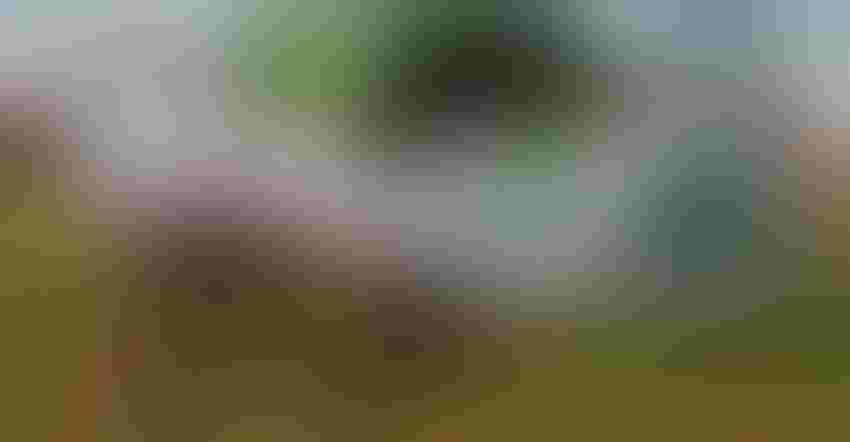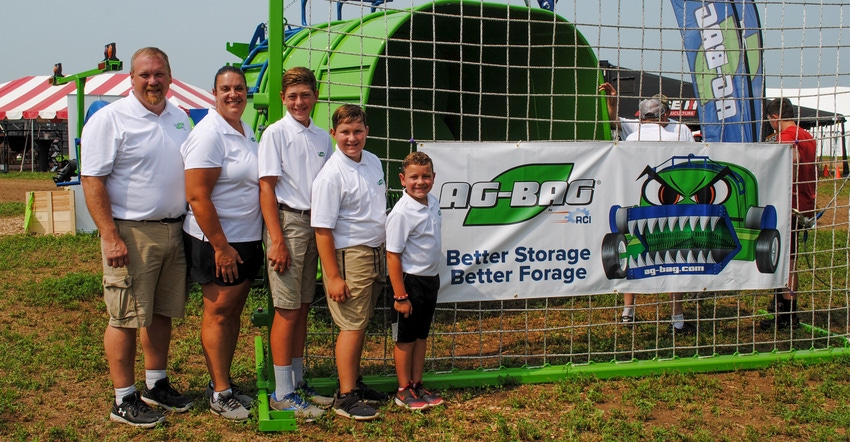 FAMILY BUSINESS: Randy and Wendy Clark show off their new T-7170 Ag-Bag with their three sons, Ryan, 13; Isaac, 11; and Colin, 8, at Wisconsin Farm Technology Days in Eau Claire. The Clarks have a booth at World Dairy Expo.
Fran O'Leary
Not many people would say the time to buy a company is right before a pandemic, but that's what Randy and Wendy Clark, owners of RCI Engineering, did. RCI purchased Ag-Bag from CNH Industrial/New Holland in November 2019 and moved the company to Mayville, Wis.
"If you're going to buy a company, right before a pandemic is the time to do it," says Randy, who is the founder of RCI Engineering. "It gave us time to listen to the dealers and figure out what to improve. We were able to stand in the field with farmers and run the machine with them."
Wendy, marketing director, says the timing of the purchase also allowed them to turn the parts business around and choose a mascot for the company.
Randy grew up on a dairy farm in LeRoy, Wis., and graduated from Mayville High School and the University of Wisconsin-Platteville, where he majored in mechanical engineering. Wendy grew up on a dairy farm near Sun Prairie, Wis. She graduated from UW-Madison with dual degrees in dairy science and agricultural journalism. She joined RCI full time in March after working for Hoard's Dairyman in Fort Atkinson.
While the couple are Wisconsin natives, they actually met in Ottumwa, Iowa.
"We met at John Deere, where we both worked," Wendy says.
The couple married 16 years ago and returned to Mayville, where they founded RCI Engineering in 2005. RCI specializes in both the design and manufacturing of forage equipment, and offers contract engineering services to other original equipment manufacturers. This led to doing work on the Miller-St. Nazianz Ag-Bag product line.
The Clarks met Ag-Bag Sales Director Taylor Weisensel at World Dairy Expo in 2010. Weisensel started working for the company in 1999.
Since acquiring the Ag-Bag product line in late 2019, RCI has focused on transforming product design with extensive input from its customer and dealer base. The result is a machine design with more capacity, higher-density forage compaction, easier serviceability and more convenient transport.
This summer, they introduced the new T-Series models at Wisconsin Farm Technology Days in Eau Claire.
"Our goal is to build on the industry leadership that Ag-Bag has achieved to make this product line perform more profitably for forage producers and livestock operations," Randy says. "And we've made a strong commitment to back that up with exceptional parts and service support."
Design Improvements
One of Ag-Bag's long-standing key features has been its patented low rotor position that fills bags more uniformly with its upward flow of feedstuffs. Now, RCI has improved this function with a new Revolutionary Rotor, with twice as many teeth resulting in greater compaction and higher density in the bag.
Randy says Ag-Bags are an efficient way to put up forages.
"We really took seriously what customers were looking for," he explains. "They wanted to pack it tighter, so they get higher-quality forage. As feed increases in value, every ton matters. Cutting forage losses is very important."
Ag-Bag by RCI provides a complete forage storage solution with its compaction machine design, specially formulated Ag-Bag inoculants and Genuine Ag-Bag plastic that provides an ideal oxygen-free environment for silage fermentation and higher-quality livestock feed.
"We have a team of six engineers," Randy says. "I work between production and engineering."
Ag-Bag has a booth at World Dairy Expo.
"We're having a 'name the mascot' coloring contest at World Dairy Expo," Wendy says. "We talk to and learn from the parents while the kids have fun coloring."
Ag-Bag has more than 100 dealers across the U.S. and Canada that carry Ag-Bag equipment and products and offer service and parts. For more information, visit ag-bag.com or call 800-334-7432.
More than 40 years of Ag-Bags
Here's a look at Ag-Bag's 40-plus year history:
1978. Starting in a small trailer house on one of the founder's dairy, Ag-Bag quickly moved through three other larger facilities.
1990. Ag-Bag moved into a new 30,000-square-foot facility in Warrenton, Ore.
1996. Ag-Bag also had a plant in Blair, Neb., which assembled the baggers going to the Midwest and East Coast as well as warehousing the silage bags. In the fall of 1996, the Blair personnel moved into a 70,000-square-foot facility.
2004. Miller-St. Nazianz in Wisconsin purchased Ag-Bag's assets.
2014. Miller-St. Nazianz sold to CNH Industrial. Miller already had an OEM agreement under the New Holland brand with its sprayer application equipment since 2010.
2019. RCI Engineering in Mayville acquired Ag-Bag from CNH Industrial/New Holland. RCI has a history of working closely with Ag-Bag products since 2011 by performing engineering and prototype manufacturing services for the product line.
Subscribe to receive top agriculture news
Be informed daily with these free e-newsletters
You May Also Like
---