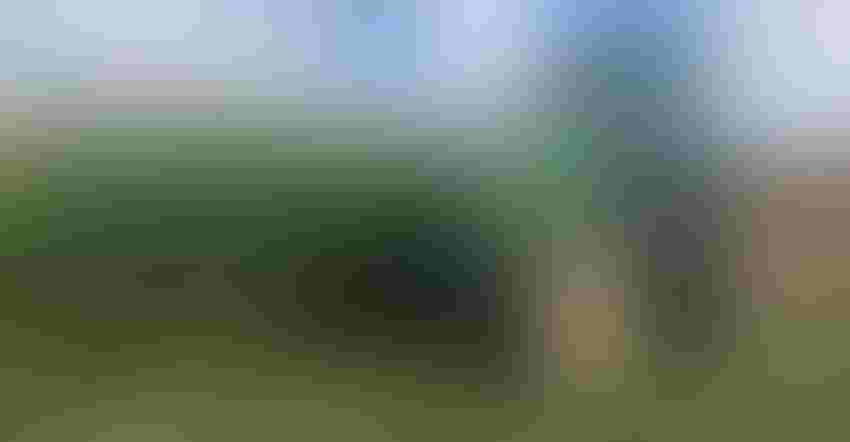 BRINGING IT IN: Sorghum is harvested on the Curtiss Newell farm in Sheldon, Wis., last fall. Newell has been growing sorghum on his farm since the 1990s, but a newer, male sterile sorghum can produce even more nutrients for milk production, making it a viable option for more producers.
Curtiss Newell
Mother Nature can be unpredictable this time of year. And if you're a dairy farmer growing your own forages, a bad first cutting, not getting corn in on time or drier-than-normal weather can have devastating effects on the bottom line if you don't have a backup plan.
Thankfully, sorghum is growing as a viable option for some producers, to the point that it's a regular crop in some rotations.
"If I can grow sorghum and alfalfa, that's what I'm going to do," says dairy farmer Gary Hendershot, who milks 270 cows and has 500 head total on his farm in Clear Spring, Md.
Hendershot planted and harvested 60 acres of forage sorghum last year and is increasing that to 100 acres of forage sorghum by the end of the month. If all goes well, he's planning on doing more forage sorghum in 2023, possibly even replacing all his corn silage.
The key is that he's planting a male sterile brown midrib (BMR) sorghum that can be harvested later in the season and provides more nutrients to support milk production.
"The cows like it, and they milk on it," Hendershot says. "The other sorghums we've used, they eat it but didn't make milk."
Male sterile sorghums don't produce a seed head — unless it's grown near fertile sorghum — which is key, says Tom Kilcer of Advanced Ag Systems in Kinderhook, N.Y., as the extra weight of the seed head can make sorghum vulnerable to lodging. Male sterile sorghums take care of that problem and make vital nutrients more available to the cow, so long as it's harvested at the right time.
"By delaying harvest six to seven weeks after the boot stage, we had significantly better milk-producing ability in every ton of forage. By not having fertile seed in the male sterile, the nutrients are retained in the forage plant cells," Kilcer wrote in his June Crop Soil Newsletter. "The longer the plant photosynthesizes past heading, the more nutrients accumulate in the forage. Without a need for kernel processing, it is completely available to the cow as the rumen bugs break the highly digestible fibers down."
Hendershot doesn't "push" his cows. He's satisfied with 60 to 65 pounds of milk per head and is making a profit at those levels. He planted 12 pounds per acre last year in 15-inch rows that yielded 30 tons per acre, although he believes he could have yielded more if he didn't cut too soon last fall. He used a direct-cut corn head to get the crop off.
This year, he's planning on putting the sorghum in 7.5-inch rows to better control weeds and get the ground shaded quicker. But he's still concerned about lodging, so he's scaling back to 10 pounds per acre.
"Don't plant it too thick so it won't go down," Hendershot says.
The most important factor to growing sorghum is that it must be planted in soil temperatures above 60 degrees F. That hasn't stopped Curtiss Newell — who runs a 200-head organic, grass-fed dairy farm in Sheldon, Wis., northeast of Minneapolis — from growing sorghum since 1995.
Since he can't feed starches in his cows' diet, the male sterile BMR sorghum is a good carbohydrate replacement, producing 18% sugar and providing energy that rivals corn silage, he says.
Getting the crop off to a good start is a struggle as soil temperatures can stay well below 60 degrees in June. So he plants a lot of seed — 24 pounds per acre — to make sure he has enough coverage early. He normally does 130 acres of sorghum, but is doing more haylage this year — only 50 acres of sorghum — because the cows need more protein.
Newell suggests tilling before planting sorghum — for example, taking off a poor hayfield, tilling and then planting sorghum — as this will allow the soil to heat up quicker than a no-till field.
He's also a fan of sorghum sudangrass, which he says is a good heifer feed since it provides lots of protein and is much cheaper to grow than corn. It's also good to grow in heavily manured fields, he says, as it soaks up a lot of excess phosphorus and potassium.
Still, sorghum can be hard to dry, making it a challenge come harvest. Newell doesn't allow the sorghum to grow taller than 6 feet and gets only one cut.
"There's a lot of moisture in both [sorghum sudangrass and forage sorghum]; drying is always a concern. But I like it. For me, it works in my rotations," he says. "A lot of guys look at sorghum as a secondary crop, but I plan it into the diet in my cattle. It's part of my system; it's not just an afterthought."  
Planting and harvesting tips
If you're planning on putting in sorghum this summer, Kilcer suggests planting as soon as the top 2 inches of the soil are above 60 degrees and the forecast is for warmer temperatures.
Sorghum only needs 8 to 10 pounds of seed per acre, he says, and he suggests drilling instead of planting. In trials done in New York state, Kilcer says drilled yielded 18% more than 30-inch rows and had less lodging.
Using milo plates and a corn planter set for 15-inch row spacing also works well, he says.
When it's time to harvest, he suggests a one-cut system, especially if you're planting something other than a male sterile variety.
"My research, and that from Wisconsin, found that one-cut management of sorghum with a rowless corn head will double yields with little reduction in quality," Kilcer says. "It will cut harvest costs nearly in half when compared to multicut management. Thus, your harvest costs per ton are one-fourth that of multicut.
"By not laying it down in the dirt, forage quality is maintained free from contamination. On the downside, our work has found that most sorghum, even the brachytic dwarf type, and especially sorghum sudan, will lodge as the grain fills past the early dough stage. Thus, you have a choice of harvesting at lower feed quality or dealing with lodging. This has been a major limit to farmer adoption."
Subscribe to receive top agriculture news
Be informed daily with these free e-newsletters
You May Also Like
---