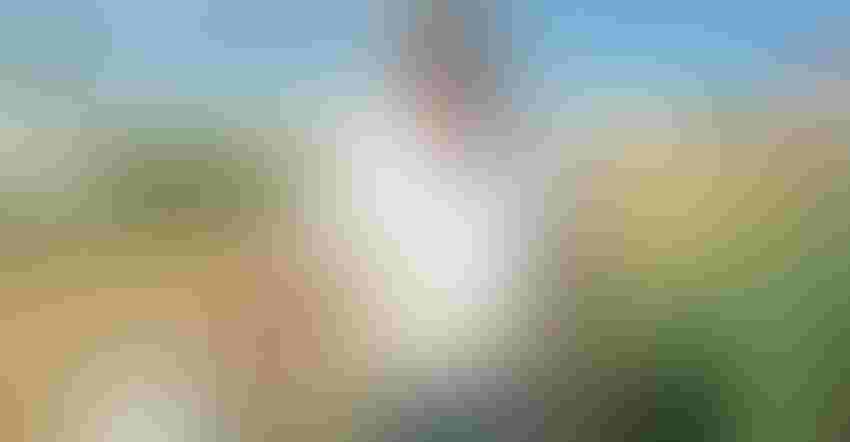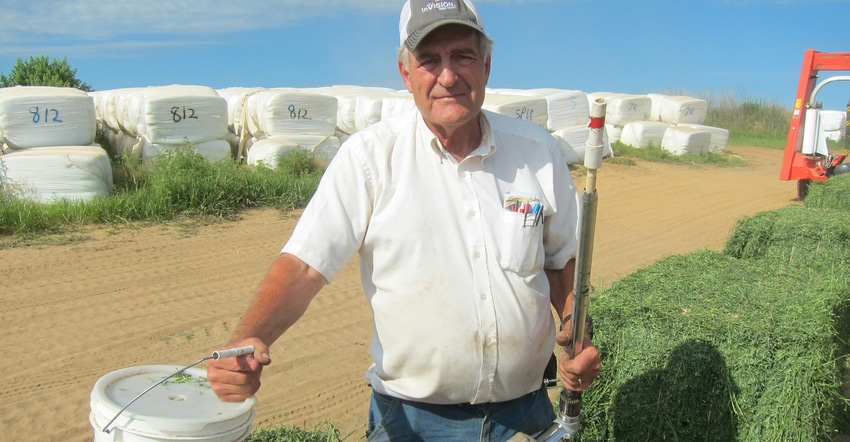 QUALITY COUNTS: Kendall Guither of Walnut, Ill., says he samples between 25% and 35% of all of his baleage bales.
Courtesy of Kendall Guither
If you are thinking about harvesting baleage, you have to do it right, according to Kendall Guither, who has been putting up high-quality baleage and selling it for the past 25 years. The Walnut, Ill., farmer spoke during a forage seminar on quality baleage at World Dairy Expo in Madison, Wis. He pointed out that many people think of baleage as a backup.
"At first, I thought I would use baleage as a backup plan," Guither said. "But that sets you up for failure because it will be too dry. If you do it wrong, you are going to have problems. It's important to capture as much plant value as you can."
The day you cut your alfalfa, you need to decide if it is going to be baleage or dry hay, he explained. "It's not something you decide after you have cut hay and see rain in the forecast. That's a recipe for a low-quality product," he said.
Guither grows 280 acres of alfalfa on his northwestern Illinois farm. He makes and sells all his hay as baleage.
"It's easier and more fun to make baleage than dry baled hay," Guither said. "It's less stressful, and I sleep better. I also get higher-quality feed with baleage."
 Each bale weighs about 1,000 pounds and is wrapped in eight layers of quality white plastic.
 "At $100-plus per bale, it's not the time to save 50 cents on plastic," he noted. "Get good-quality plastic."
Seeding prep
One year prior to seeding alfalfa, Guither adds ag lime to bring up the soil pH. He seeds alfalfa following corn. To prepare the seedbed, he makes one pass with a field cultivator and one pass with a cultimulcher with the teeth down.
"I have less crop residue, and it allows me to kill germinating weeds and level the soil," Guither said. "And most critically, it allows me to firm the seedbed, which is really important."
He seeds low-lignin Harv Xtra alfalfa seed that is winter-hardy. He fertilizes his alfalfa after the first cutting and after he takes a cutting in August. He also uses boron and sulfur.
Guither said scouting alfalfa is important. "I count crowns and stems," he explained. "If I have more than 50 stems per square foot, it will be a good stand. If you have less than 40 stems, you will need to tear it up the following year."
He said it is also important to spray leafhoppers to keep them under control.
Harvesting tips
Guither said he aims to harvest all of his fields when the alfalfa is in the early bud stage.
"I'm very aggressive," he admitted. "I sell baleage, and quality counts."
Guither recommended mowing hay in wide swaths because it dries down faster. He likes to get five to six cuttings of alfalfa per season. He allows one of the later cuttings to flower so plants build roots.
Guither uses rotary rakes and a merger. He merges up to four windrows together. "It helps prevent overdrying, and it speeds up the baling process," he said.
His target moisture is between 44% and 58%. "If it gets below 40% moisture, that is too dry; it will limit fermentation, and it invites mold growth," he explained. "If it is above 65%, it is too wet. It will sour, and animals will reject it."
Guither said he uses 440 twine. "I used to use 380 twine. But 440 twine helps minimize broken twine and knot problems," he said. "It also allows bales to be packed tighter."
He uses Silo King silage inoculant from Agri-King. "I like it," he said. "It's a dry product. It works. It encourages lactic acid production and makes baleage more palatable."
Sampling and testing
Guither said he samples between 25% and 35% of all of his bales.
"Buyers know the product will be consistent if it is tested," he said. "It also allows the seller to accurately calculate a fair price."
His goal, he said, is to be done wrapping his bales within three hours of baling.
He said it is critical to keep dirt and air out of wrapped bales. Guither said bales need to be stored in an area with good drainage near buildings and a road to discourage deer and racoons. He uses bait stations to control mice.
Bales are identified with a number that he paints on each. "That way I know what it is and where to find it," he said.
Guither said he prices his hay as if it were all dry hay.
"I discount the price for moisture above 15%," he said. "The buyer is not paying for water, although they are paying some for transporting wet feed."
Guither enters the baleage category every year in the World Forage Analysis Superbowl at World Dairy Expo and usually does quite well. This year, his baleage placed fifth in the contest. In previous years, his baleage has won first place.
Subscribe to receive top agriculture news
Be informed daily with these free e-newsletters
You May Also Like
---