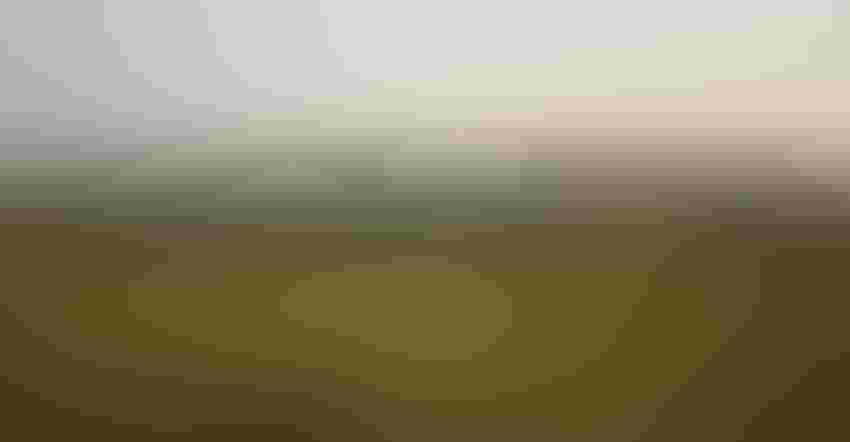 MAKE HAY EARLY: Producers looking to harvest prairie hay need to keep in mind that warm-season grasses offer the best quality if harvested in late June or early July, before the plants have a chance to develop mature seed heads.
Curt Arens
Timing is everything when deciding to cut prairie hay, to ensure harvesting an optimum-quality feedstuff. That optimum quality comes before the warm-season grasses — big bluestem, little bluestem, indiangrass, switchgrass, prairie sandreed and gramas — that normally make up a prairie hay mix have a chance to fully develop mature seed heads, says Brad Schick, a Nebraska Extension educator based in Nance County.
While hay quality is dictated by the plants' physiological maturity, Schick says farmers can often harvest prairie hay by what the calendar reads.
"Quality is going to be pretty high at the end of June, early July, and then declines throughout the growing season as the plants develop seed heads and more reproductive structures," he says.
There is a trade-off in production and quality, however. Harvesting later may result in more quantity, but lower quality. Producers should target their own "sweet spot" for their goals and needs while always keeping the health of the hayfield in mind.
Even with the knowledge that optimum harvesttime for prairie hay falls in the late-June to mid-July window, Schick says ranchers should not fret if Mother Nature does not allow for timely harvest. Should the prairie plants mature beyond the optimum harvesttime, he says ranchers should still be able to get hay of decent quality, although it may be a little less palatable for livestock.
Just as Schick says it's important to know what species make up your prairie flora, it's also important to know what stock will be eating the harvested feedstuffs.
"If you're going to be feeding dry cows, then you may not need to worry as much about having a super high-quality hay," he says. "If you're feeding it to heifers and you're wanting to use it as an energy and protein source, then you're going to want to cut it earlier so it's higher quality."
Schick says prairie hay harvested in the optimum window should have 10% crude protein and about 65% total digestible nutrients, but a producer forced to wait to harvest could see those figures drop to 5% crude protein and 45% TDN, "and that's even below what our dry cow nutrient requirements are," he says.
If forced to feed lower-quality hay, Schick says producers can always supplement with alfalfa hay, distillers coproducts, high-energy tubs or silages to help meet the animals' nutrient requirements.
Drought balancing act
As talk of drought lingers, Schick admits ranchers will be faced with a balancing act of providing ample feedstuffs for their stock while also not doing irreparable harm by overcutting the prairie. Traditionally, ranchers get one annual prairie hay cutting, unlike the multiple harvests off an alfalfa field.
"In a drought year, we want to make sure that we aren't taking too much," he says. "A lot of times people say to cut a little higher, and not take as much [of the plant] with drought. With severe drought, if it's not producing much at all and may not be tall enough to justify harvesting, and it basically can be grazed later in the year … those are some tough decisions, and they can be pretty difficult to make."
Ranchers choosing to graze their prairie need to be mindful of plant health so as not to harm the plants' root systems of "enough storage in the roots to have good overwintering."
Schick says warm-season grasses are "pretty resilient, depending on the stand," but adds that stand depletion may not be seen the following year, but rather in subsequent years if drought conditions linger.
Test and segregate
If producers are forced to harvest less-than-optimum-quality hay, Schick says it is important to have hay tested to "make sure that you're not either underfeeding or overfeeding, to be efficient with the hay you have."
If those tests indicate that differently timed hay cuttings are of lesser-quality hay, Schick recommends that ranchers stack those bales separately from the better-quality hay, "so you know what quality they are." Learn more by contacting Schick at [email protected].
Subscribe to receive top agriculture news
Be informed daily with these free e-newsletters
You May Also Like
---