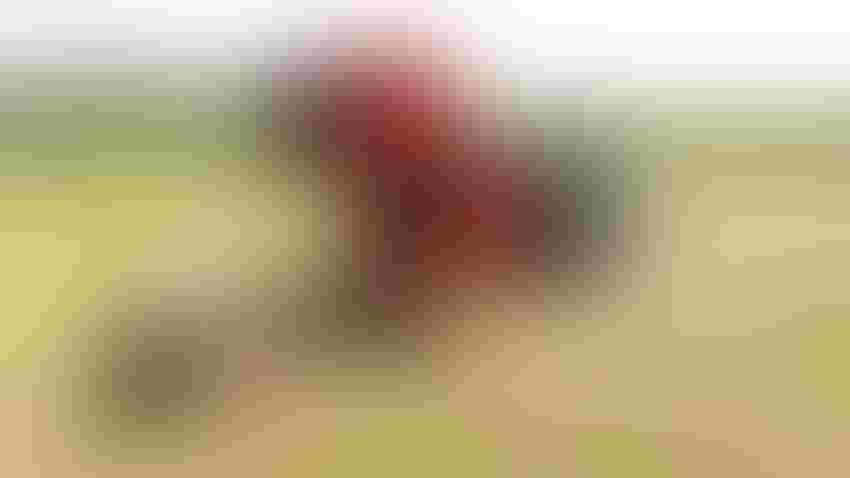 LET LOOSE: If you've made repairs and adjustments to your baler, it will function better in the field this hay season.
Courtesy of New Holland
It reads like a favorite bedtime story. "You don't want it too high, or you're going to leave crop on the ground. If it's too low, you're going to be baling rocks. So, make sure it is just right."
The "author" is New Holland's parts and service marketing manager Jim Franceschetti, and he's talking about the float on the front end of your baler.
He didn't write a book on hay baler inspection, but he has a checklist to help you avoid breakdowns and create a nice, uniform dense bale.
Franceschetti takes you on a deeper dive, sharing his thoughts on the basics of hay baler maintenance.
Clean out from storage
Franceschetti says farmers should take a quick look at their balers before jumping into more detailed maintenance. Here are three areas to check first:
1. Inspect safety gear. Ensure that shields, reflectors and fire extinguishers are in place and in working condition.
2. Lift up the side panels. "Take a flashlight and stick your head in there and see if there is anything that should not be in there," Franceschetti says. Sometimes animals or rodents make their winter homes in hay balers. Time to clear them out.
3. Dust it off. If there is debris from winter or last summer, get out the air compressor and blow it off. "We need it clean before we head to the field."
It's important to get these items out of the way to ensure your machine is clean before diving deeper into preseason baler maintenance.
Time for a tuneup
Franceschetti says after an initial inspection, it is time to look more closely at the hay baler from front to back.
Inspect the front. Adjust the float to make sure that it is just above the ground level.
Do a grease job. Starting with the PTO and the CV joint, make sure they are properly lubricated or greased.
Hit the hydraulics. "Make sure a critter did not get in and chew through some hydraulic lines," Franceschetti says. Inspect all hydraulic hoses and lines to make sure that there's no cracks or splits within them. If your area experienced a cold, hard winter, certain items could freeze and crack. A visual inspection can reveal these quickly.
Check to see that hydraulic hoses are routed correctly. "You don't want them to get in the way of anything, rub against something that they shouldn't or interfere with any of the other components on the baler."
Peek under the panels. Here you want to inspect chains — make sure they're lubricated and with the proper tension. Double check that nothing appears to be missing, broken or worn.
Look down. With the panels up, inspect the area that engages the crop — pickup tines. Pay attention to missing, loose or broken tines.
Inspect bands. Make sure these are not weak, rusted, chipped or broken as they protect the pickup tines. "We need to foster good positive crop engagement," Franceschetti says.
Round baler extra
Franceschetti adds there are a few extra steps to prepare a round baler for hay harvest:
Belts and tension. Look at the baler belts for splits. Make sure the lacing is correct and that you have good tension on the belt, especially if you loosened tension during winter storage.
Wrap rollers. Make sure your net wrap rollers are smooth and free of rough surfaces, cuts, paint chips or rust. "These can grab on to the net wrap and fray it or cut it open too early," Franceschetti says. "That's not what you want to see happen."
Knives out. Take a look at the rotary knives. "Again, you're looking for anything that's chipped, broken or worn. You want to make sure those are sharp and ready to do their job." If that's not the case, replace those parts.
Tap the tires. Make sure the baler tires did not go flat over storage. Inspect for tears. "Make sure they are in good condition before you hit the road or field."
Franceschetti says that a good precheck of baler equipment helps reduce in-season problems.
Attend a hay clinic near you
Franceschetti recommends making one stop before the field — a local hay clinic.
"Get into your dealership and attend one of our hay clinics," he says. "They'll have service technicians and parts counter people, and likely even some folks from New Holland available to answer questions, provide training and do walk-arounds of balers."
He adds it's a great opportunity for operators to learn from each other, as well as from the experts both at the dealership and with New Holland.
Subscribe to receive top agriculture news
Be informed daily with these free e-newsletters
You May Also Like
---