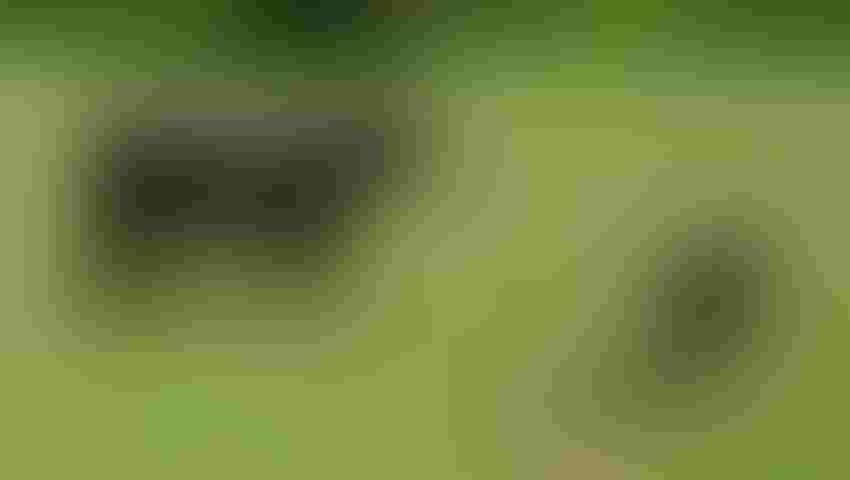 Year-around green sounded like a good idea but led us to a host of other problems, including poor animal health.
For almost 30 years I have been mindful of the fact that Kentucky 31 fescue and a bunch of other cool-season grasses have a place on cattle operations. The problem was and still is that animal health and profitability were in decline. The health aspect eventually took me to the soil and the natural model, where I found some more answers.
The good things are that fescue and several other cool season grasses are rather easy to establish and grow and maintain. The bad part is that the soil tends to stagnate and the environment tends to go sterile. Wildlife mirrors the productive losses of the cattle.
I found that betting the ranch on a system that depended on weekly moisture in good amounts, high input cost, early-season rapid growth, and lack of available ruminant energy was stacking the deck on the other side of the table. My first move was to establish hybrid bermudagrass and it was not all bad but it did not fulfill my needs for health and lots of profitable production per acre on an every-year basis. When it stops raining these plants stop growing.
We need to remember that most beef producers are marketing or should be marketing animal health pounds derived from building soil and harvesting free sunlight in plant energy and wrapping it up in a steer or heifer hide to sell. Whether calves or yearlings, we are all sellers to a system that buys this package. Several of us are biased (very biased) in programs that allow us to sell the most dollars of energy per acre at an extremely low production cost on an every-year basis.
Invariably, high-energy, high-biomass, perennial forage that the cattle self harvest yields the most and best dollars per acre. Those best dollars are the ones we get to keep.
Low-maintenance pastures that are getting better every year are every bit as important and productive as low-maintenance cattle. The two are interconnected with the soil and the environment and each other. Don't forget that the cattle must pay for the whole show.
Several negative factors that we have learned and don't want to forget concerning fescue and lots of other cool-season "improved" imports are:
High non-protein nitrogen (NPN) production

Lack of starch energy production for ruminants

Inefficient sunlight conversion

Lack of moisture efficiency (drought susceptible)

Lack of biomass production

Lack of gains and profits per acre

Lack of soil development and health

Lack of animal health with individual susceptibility swings. These issues tend to build and express themselves with reference to time and sward percentage.
Having green throughout the year was a good idea but the fact is that we have created a mess and the mess is very unprofitable to those of us who are land managers. Pretty stands of fescue and lots of cool-season imports are capable of breaking the ranch. Remember that a highly biodiverse plant and soil community is a key answer to the major problems. We need to rethink our strategy any time it directs itself to a war on the natural model.
There seems to never be an end to the folks that promote forage programs that fail on a regular basis. I see or at least envision those failures as I travel, attend conferences, review literature and answer the telephone and e-mails. Most frequently there is a severe lack of profits on the other end of the line when I answer the call. I might not be the most liked man in America but I didn't start the problem.
The truth is that most of us have been entrenched with cool-season forage farming and management for a bunch of decades. As soon as the ship sprung a leak the patch was shallow-rooted, water- and nitrogen-loving, mostly cool-season imports or annuals. Neither are the fix.
With these plants, when it rains the grass grows. When the rain cuts off so does the grass. When the sun gets hot the grass goes dormant. The most predictable outcome is a lack of income per acre. Animal health is most often dependent on supplementation.
It seems that weeds get blamed for production losses most everywhere we go. The names change from location to location but the declaration of war and the battles are similar and near relentless. The word "hate" is near scriptural in reference to weeds (forbs). Why? The amount of money spent on forage weed control since 1970 is astronomical. What have we gained? What have we learned?
The natural model teaches us that the vast majority of what we have practiced since World War II is now wrong and likely has been for 70 years. Most pasture management costs with emphasis on cool-season grass development, growth, and harvest have increased 1,000% to 2,000% since 1970. Cattle prices have increased about 300% in the same timeframe.
Building soil and animal health with cool season predominant pastures in general and fescue in particular is not going to happen. Ditto the same for profitability. The answer is high biomass, highly mineralized, highly diverse, high-energy, deep-rooted pastures with C4 grasses, legumes and forbs in the majority. History and research tells us that a limestone base is the best. Calcium is the mineral driver. We need to manage for what works.
If we don't need to manage for what we have then we need to manage for what we need and then use what grows. The generalized spraying effort has failed so it is time to stop. Forbs should be our allies, not our enemies.
The use of small amounts of chemicals short-term to jump start the system toward the natural model can help, but the big change has to take place between our ears.
The severe thinning of extensive stands of cool-season pastures will happen when we stop managing for the imports and start grazing in the natural model. Severe high-density grazing, followed by complete plant recovery of the plants we need will accomplish more positives than any program I have witnessed. Taking out much of C3 competition with shade from tall C4's is profitable, very profitable. Increased animal health is a tremendous plus. We may need to routinely add a little lime. Most other input thoughts that cost money are best put out of our minds.
A little dab of fescue won't hurt a thing as long as it is just a little dab.
Subscribe to receive top agriculture news
Be informed daily with these free e-newsletters
You May Also Like
---