California researchers study Roundup Ready alfalfa glyphosate non-tolerance in some cooler areas
California researchers study Roundup Ready alfalfa glyphosate non-tolerance in some cooler areas
Herbicide damage linked to cold temperatures shortly after applicationUniversity of California researchers continue to seek answersGoal is to help growers manage timing of glyphosate in cold climates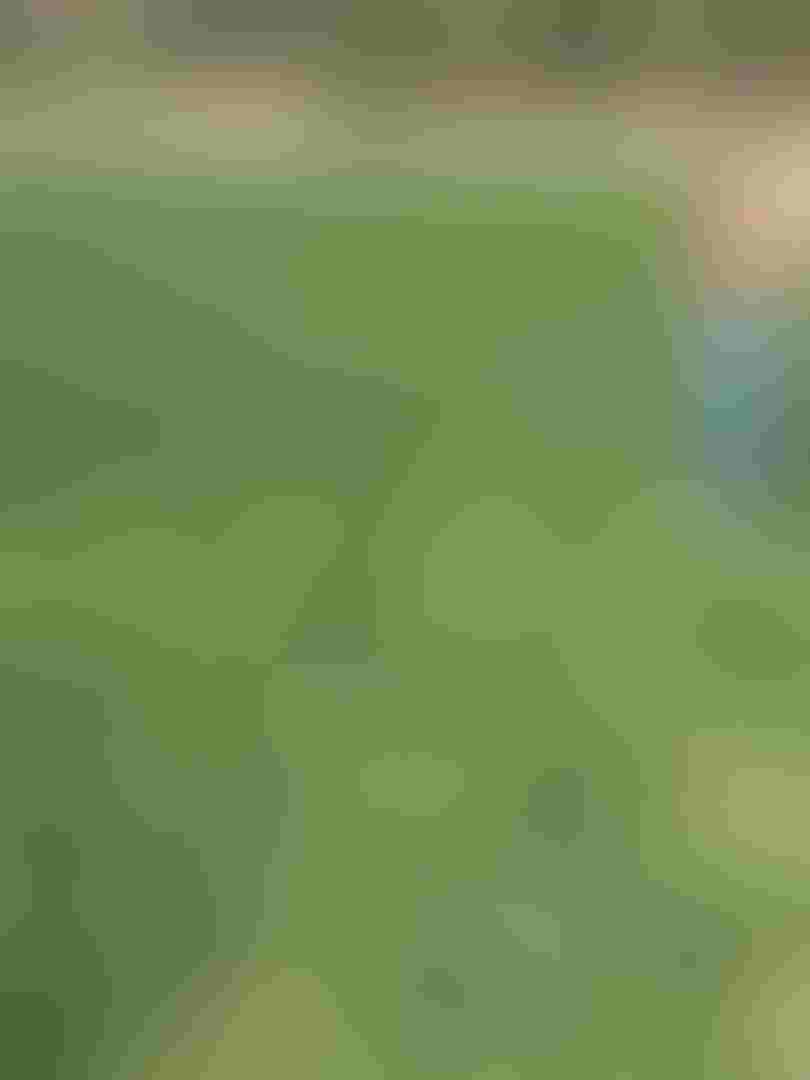 <p>Necrotic symptoms in Roundup Ready alfalfa are being studied by the University of California. Cooperative Extension Research Assistant Nicole Stevens surveys the damage in a Scott Valley alfalfa stand.</p>
California researchers are looking into why Roundup Ready alfalfa might not be tolerant to glyphosate in certain situations.
Steve Orloff, an alfalfa expert with the University of California Cooperative Extension in Siskiyou County and Rob Wilson, director of the Intermountain Research and Extension Center at Tulelake, are looking into why some alfalfa growers in colder climates experienced necrotic symptoms in their Roundup Ready (RR) alfalfa after glyphosate applications.
Orloff told an audience at the California Weed Science Society annual meeting that significant crop injury in alfalfa was first found in Siskiyou County's Scott Valley in Spring 2014. The cause at the time was otherwise unknown.
Scott Valley is a small mountain valley near the Oregon border at about 3,000 feet elevation. Growers typically make three cuttings per year in the region.
Upon first inspection, researchers noticed that untreated areas of alfalfa had significantly more growth than treated areas and necrotic shoots were observed in the treated areas.
Symptoms including plant shoots that drooped in a typical "shepherd's crook" manner and stunted growth appeared in the affected plants. Eventually the plants turned necrotic. Effects were not limited to any particular variety of alfalfa. Orloff says he saw similar symptoms in different fields with different varieties of alfalfa.
Not knowing the root of the problem, researchers embarked on a series of evaluations and a process of elimination. Through this such things as spray-tank contamination, a bad batch of glyphosate and non-herbicide related management practices were ruled out.
A research trial was established in an untreated strip in one of the commercial fields that was affected to evaluate different Roundup sources and the effect of an adjuvant. However, researchers were unable to replicate the damage at that time.
A year later, after exhausting other possible causes, researchers seemed no closer to finding a cause – then the same thing happened in 2015. This led to discussions and a theory related to cold weather and the timing of glyphosate applications.
Multi-year study finding answers
This is why the researchers were unable to duplicate the injury in 2014 – cold temperatures did not occur after the Roundup application was made to the test plots. Cold temperatures after the glyphosate application appear to be a key factor as well as the height of the alfalfa when treated.
Orloff and Wilson conducted a replicated trial at IREC in Tulelake in the spring of 2015 and followed up with a series of trials in Tulelake and Scott Valley in the fall (a time when cold temperatures are a certainty). The Tulelake station sits about 1,200 feet higher in elevation and is typically colder than the Scott Valley, it was a good place for researchers to test their cold temperature theory.
In addition to the replicated trial at IREC, yield was monitored in three commercial alfalfa fields in the Scott Valley in 2015 where there were treated and untreated strips. In the replicated trial at Tulelake, the yield of untreated alfalfa was 1.8 tons per acre in the first cutting on June 4, 2015 and as low as 1.4 tons per acre in the treated alfalfa at the 44-ounce rate. Yields from the second cutting in Tulelake a month later fully recovered. The Roundup-treated alfalfa was not statistically different from the untreated plots but actually tended to yield higher.
In the commercial fields in Scott Valley, Orloff said first-cutting yields were down by as much as 0.8 tons per acre. Second-cutting yields were not affected.
The research process included treating alfalfa with 22- and 44-ounce per-acre rates of Roundup PowerMax at a spray volume of 20 gallons per acre to alfalfa that was six to eight inches tall. Along with an untreated control plot, the studies included the addition of ammonium sulfate to the 22-ounce rate of glyphosate to test if it had an impact on the alfalfa. The addition of the ammonium sulfate did not appear to change the outcome.
Research continues
Research continued in the fall of 2015 with four field trials (two in Tulelake and two in Scott Valley) with alfalfa being treated at the same rates on a weekly basis from mid-September through October.
Orloff writes: "While this was not a common time of year to apply glyphosate to RR alfalfa, it did allow us to address in a research setting whether cold weather following an application of glyphosate would cause injury."
Researchers also placed weather instruments in the fields to chart temperatures as they tested their theory.
The studies found that temperatures slightly above freezing and colder led to the necrotic symptoms in the crop. In some fields lows of 29 and 30 degrees were recorded two and three days after application. One to two weeks later the fields began to exhibit symptoms—the same injury symptoms observed in the spring.
Along with the cold, Orloff suspects the age and height of the stand also appears to be a factor in how the crop faired after glyphosate treatments. First-year stands did not seem to be affected as much as mature stands, he said.
"The greatest injury occurred in taller alfalfa and older fields than in fields that were recently established," Orloff said.
Orloff said similar cases have been suspected in nearby Lassen County. The entire Intermountain growing region, which encompasses the northern California counties of Siskiyou, Lassen, Shasta and Modoc, can experience early and late-season frost.
Orloff stresses that the purpose of the research is to help growers find ways to avoid future injury to their alfalfa. The goal, he says, is not to question the value of RR alfalfa, which growers tend to support, based on university surveys, but instead to conduct research that can identify effective best-management practices that allow growers to utilize roundup ready alfalfa if they choose.
For the latest on western agriculture, please check out Western Farm Press Daily and receive the latest news right to your inbox.
Subscribe to receive top agriculture news
Be informed daily with these free e-newsletters
You May Also Like
---