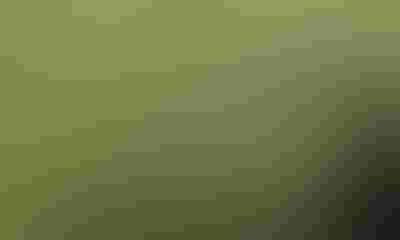 As reported this summer, triticale is one of the best "fall-seeded double-crops dairy cows love," especially if you may need early-spring forage. If you want to harvest 6 to 10 tons per acre of high-quality silage before spring grasses or legumes are ready, don't treat it as a minimally managed cover crop, stresses Tom Kilcer of Advanced Ag Systems at Kinderhook, N.Y. Here are five crucial steps from this certified crop adviser for success with the winter forage crop:
1. Use only quality seed.
You don't know what you're getting with bin-run seed, he warns. Germination rate depends on how it was dried.
TRITICALE: This high-energy cross between wheat and rye can be ready for early-spring silage harvest.
"Like buying a steer to breed cows, buying bin run may not even get out of the ground. And, I've looked at bin-run fields that were more downy brome and annual ryegrass than grain," adds Kilcer. "Even worse, if it's a mix of rye grain and triticale grain, do you cut when the rye is peak quality and take a 35% yield hit on the triticale? Or do you cut when the triticale is optimum yield and quality, and lose 20% to 30% dry matter due to rye straw?"
Spend slightly more and plant good seed. He recommends 100 pounds of seed per acre.
2. Earlier planting produces higher yields.
The best management practice is to plant winter triticale 10 days to two weeks before your local wheat planting date. It's more critical as you go farther north where winter comes swiftly.
Early planting maximizes tillering. The more tillers, the more potential mature stems next spring. That means more potential forage grain yield. Southern areas have a fall with long periods of temperatures in the range for optimum tillering of winter grains and higher yields.
In Kilcer's replicated trials, planting on Sept. 10 yielded 32% more than planting on Oct. 5. If your corn harvest is delayed, you can still plant into October. But recognize that yields will be down compared to timely planting.
Planting late with more seed doesn't work. Even planting late at higher seeding rates produced no significant yield increase.
Early planting also gets the jump on weeds, smothering them as they emerge, he points out, which may completely eliminate the need for a fall herbicide. It also established better roots and more leaves to protect the plant crown and resist heaving and snow mold damage.
3. Capture more water and soil nutrients.
This crop allows environmentally sound, incorporated manure applications during early fall, plus minimizes ground and surface water losses. Early-fall planting generates more vegetative growth and takes up and stores more nitrogen (residual or manure).
Another bonus, Kilcer contends, is that it can potentially reduce nitrogen needed to grow the crop the next spring. "Without fall manure, we suggest 40 to 60 pounds of N per acre for early planting. Late planting (wheat date or later) needs none."
4. Drill seed; don't broadcast.
Drill triticale 1.25 inches deep. Broadcasting and disk incorporation invites poor stands and lower yields. Accurate seed placement and depth grows more critical the farther north you are, and on wetter soils due to spring heaving and winterkill.
Triticale is winter-hardy if planted correctly. Remember, you're not planting a cover crop. You're planting a high-yield crop that with proper management produces the highest-quality forage you can grow and feed.
5. Adjust 2017 corn maturity for triticale.
When you select seed corn this fall, adjust for a shorter-season crop to allow maximum yield of both the corn and the winter forage crop. You can drop 20 days in maturity and may only lose 3 tons of corn silage per acre. Yet, it'll be replaced with 5.5 to 10 tons of higher milk-producing winter forage.
Adapted from Kilcer's Advanced Ag Systems newsletter.
Subscribe to receive top agriculture news
Be informed daily with these free e-newsletters
You May Also Like
---