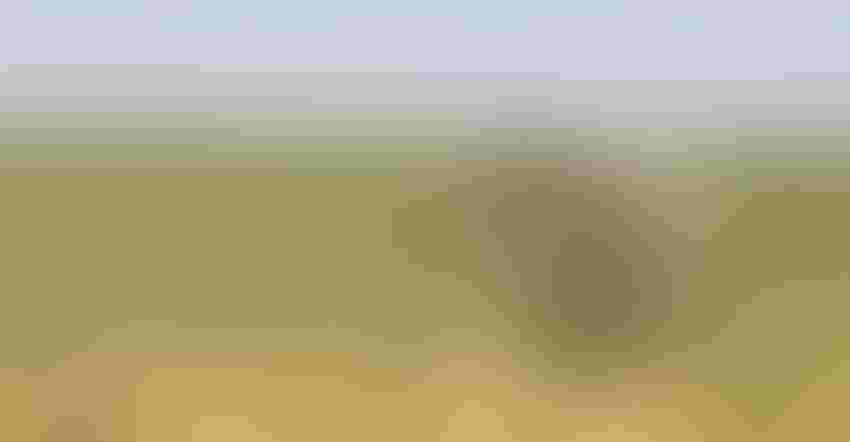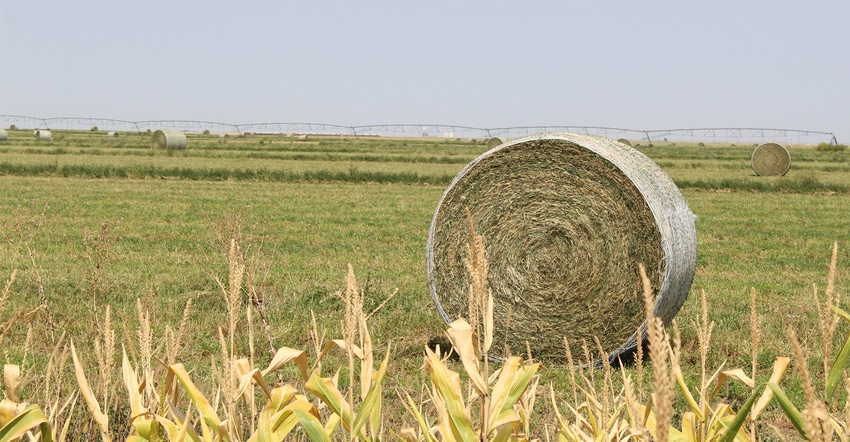 ALFALFA: There are 10 things to consider for farmers who are thinking of establishing an alfalfa stand this fall, according to Kansas State University.
Jennifer M. Latzke
Drought across many of the alfalfa-producing acres in the U.S. West and Northern Plains has been in all the headlines. This has caused some farmers to consider establishing alfalfa stands in their areas, with more available moisture to meet this demand.
But before farmers get started, there are 10 things that they should consider, according to Romulo Lollato, Kansas State University wheat and forages specialist; and Bruno Pedreira, K-State southeast area agronomist. They shared these things to think about in the Sept. 2 Agronomy eUpdate.
1.  Manage for the long haul. Alfalfa is an investment of four to five years or longer, but only if the crop is established correctly at planting. Managed properly, dryland alfalfa can produce 3 to 6 dry matter tons of forage, per acre, per year, and irrigated alfalfa can produce 6 to 8 dry matter tons or more.
2.  Available moisture. Alfalfa needs just the right amount of moisture at planting. Too much can increase seedling disease, and reduce alfalfa nodulation and nitrogen fixation. Plant into a firm seedbed with a press wheel with the drill to firm the soil over the seed.
3.  Planting. No-till planting in small grains stubble can also provide a good seedbed. Plant one-fourth to one-half inch deep on medium- and fine-textured soils, and three-fourths inch deep on sandy soils. Don't plant deeper than 10 times the seed diameter.
4.  Sowing date. Producers need to plant early enough to have three to five trifoliate leaves before the first frost. In northwest Kansas, that can be as early as Aug. 10, while toward southeast Kansas it can be as late as mid- to late September.
5.  Soil acidity. Before sowing alfalfa, be sure to soil test and correct low soil pH. Alfalfa grows best in well-drained soils with a pH of 6.5 to 7.5. Consider adding lime to acidic soils, but do so in enough time before planting for the soils to react.
6.  Fertility. Soil-test and apply phosphorus if levels are below 25 ppm, and potassium if levels are below 120 ppm. Small amounts of nitrogen fertilizer, 15 to 20 pounds per acre, as a starter can also benefit the crop. Some fields might also need sulfur.
7.  Seed. Plant certified inoculated seed so that alfalfa seedlings can fix available soil nitrogen and meet it's the crop's needs to reach optimum production. That can range from 8 to 12 pounds per acre on dryland in western Kansas, to 15 to 20 pounds on irrigated sandy soils in the state.
8.  Herbicide carryover. Fields that had row crops removed for silage may set up a great seedbed for alfalfa, but they can also bring a risk of herbicide damage. It's especially important if planting alfalfa using no-till into corn or grain sorghum stubble.
9.  Plan for pests. Choosing varieties that offer resistance to phytophthora root rot, bacterial wilt, fusarium wilt, verticillium wilt, anthracnose, the pea aphid and the spotted alfalfa aphid is critical for reducing the costs of production.
10.  Fall dormancy. Match the variety's fall dormancy rating to your growing region, which tells you how soon the variety will stop growing in the fall and how early it will begin growing in the spring. In Kansas, that ranges from 4 to 6.
More information about growing alfalfa in Kansas can be found in the Alfalfa Production Handbook, available online at ksre.ksu.edu/bookstore/pubs/c683.pdf. Or, review Alfalfa Growth and Development, available at bookstore.ksre.ksu.edu/pubs/MF3348.pdf.
Source: Kansas State Research and Extension is solely responsible for the information provided and is wholly owned by the source. Informa Business Media and all its subsidiaries are not responsible for any of the content contained in this information asset.
Subscribe to receive top agriculture news
Be informed daily with these free e-newsletters
You May Also Like
---