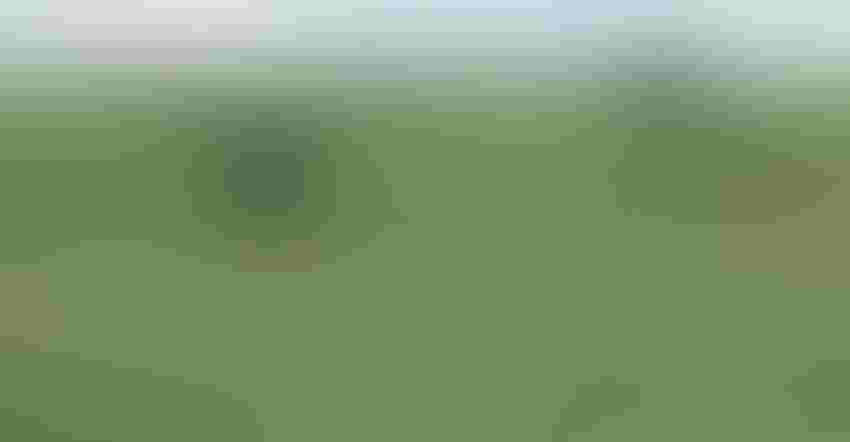 BETTER GRAZING: Cows graze in the Missouri River hills. It looks like they are getting are balanced ration. But how to do you know for sure?
By Luann Dart
Randy Kudrna, Manning, N.D., is using the Nutritional Balance Analyzer (NUTBAL) to help him better manage pastures and protein supplements for his cow herd.
NUTBAL involves collecting fresh manure samples from the cows and sending the samples to a lab to determine the nutritional quality of grass or rations consumed. If the test shows that the grass or ration doesn't have enough protein, Kudrna puts out 20% protein tubs so animals don't lose any body condition.
The nutrition content of grass and the type of plants cows consume when grazing changes over the growing season, and NUTBAL can help take the guesswork out of managing rations.
NUTBAL was developed to analyze what the cows are actually ingesting versus hand clipping forage for quality testing, which is done without accounting for the selective diet intake of the animal, according to Mark Hayek, North Dakota state rangeland management specialist with Natural Resources Conservation Service. NUTBAL measures crude protein, digestible organic matter, fecal phosphorous and fecal nitrogen.
Kudrna was introduced to the test through his participation in the Conservation Stewardship Program. NUTBAL is one of the conservation enhancements covered in the program.
Kudrna collected manure samples every month of the growing season the first year he began used NUTBAL. The tests established a forage quality baseline. Now, he collects samples three times during grazing season and sends them to the NUTBAL lab in Temple, Texas. In three to four weeks, he gets the results back and can use the data to make grazing and supplementation changes.
NUTBAL reveals changes in forage quality drought, heavy rain, frost and other events occur, Hayek says. It also identifies the change in forage quality from when cattle first enter a pasture to the end of the grazing season.

CSP ENHANCEMENT: Randy Kudrna, shown here holding a turnip from a cover crop planting, began using the Nutritional Balance Analyzer as part of his participation in the Conservation Stewardship Program.
A pasture does not have static level of nutrition, Hayek says. Cattle will eat some of the highest quality forages first and then move to the lower quality grasses when the plants they prefer are not available. Also, the overall quality of many grasses and forbs will decline over the growing season.
Kudrna has established three separate pastures that some of the animals in his commercial crossbred cowherd rotate through during the grazing season. Although not all his cattle are on a rotational grazing system due to land availability, benefits of rotational grazing can be seen in the NUTBAL results, he says.
For more information about NUTBAL, contact your local NRCS office.
Dart writes from Elgin, N.D.
Subscribe to receive top agriculture news
Be informed daily with these free e-newsletters
You May Also Like
---