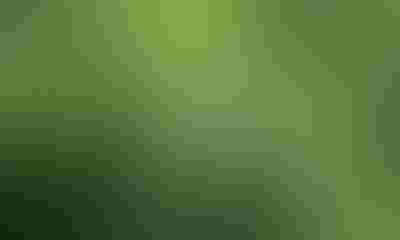 This fall, a number of seed companies rolled out low-lignin alfalfa varieties. Most, but not all, are based on HarvXtra technology developed by Forage Genetics International. They're available with or without the Genuity Roundup Ready weed control trait from the Dakotas and Nebraska east, and will be available nationwide in 2017.
Reduced-lignin varieties "increase forage digestibility by 10% to 15%, which leads to higher energy in forage diets," reports Dan Wiersma, DuPont/Pioneer alfalfa business manager. HarvXtra's key advantage is the trait gives growers more flexibility at cutting time. Harvest can be delayed a few days "to obtain higher tonnage without sacrificing acceptable forage quality," he adds.
The transgenic alfalfa was produced by deactivating enzymes in a lignin synthesis pathway, explains Dan Understander, University of Wisconsin Extension forage agronomist. It contains 12% to 18% less whole-plant lignin and has improved cell wall digestibility.
"By modifying lignin content beyond what's possible with conventional alfalfa breeding techniques, HarvXtra alfalfa has been proven to change the relationship between forage quality and date of maturity," elaborates Shawn Barnett, FGI general manager. Key field trial findings include:
• 16% increase in relative forage quality
• 16% higher neutral detergent fiber digestibility across cuttings
• up to 26% yield increase over stand life by delaying harvest for seven to10 days without sacrificing forage quality
• 15% to 20% yield increase during a four-year crop rotation with three-cut vs. four-cut management
For more details, click on Low-lignin alfalfa available nationwide.
Conventional alternative
Hi-Gest is a reduced-lignin variety developed several years ago through conventional plant breeding, and marketed by Alforex Seeds. Like the transgenic varieties, it offers up to a seven-day-wider harvest window if cutting is delayed past late bud or one-tenth flower.
It contains 7% to 10% less lignin than conventional alfalfa, according to Ron Cornish, Alforex Seeds general manager. Dairy feeding research trials found about 12% greater total tract digestibility compared to conventional varieties, as estimated by near-infrared analysis. That can mean an additional 2.5 pounds of milk per cow per day, according to University of Wisconsin trials.
Warning: It's a ration-changer
Even minor changes in forage quality can impact production in a big way, points out David Weakley, director of forage research for Calibrate Technologies. Having a handle on forage quality and a test to accurately measure forage quality will be key to maintaining milk production, especially with these high-quality alfalfa varieties.
"If forage quality is unusually high — not average — NIR analysis can be less accurate," he cautions. Fiber digestibility can have a big impact on rumen function, to the point that "analysis accuracy is financially critical."
Suppose you switch to a variety with 10% to 15% decreased lignin content. Digestibility of the fiber and the resulting effect on rumen fill can result in a 10% to 15% increase in digestibility (assuming an all-alfalfa ration).
To maximize forage performance, tests for neutral detergent fiber and neutral detergent fiber digestibility should be conducted in conjunction with analysis for other essential nutrients, advises Weakley.
It'll be worth the money, according to one dairy study. A one-unit increase in in-vitro NDF digestibility resulted in a 0.37-pound-per-day increase in dry matter intake and a 0.55-pound-per-day increase in 4% fat-corrected milk yield per cow.
Compiled by staff
Subscribe to receive top agriculture news
Be informed daily with these free e-newsletters
You May Also Like
---