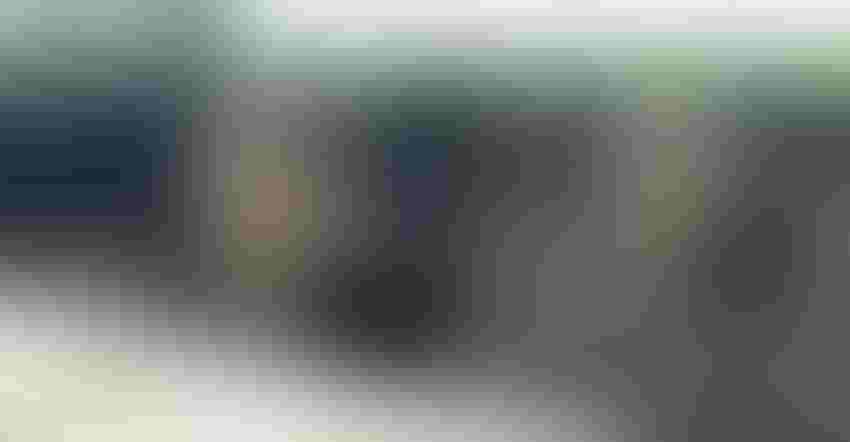 FEEDLOT: To reduce flies on cattle, one feedlot operation uses trichogramma wasps weekly.
Sierra Day
Flies hovering around bunks and on cattle's backs signal fly season — and the need for fly tags and mineral tubs. But Mike Martz has found another way to control flies in his operation's feedlot.
Martz, who partners in Larson Farms near Maple Park, Ill., was attending a National Cattlemen's Beef Association convention one year and came across Kunafin, a pest control company based out of Texas. He learned about using wasps for fly control as part of an Integrated Pest Management program, where they use a special kind of wasp — a trichogramma wasp — as a natural fly parasite. The company works with cattle feedlots, dairies, poultry and hog operations, horse farms, and kennels.
At that time, Martz says the 3,400-head feedlot's main source of fly management was a mister system like one at an apple orchard.
"My concern was the chemicals we were using and how they interacted with the pour-ons we use on the animals," he says. "So, we went ahead and started using the wasps six years ago."
Martz says they receive three bags of wasps every week from April 15 through Sept. 15, at a cost of $100 a week.
Kunafin ships the wasps in wood shavings in bags, and when they arrive at the feedlot, they are about to hatch, Martz explains. The wasps look like gnats when they hatch and are not the wasps that sting people.
Once Martz receives the wasps, he and his grandson place them along the outside walls of barns and feed bunks. The wasps then enter the barns and go to work.
The wasps eat into fly larvae, he says. When they attack the fly larvae, the flies cannot hatch, and that is what controls the fly population.
Martz says he visits many feedlots that do not use wasps for fly control, and it shows by the number of flies in comparison to his operation.
For producers looking to implement this fly control program next summer, he shares some tips:
Start early. Producers should use wasps prior to the thick of fly season. Put wasps out in April to make sure they are eating into fly larvae before they hatch and get out of hand.
Distribute evenly. It is important to spread out the wasps throughout all areas where flies gather. Doing so will allow for an equal spread of fly control across the cattle.
Be consistent. Place wasps around barns and bunks every week to stay on top of flies hatching and reduce fly populations. Make sure to distribute wasps the day of or day after receiving. With the wasps being close to hatching during shipment, it is important to get them to the cattle as soon as possible.
"I was a little hesitant when we started this," Martz says. "But I'm kind of a believer in it now."
Subscribe to receive top agriculture news
Be informed daily with these free e-newsletters
You May Also Like
---